MBA White Paper: Office Market 'Likely Changed Forever'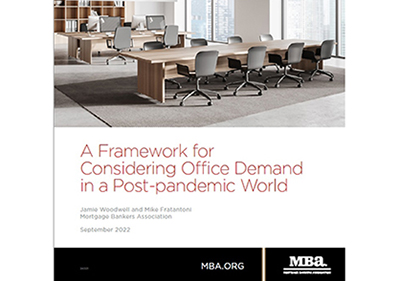 The ongoing tug of war between employers and employees about returning to the office will accelerate as pandemic-related impacts fade, according to a new Mortgage Bankers Association white paper.
The white paper, A Framework for Considering Office Demand in a Post-Pandemic World, said labor market conditions will also play a significant role in how much office space may be needed and how it will be used.
"Thanks to a very tight labor market and technological advances, hybrid work reigns two and a half years since the onset of the COVID-19 pandemic, with employees at many companies coming into the office a few days a week," said Mike Fratantoni, MBA Senior Vice President and Chief Economist. "The extent to which this trend will continue–and what it means for the office market–will greatly depend on employees' and employers' costs and benefits of being in the office versus remote, and whether a transition to a looser labor market tilts the bargaining table to employers and their preference for more in-person collaboration."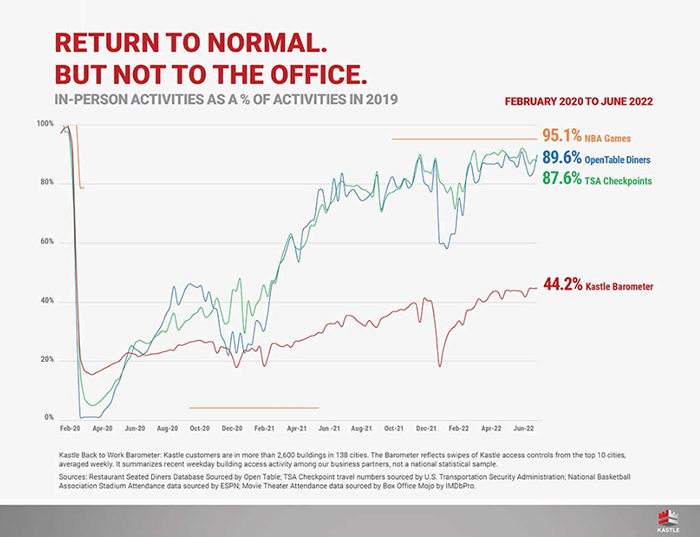 The white paper, co-authored by Fratantoni and MBA Vice President of Commercial Real Estate Research Jamie Woodwell, examined relative benefits and costs of remote and in-person work to employees and employers. It found in the near term, remote work can be just as effective, if not more effective, than office work in terms of "getting the job done," while also providing a range of tangible short-term benefits.
But the findings also reveal companies and workers rely heavily on in-person interactions to develop workplace capital, helping them thrive over the long term. The pandemic has elevated the weight of the near-term benefits of remote work while reducing the pull of developing workplace capital.
The white paper presents two scenarios: a base case where hybrid work trends remain; and an alternative case where a looser labor market and "a fear of missing out" lead to a greater return to in-office work, to analyze the outlook for the office sector and potential impacts to commercial mortgage loan volume and property values.
In the base case scenario, the five-day in-person work week would not return, replaced instead by a negotiated company and worker balance of remote/hybrid work. Using the dot-com crash as a parallel, a slow, 10 percent to 20 percent decline in demand for office would ensue, with the decline impacting leases ending over the coming decade and with varying impacts across geographies. Price declines to reflect this lower demand could happen initially before stabilizing, while the impact on net operating income would be spread over a decade.
In the alternative case, a pre-pandemic "return to normal" would lead to a jump in office demand, followed by an increase in property values due to years of relatively low levels of new construction. Delinquency rates and loan losses would remain subdued, especially as "rescue capital" looks to find value in mispriced assets. Higher-quality properties would continue to attract premium tenants, rents and values, while lower-quality properties would not be as negatively affected as in the base case.
"There's a fundamental tug-of-war going on about whether office work remains a 'need to have' or if it becomes more of a 'get to have,'" Woodwell said. "The more workers and employers 'need' to be in the office, the greater the overall demand–and the lesser the differentiation–there will likely be for space. The more we 'get' to be in the office with hybrid trends sticking, the more users will pay up for properties that maximize that time, while also deciding to shed space in properties that do not meet these preferences."
Woodwell noted the likely outcome is a mix of the white paper's two scenarios, with geography, labor market conditions, industries and company and employer preferences all playing a role in future leasing structures, property values, financing terms and space requirements. "Ultimately, in either scenario, it is unlikely that the office market will ever return to its pre-pandemic shape, size and dimensions," he noted.