August Pending Home Sales Down 2%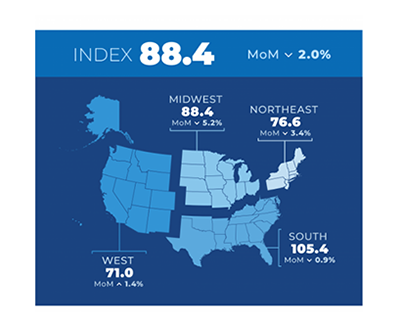 The National Association of Realtors reported pending home sales waned for the third consecutive month in August, falling 2.0% from July.
Compared to the previous year, contract signings retracted by double-digit percentages in all four U.S. regions, the NAR Pending Home Sales Index said.
NAR Chief Economist Lawrence Yun noted the direction of mortgage rates, whether upward or downward, is the prime mover for home buying. He said decade-high rates have deeply cut into contract signings. "If mortgage rates moderate and the economy continues adding jobs, then home buying should also stabilize," he said.
Yun noted he expects the economy will remain sluggish throughout the remainder of this year, with mortgage rates rising to close to 7% in the coming months. "Only when inflation calms down will we see mortgage rates begin to steady," he said.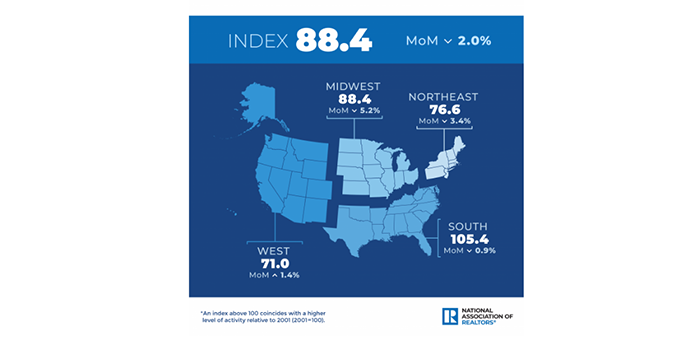 Odeta Kushi, Deputy Chief Economist with First American, Santa Ana, Calif., said U.S. pending home sales were expected to fall 1.4% in August, but they came in 2% below the previous month and 24% lower than one year ago. "August's pending home sales point to further declines in existing-home sales," she said. "Mortgage applications data, which have come in weaker in the month of September, also indicates further softening in existing-home sales. With mortgage rates now touching 7 percent, further cooling in the housing market is all but assured."
Kushi said a steep decline in affordability has shrunk housing demand and reduced the pace of sales. "But there are also fewer existing homeowners listing their homes for sale, which further pinches the pace of sales. The rapidly cooling housing market is both a supply and demand story," she said.