Commercial Property Price Growth Slows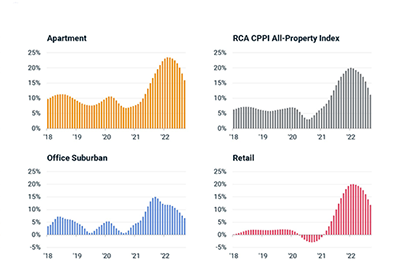 Real Capital Analytics, New York, reported U.S. commercial property price growth slowed in September to the weakest rate seen since early 2021.
The RCA CPPI National All-Property Index rose 11.1% from a year ago and was unchanged from August.
"Price growth has eased amid the challenges of rising financing costs and shrinking deal activity," said Michael Savino, Senior Analyst with RCA. He noted U.S. deal volume fell by 21% in the third quarter compared to a year ago.
Annual price growth for central business district offices eased to a 4.2% annual rate in September as prices edged down 0.1% compared to August. Suburban office price growth slipped to an annual rate of 6.6% based on the 0.3% monthly rate.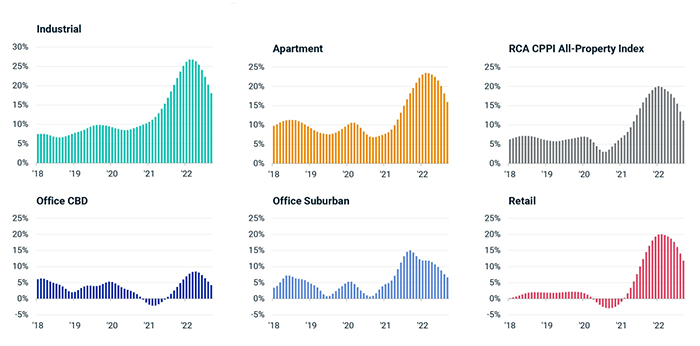 RCA said price change in the six largest U.S. metros was negative on a month-over-month basis. The firm's repeat-sales index fell 0.5% in September from August and from a year prior decelerated to a 3.7% growth rate. Price growth in smaller metros slowed to a 13.7% annual rate.
"Annual price growth for the industrial, apartment and retail sectors also slowed sharply in September but remained in the double digits," Savino said. The growth rate for industrial properties slowed to 18.1%–the first time this index has registered anything smaller than a 20% growth rate since August 2021. The apartment sector index posted a 15.9% increase from a year ago and retail property prices gained 11.8% in September from a year ago.
"The [retail] annual growth rate has decelerated for seven straight months, down from the record high seen in February," Savino said.
Green Street, Newport Beach, Calif., said property prices are "set to fall." The Green Street Commercial Property Price Index of properties owned by real estate investment trusts held steady in September. "However, price discovery occurs slowly in property markets, and it is only a matter of time before the impact of last month's sell-off in financial markets appears in commercial property transactions," said Peter Rothemund, Co-Head of Strategic Research at Green Street.
Rothemund said property investors just adjusted to a 3.0% Treasury yield, "but now they've got to deal with much higher rates," he said. "Cap rates may not move as much as Treasury yields, but they're likely to go 50 basis points higher, perhaps more. It's going to depend on whether the rise in interest rates sticks, and how weak economic growth gets."