RealPage: Apartment Demand Plunges in Third Quarter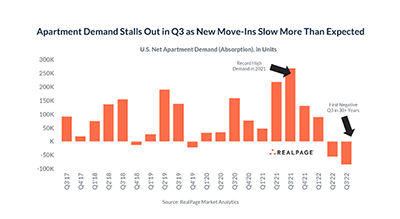 RealPage, Richardson, Texas, said apartment demand plunged in the third quarter as new leasing stalled far more than expected.
Jay Parsons, Head of Economics with RealPage, noted new renters filled up U.S. apartments at record levels last year and in early 2022. "But in more recent months, apartment demand has unexpectedly evaporated in much of the country due to what appears to be a freeze in new household formation," he said.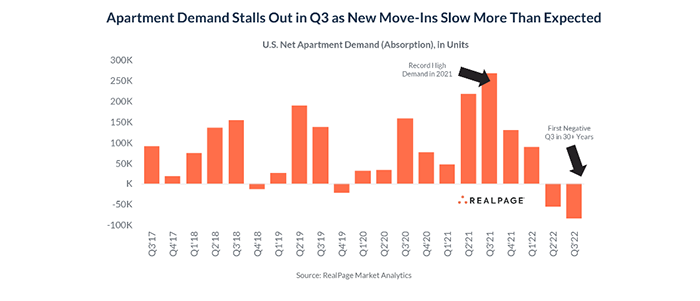 This slowdown in leasing traffic pushed net apartment demand moderately negative in the third quarter to -82,095 units–even though summer is typically a seasonally strong leasing period. It also marked the first time in RealPage's 30 years of tracking U.S. apartments that demand registered negative during a third quarter, Parsons said.
Negative demand means the number of renters moving out of apartments exceeded the number moving in, Parsons said. Move-outs tend to increase in the summer months as more people relocate, but so are move-ins. Early indications are that move-outs trended toward normal seasonal levels, while move-ins slowed materially, he said.
"To be clear, the U.S. apartment market remains on firm footing," Parsons said. Apartment vacancy increased 1.0 percentage point during the quarter but remained low at just 4.4%.
Higher rents might soften demand, "but it's not that clear cut," Parsons noted. "Renter incomes and rent payments both improved in recent months." He said household incomes among new lease signers jumped 13% year-over-year through August, keeping rent-to-income ratios just above 23%. Rent collections among market-rate renters totaled 95.4% in August, up from 94.9% one year earlier.
"Additionally, demand softened for apartments at all price points and in almost all markets of the country; where if affordability was the major driver, the market would see stronger demand pushing down into Class C apartments and into more affordable cities," Parsons said. "In fact, conditions weakened first in Class C despite lower rents and smaller rent increases."
Parsons noted several tailwinds that should boost the sector in the next few months, including a low unemployment rate, strong income growth and favorable demographics. "If jobs and wages continue to hold up as they have and inflation cools to some degree, we should see pent-up rental demand unlocked ahead of the spring 2023 leasing season," he said.