Sponsored Content from ACI Worldwide: The Shift to Mobile: Mortgage Borrowers' Evolving Payment Preferences
Darcy Locke is Vice President and Head of Consumer Finance Sales with ACI Worldwide, Miami.

Consumers continue to embrace easy digital experiences. Results of ACI Worldwide's latest bi-annual ACI Speedpay Pulse consumer survey underscore that 2022 is poised to become another year of big change, as the effects of the sudden, increased and highly concentrated exposure to new digital experiences and technologies continue to ripple consumer expectations.
In 2020, the top three payment channels consumers reported using for mortgage payments (lender website at 38%, mail at 19% and bank website at 18%) accounted for more than 75% of all mortgage payments. Fast-forward two years to 2022, and the top three channels for mortgage payments account for only 64% of all mortgage payments (lender website at 36%, bank website at 17% and mail at only 11%). So, which emerging channel are consumers now using to complete their mortgage payments?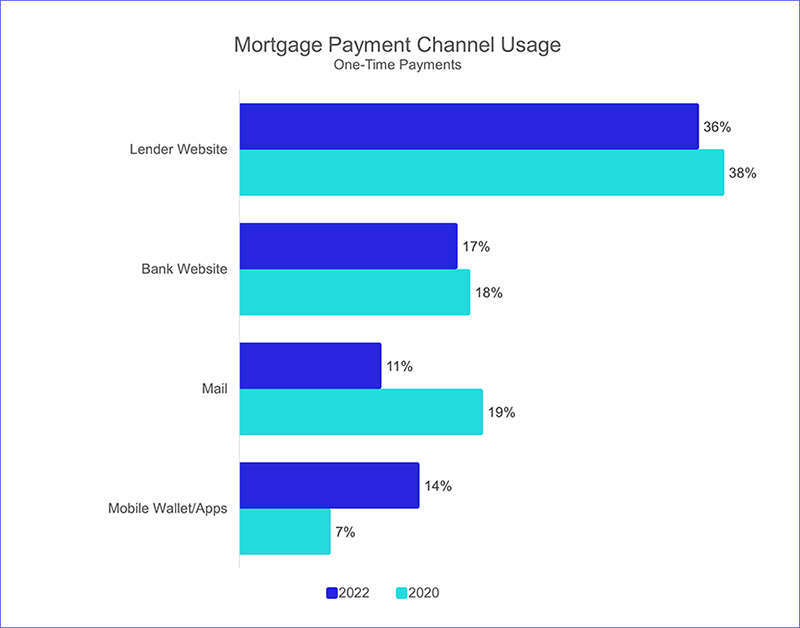 Mobile apps experienced the majority of the growth. Mobile app and wallet payments nearly doubled from 2020 to 2022, reaching nearly 14% of all mortgage payments. Looking across all consumer household bills, our research has registered a large shift to mobile wallets: 58% of mobile wallet users reported using their mobile wallet to make a household payment at least once a week, compared to 46% in 2021.
Further evidence of consumers' growing appreciation of the utility of mobile wallets can be seen in their increased propensity to use them to store non-payment items, such as digital tickets, boarding passes or loyalty cards. Today, nearly 40% of consumers report this kind of activity compared to 25.2% in 2021. This can only serve to make mobile wallets more "sticky" as a payment channel, increasing the business case for lenders to serve customers in this way. It is clear consumers are swapping their leather wallets for mobile wallets.
Naturally, this is impacting consumers' bill reminder preferences, with interest in mobile text and app notifications increasing at a notable rate. Preference for mobile text alerts is up to 20% in 2022 from 15% during the same period in 2021. Similarly, preferences for mobile app notifications are up nearly 11% from 7%.
Why does this mobile growth make sense? According to a January study of American's mobile phone usage and habits run by Reviews.org, consumers on average check their phones 344 times a day and 70% of smartphone users check their phone within five minutes of receiving a notification. Mobile adoption is poised to see continued double-digital growth. Clearly, this is the channel that keeps messages, notifications and brand in front of customers. Keeping pace with consumers' preferences requires lenders to prioritize a seamless and easy mobile experience.
Other notable mortgage channel payment trends include 35% growth of in-person payments and 36% growth in phone (IVR/CSR) payments from 2020 to 2022. Both of these are more costly channels to service. What is driving this increase? Common to both channels is the ability for the consumer to make last-minute payments and better control their funds.
The ACI Speedpay Pulse study shows that one in three consumers have paid a bill at the last minute, up from one in four in 2021. According to the August Paycheck-to-Paycheck study run by PYMTS.com, more than 61% of consumers are living paycheck to paycheck, which would lead to consumers wanting channels that facilitate same-day recognized payments.
FIGURE 2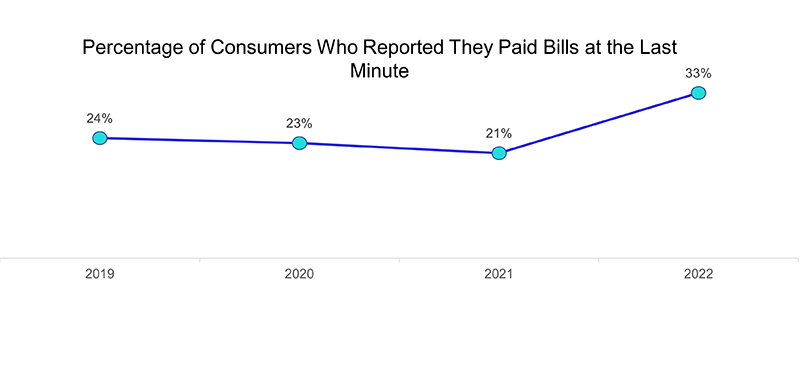 Digital channels are a crucial enabler for making these last-minute payments more convenient. As such, digital channels are key for lenders looking to mitigate the risk of last-minute payments escalating to become late or missed payments.
Winding up the 2022 trends summary, ACI data shows good news in consumer preference for paper checks decreasing by more than 50% – from 9.6% in 2020, down to 4.5% in 2022. Debit card is picking up most of this migration. When looking at consumer payment choices across all household bills, debit is the preferred and most used payment type. Evidence of preference for debit also appears in recurring payment type trends where there is a shift from ACH (71% in 2020, down to nearly 65% in 2022) to debit (13% in 2020, rising up to 19 % in 2022). When promoting autopay to consumers, it makes sense to offer debit as a form of payment.
Consumers are managing their financial life, including their bill payments from their phones, more and more. With the rate of change, this is no longer a short-lived trend. It is a sustainable movement where many consumers are now willing to literally change the habits of a lifetime.

ACI Worldwide works with lenders to transform and modernize their billing experiences to, firstly, ensure they offer the channels and methods consumers really want, and secondly, provide the agility for lenders to better respond to future changes and add new channels and methods more quickly.
ACI Worldwide is a global leader in mission-critical, real-time payments software. Our proven, secure and scalable software solutions enable leading corporations, fintechs and financial disruptors to process and manage digital payments, power omni-commerce payments, present and process bill payments, and manage fraud and risk. We combine our global footprint with a local presence to drive the real-time digital transformation of payments and commerce.
(Sponsored content includes material submitted independently of the Mortgage Bankers Association and MBA NewsLink and does not connote an MBA endorsement of a specific company, product or service. For more information about sponsored content opportunities, contact Bill Farmakis at bill@jlfarmakis.com or 203/834-8832.)