Commercial Property Price Growth Trends Slower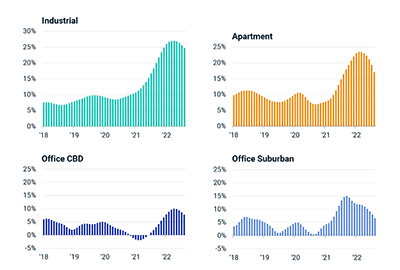 U.S. commercial property prices increased in August, but at the slowest pace seen this year, reported Real Capital Analytics, New York.
The RCA CPPI National All-Property Index rose 0.4% from July and 14.0% from a year prior, down from the record-high 20.0% growth rate seen in early 2022. The August rate slowed the annualized pace down to 4.8%.
"All the property type indexes showed, slowing annual growth rates in August," said Michael Savino, Senior Analyst with Real Capital Analytics.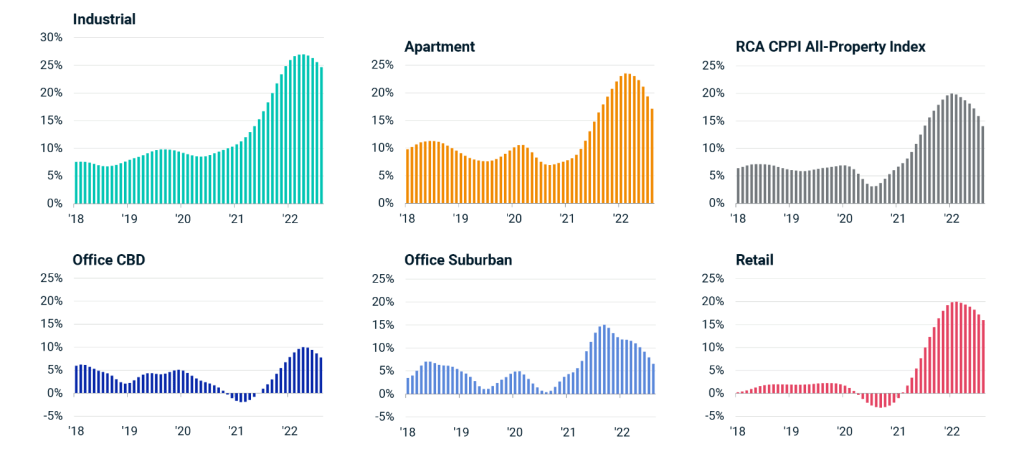 Savino said industrial properties showed the largest monthly price increase, 1.5%. But the industrial sector's growth rate still outpaced the other major sectors at 24.7%.
"Annual price growth for apartments decelerated for the sixth month in a row," Savino said. The apartment price index rose 0.1% in August, suggesting just a 1.1% annualized pace of growth, he noted.
Like the apartment index, the retail sector's yearly growth pace also slowed for a sixth consecutive month, falling to 16.0% year-over-year, RCA reported.
Suburban office price growth has slowed since its 15.1% annual rate peak in September 2021, and posted only a 6.6% year-over-year increase in August, RCA reported. Gains in the central business district office index also eased in August, continuing the trend seen over the last four months.
RCA said annual price growth in the six largest metros slowed further in August to a 7.6% rate. Price growth in non-major metros fell to a 16.3% year-over-year rate, down from a 21.6% annual pace in early 2022.
Green Street, Newport Beach, Calif., reported its price index of commercial properties owned by real estate investment trusts decreased 1% in August. The research firm's all-property index has fallen 6% this year.
"After dropping approximately 5% in the second quarter, property pricing looked like it had found its footing," said Peter Rothemund, Co-Head of Strategic Research with Green Street. "But Treasury yields have increased quite a bit over the past few weeks, and that's bound to put pressure on cap rates. Property pricing looks rich when it's compared to bond yields."