#MBAAnnual22: Dana Abernathy, CMB, AMP, Honored with CMB Society's Rosser Lifetime Achievement Award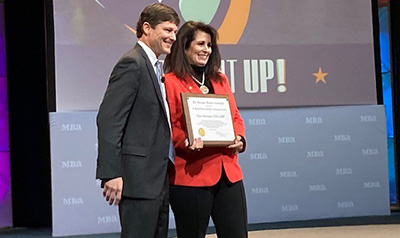 (MBA Chairman Matt Rocco presents Rosser Lifetime Achievement Award to Dana Abernathy, CMB, AMP.)
NASHVILLE—The Certified Mortgage Bankers (CMB) Society on Sunday presented Dana Abernathy, CMB®, AMP, Senior Vice President of Enterprise Sales with Computershare Loan Services, Greenwood Village, Colo., with its E. Michael Rosser, CMB, MBA Education Lifetime Achievement Award here at the association's 2022 Annual Convention & Expo.
"Dana's dedication to the CMB Society, MBA and the real estate finance industry has been phenomenal. All of us in CMB Society leadership are thrilled to celebrate Dana's contributions," said SuSheila Dhillon, CMB, 2022 Society Chairman. "Dana is an amazing asset to our industry at the national, state and local level and has held various leadership roles throughout the years. I cannot think of anyone more deserving of this award."
Abernathy currently serves as Chairman of MBA's State and Local Issues Committee, the CMB Society Leadership Selection Committee and is the CMB MAA/MORPAC liaison. She was the CMB Society Chair in 2015 and was on the Mortgage Action Alliance Board of Directors in 2009.
In 2012, Abernathy was instrumental in creating networking events for CMBs during MBA's conferences to promote continued collaboration within the CMB society. CMB networking events are now a mainstay at MBA conferences. Additionally, Abernathy has sponsored more than 20 CMB candidates and plans to sponsor additional candidates in the future.
Abernathy graduated from MBA's School of Mortgage Banking, MBA Future Leaders program and the Virginia Mortgage Lenders School of Mortgage Banking. She attained her Master CMB designation in 2004.
The E. Michael Rosser MBA Education Lifetime Achievement Award is presented to an individual who has shown outstanding service to the Association, Certified Mortgage Bankers Society and the real estate finance industry.