Industry Briefs Oct. 26, 2022: NewDay USA to West Palm Beach?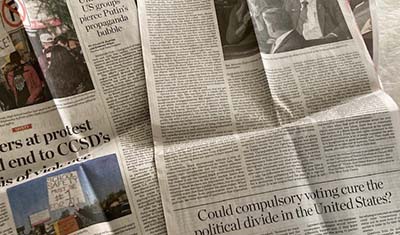 NewDay USA Sign Is Addition to West Palm Beach Skyline
NewDay USA, Fulton, Md., is expanding and taking occupancy with 250 employees in the top two floors of 360 Rosemary, a 20-story, 297,000-square-foot office building in West Palm Beach, Fla.. In addition, the company is in negotiations with Related Co. to relocate its Maryland-based headquarters to West Palm Beach.
Within six months, NewDay anticipates the West Palm Beach office to grow to more than 500 employees in 2023. With successful negotiations, NewDay could have more than 1,500 employees living and working in and around West Palm.
Sales Boomerang, Mortgage Coach Release Q3 Mortgage Market Opportunities Report
Sales Boomerang, Owings Mill, Md., and Mortgage Coach, Irvine, Calif., released Sales Boomerang's latest Mortgage Market Opportunities Report. Despite significant year-over-year declines in mortgage volume, the report showed an increase in Credit Improvement Alerts, signaling the opportunity for lenders to offer timely advice and tailored financial solutions to prospects with newly improved credit scores.
Other report findings:
● Mortgage Inquiry Alert: 2.84% of monitored contacts (down 12.21% from Q2). A customer or prospect has shopped with a competitor in the last 24 hours.
● EPO Alert: 2.05% of monitored contacts (down 11.38% from Q2). A customer or prospect whose loan closed ≤ 6 months ago has shopped with a competitor in the last 24 hours.
● Credit Improvement Alert: 5.47% of monitored contacts (up 33.41% from Q2). A customer or prospect has improved their FICO score.
● New Listing Alert: 1.12% of monitored contacts (down 22.04% from Q2). A customer or prospect has listed their home for sale.
● Equity Alert: 4.68% of monitored contacts (down 40.98% from Q2). A customer or prospect's home equity has increased.
● Rate Alert: 0.49% of monitored contacts (down 80.94% from Q2). The interest rate of a customer or prospect's existing mortgage is significantly higher than current prevailing rates.
Redfin: Sellers' Time on Market Doubles From Spring as Buyers Wait for Prices, Rates to Come Down
Redfin, Seattle, said pending home sales and new listings both saw their biggest year-over-year drops since the start of the pandemic, dipping to levels on par with April 2020.
The report said U.S housing market activity is continuing to slow down as mortgage rates sit at a 20-year high. Sales are dropping more than listings. Sellers are still catching on to the prices buyers who are in the market are willing and able to pay in the face of near-7% mortgage rates. Homes are taking twice as long to sell as they did in the spring. A record share of sellers are dropping their asking price and the typical home is selling for 1% less than its final asking price–the biggest discount since August 2020.
"With rates sitting above 6.5% for three weeks and no indication they'll come down before the end of the year, people are only buying and selling homes if they need to," said Redfin Economics Research Lead Chen Zhao. "Prospective buyers are waiting for prices and/or mortgage rates to come down and sellers want to squeeze as much money out of their sale as possible. Homes will eventually sell, but it may take a few months, and sellers need to meet buyers where they are. That means lower prices and negotiations, including things like giving buyers a credit to buy down their mortgage rate and paying for home repairs. Prospective sellers may also consider renting out their home for a few months until demand recovers."
Tavant Integrates with Experian
Tavant, Santa Clara, Calif., and Experian, Atlanta, integrated Experian's Enhanced Instant Form Fill for Mortgage with FinXperience and FinConnect, components of Tavant's VΞLOX digital lending platform, lenders, with a consumer's permission, can automate data entry and prefill borrower information on the Uniform Residential Loan Application – providing a more simple experience for borrowers and loan officers.
Experian's Enhanced Instant Form Fill allows borrowers to permission access to their personal data, which is automatically added to their mortgage application. With increased automation, lenders can drive efficiency, reduce friction and grow their business. Enhanced Instant Form Fill also leverages Experian's fraud and identity solutions, Precise ID and FraudNet, to authenticate borrowers and protect their information throughout the experience.
Black Knight: September Prepayments at More Than 20-Year Low on Spiking Interest Rates
Black Knight, Jacksonville, Fla., issued its monthly First Look Mortgage Monitor, reporting foreclosure starts fell by 9 percent from August and remain 53 percent below pre-pandemic levels.
The report also said prepayment activity dropped -14.9% to a single-month mortality rate of 0.57% in September – below the recent record of 0.59% set in January 2019 – to the lowest level since November 2000. The national delinquency rate inched down -0.2% from August to 2.78%, just 3 basis points above the record low set in May, with the number of past-due mortgages holding relatively steady across the board.
Black Knight said borrowers a single payment past due rose by 1%, while 90-day delinquencies fell -1.5 % in September and are now only 24% above the pre-pandemic serious delinquency rate. Active foreclosure inventory held steady in the month at volumes that have remained subdued in early 2022 after the record lows of 2021 due to widespread moratoriums and forbearance protections.
CFPB Takes Action to Address Junk Data in Credit Reports
The Consumer Financial Protection Bureau issued guidance to consumer reporting companies about their obligation to screen for and eliminate obviously false "junk data" from consumers' credit reports.
The Bureau said companies need to take steps to reliably detect and remove inconsistent or impossible information from consumers' credit profiles. For example, many children in foster care have large amounts of information on their credit reports that is clearly junk data because as minors they are prohibited from entering into most contracts for credit.
"When a credit report accuses someone of defaulting on a loan before they were born, this is nonsensical, junk data that should have never shown up in the first place," said CFPB Director Rohit Chopra. "Consumer reporting companies have a clear obligation to use better procedures to screen for and eliminate conflicting information, or information that cannot be true."
RE/MAX: Housing Market Making Steady Progress Toward Balance
RE/MAX, Denver, issued its National Housing Report, saying signs are pointing to a more balanced housing market among U.S. homebuyers and sellers. The shift, seen in metros measured in the report, is largely driven by inventory gains, a drop in home prices and an increase in days on market on average. With inventory growing, some of the homebuying obstacles created years ago by the Great Recession – and more recently by the lag in new construction – are starting to be addressed.
The average Days on Market for homes sold in September was just over one month at 34 days, up five days from the average in August, and up six days from the average in September 2021. With September home sales declining 9.7% from August across the report's 53 metro areas, the typical seasonal slowdown has led to inventory growing 3.9% over August. Average Close-to-List Price Ratio in September was 99%, meaning that homes sold for 1% less than the asking price for the second consecutive month after being at 100% or above through the first seven months of 2022.
Redfin: Pending Home Sales Plummet More than 50% in Three Florida Metros Hit by Hurricane Ian
Redfin, Seattle, said pending home sales plunged 58% year over year in the Cape Coral, Fla., metro area during the four weeks ending Oct. 16 in the aftermath of Hurricane Ian, nearly twice the nationwide decline of 32%. Pending sales also slumped in the nearby Naples (-52%) and North Port (-51%) metro areas.
Hurricane Ian exacerbated a housing-market slowdown in Southwest Florida that was already more severe than the downturn in other parts of the U.S. North Port and Cape Coral were among the fastest cooling housing markets in the country prior to the storm. Redfin said that's largely because scores of people moved in during the pandemic, which drove prices to record highs and caused the markets to overheat. Cape Coral had the highest price growth in the nation in August, the month before the storm. Tampa, North Port and West Palm Beach rounded out the top five.
Lenders One Opens Branded Mortgage Branch Location at Select Walmart Store in Boonton, NJ
Lenders One Cooperative, a national alliance of independent mortgage bankers, banks and credit unions, opened its second mortgage lender in-store branch location at a select Walmart store in Boonton, N.J. This initial launch is part of Lenders One's nationwide initiative to offer prospective homebuyers access to mortgage origination services where they shop within their community.
The branch is operated by MLB Residential Lending, LLC. a community-focused lender.
LoanPASS, LendingWise Team to Offer Private Money Lenders Multi-Product PPE Embedded within LOS
LoanPASS, Miami, and LendingWise, a web-based CRM, LOS, servicing and marketplace platform, announced a partnership that delivers product and pricing engine embedded within a loan origination system that caters to commercial and private lenders.
LoanPASS developed a highly configurable, industry-agnostic decisioning engine for use by all types of lending entities. It returns instant, accurate results on any type of loan product. It resides behind-the-scenes and is accessible by users working within the LendingWise LOS workflow onto the formal underwriting process and funding stage.
LoanCare Announces Open-Ended HELOC Servicing
LoanCare, Virginia Beach, VA., announced it offers open-ended Home Equity Line of Credit servicing options to lenders nationwide.
Specifically, LoanCare can accommodate segmented, fully amortized, and interest only HELOCs and provide interim servicing as well. It also offers private-label checkbooks for customers to access their draws; customized monthly statements; assistance with line of credit management; assistance with lien monitoring; and servicing capabilities for non-property secured lines of credit such as artwork, car, etc.
Down Payment Resource Releases Q3 Homeownership Program Index
Down Payment Resource, Atlanta, announced findings from its latest Homeownership Program Index, showing the net number of homebuyer assistance programs increased by 1.6% from Q2 to Q3. This marks the fourth consecutive quarter of growth in homebuyer assistance programs. Increased program availability and funding are especially timely given recent research from Redfin indicating that the median U.S. down payment on a home grew from $32,917 in July 2019 to $62,500 in July 2022.
The report said the number of programs increased by 36 in Q3, including 16 new statewide programs, seven new municipal programs and several new programs administered by employers or nonprofits. These programs provide assistance in the form of affordable first mortgages, community second mortgages and combined down payment and closing cost support, among other types of homebuyer assistance.
Larky's nudge® Added to Finastra's Fusion Digital Banking Platform
Larky, a fintech provider, teamed up with Finastra to provide enhanced mobile banking platforms for its customers. Larky's nudge® is now available on Finastra's mobile banking platform, enabling banks and credit unions to drive greater engagement with account holders, as well as boost mobile banking usage.
Integrated within a financial institution's existing mobile banking app, Larky's predictive push notification technology enables financial institutions to communicate with their increasingly digital account holder base. With location-based mobile push notification campaigns, Larky's nudge guides users to financial institutions' offerings and elevates account holder interactions by reaching them at a time, place and setting that is best suited to their needs.
GO Mortgage Launches Non-QM Single Close Construction Loan
GO Mortgage, Columbus, Ohio, launched a non-QM construction loan program designed to provide greater options and a smoother financing experience for self-employed borrowers and real estate investors seeking to build a home.
The new Non-QM Single Close Construction Loan can be used to finance up to 90% of a borrower's home construction for loans up to $2 million. The program is aimed for borrowers who do not qualify for new construction financing through standard income qualifications. Instead, a borrower's income can be qualified through 12 to 24 months of bank statements, or on a debt service credit ratio basis using the expected rents on an investment property.
The Non-QM Single Close Construction Loan can be used for primary residences, second homes or investment properties, including duplexes, non-warrantable condos and manufactured housing. While the program offers the ability to put down as little as 10% toward new home costs, borrowers can also qualify 80% financing and pay no mortgage insurance with a minimum 680 FICO score. With a 720 score or higher, they can qualify for up to 85% LTV and pay no mortgage insurance.
Gallus Insights Upgrades Analytics Platform
Gallus Insights, Chicago, released an upgraded version of its cloud-based analytics platform to help clients better navigate market shifts. The latest version of the platform includes a new Home Mortgage Disclosure Act reporting tool and comes on the heels of $1 million in pre-seed funding.
Using its cloud-based advanced analytics platform, Gallus connects directly with a mortgage company's disparate internal systems and databases and turns data into insights for managers and C-Suite executives. The company's technology brings data into a computable environment and delivers relevant, quantitative insights so real estate finance firms make better decisions. The upgraded Gallus platform includes a beta version of a new HMDA tool to deliver competitive intelligence at the user's fingertips. The Gallus HMDA tool allows users to pull insights on the total market, specific geographies, products and even peer lenders. Unlike other HMDA reporting methods that use static data sources and are extremely difficult to read and understand, the new tool delivers insights in seconds with vivid detail at a level that does not exist in the market today.
Freddie Mac Enhances Condo Loan Advisor
Freddie Mac, McLean, Va., announced an enhancement to its Condo Project Advisor, allowing lenders of all sizes to request an automated Project Assessment Request to identify if a condominium project meets certain review requirements. The tool also will identify potential issues so lenders can quickly and easily focus their reviews.
Condo Project Advisor is a Freddie Mac Loan Advisor tool that allows authorized Sellers to easily request early in the origination process unit-level Project Waiver Requests for established condominium projects that are otherwise ineligible condo projects. By providing feedback on a project's compliance with certain project review requirements, the new automated PAR functionality complements the current Condo Project Advisor PWRs.