Forecasts See Significant Slowing in Home Prices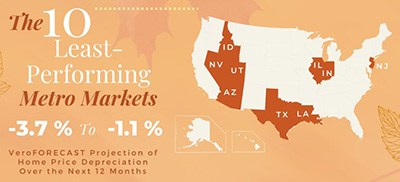 Reports from Fitch Ratings, New York, and Veros Real Estate Solutions, Santa Ana, Calif., forecast sharp declines in home price appreciation over the next year.
The Fitch 3rd Quarter RMBS Sustainable Home Price Report estimated U.S. home prices were overvalued by 12.2% in the second quarter on a population-weighted average basis; Fitch expects overvaluation to moderate by the end of this year, with the declining trend in home prices.
The report noted home prices dropped by 20 basis points in July, marking the first national decline since 2012.
Fitch estimated home prices in 92% of the country's metropolitan statistical areas are overvalued, compared to 83% from the second quarter. Housing in 65% of MSAs is more than 10% overvalued, compared to 4% overvalued pre-pandemic.
The report said home prices are the most overvalued in Idaho, Hawaii and North Carolina. Among the top 100 most populated MSAs, Rochester, N.Y., is the most overvalued, followed by Buffalo-Cheektowaga-Niagara Falls, N.Y., and Ogden-Clearfield, Utah.
"Home price correction exhibits strong locality," the report said. "Price growth is still concentrated on the East Coast, while home prices on the West Coast started to dip, and this trend has begun to spread in the Midwest. Unbalanced housing inventory and the uneven relationship of house prices and rents across the country are the primary drivers behind the diverging trends. The home price decline is likely to spread from the western to eastern U.S. if mortgage rates keep going up."
Fitch said it expects national home prices will continue experiencing corrections due to rising mortgage rates and worsening affordability in second-half 2022 and into 2023. However, housing inventory is still constrained, with 4.1 months' supply as of August 2022, and the strong job market continues to drive rising rents into later this year, which will provide a floor to the home price decline.
Meanwhile, the third quarter VeroFORECAST of 300 U.S. markets anticipates home prices will appreciate on average just 1.5% for the next 12 months, a significant drop from the 4.5% annual appreciation forecast just one quarter ago. VeroFORECAST evaluates home prices in over 300 of the nation's largest housing markets.
Veros Chief Economist Eric Fox noted the steep decrease in expected average appreciation is not a "one size fits all" for every market but rather a combination of dozens of markets expected to depreciate, many markets that that are forecast to be relatively flat, and a few markets that are still expected to appreciate reasonably well.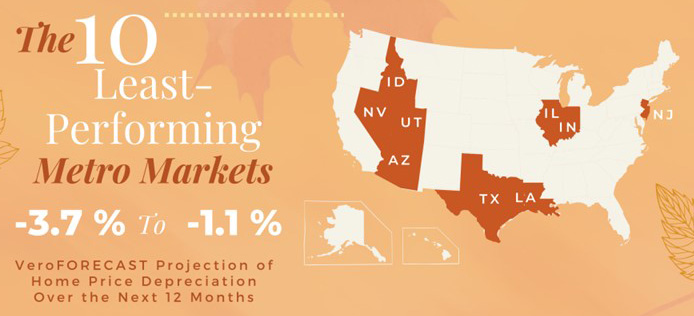 "But clearly, the most notable finding in this update is the increase in expected depreciating markets as compared to the update one quarter ago," Fox said. "The number of markets expected to have annual depreciation has grown from just a few during our previous quarterly update to now a few dozen during this update. Though most depreciation is expected to be mild at this point, the increase in number of markets where it is forecast to be present is a noteworthy change."
Fox said some markets, such as Atlantic City, N.J., are still forecast to depreciate the most at 4%. However, former hot-running cities such as Las Vegas and Boise, Idaho, are now appearing near the bottom of the pack with low single-digit depreciation expected. Interest rates increases and the fear of recession are driving some buyers to the sidelines which is causing some of these trends."
However, the report noted not all markets can be characterized by negative outlooks. Markets in the middle of the country such as Lincoln and Omaha, Neb., and Wichita, Kan., look strong with 6% to 7% appreciation expected over the next year. Richmond, Va., and Indianapolis are also expected to be solid performing markets with annual appreciation expected in the 6% range. Likewise, North Carolina continues to be strong with its expected performance. All of these markets are characterized by lower median prices meaning rising interest rates have a lesser impact.
Still, the forecast said the 10 strongest performing markets in the country forecast over the next 12 months are only forecast to appreciate at the 5% to 7% level, which is somewhat lower than last quarter's update and significantly than what the top performing markets were expected to do just six months ago. The 10 least performing markets over the next 12 months had the most notable changes. In last quarter's forecast, there were 5 markets forecast to depreciate. However, now all of these 10 markets are forecast to depreciate in the next year.