Industry Briefs Oct. 6, 2022: HUD Allocates $28M to Fight Housing Discrimination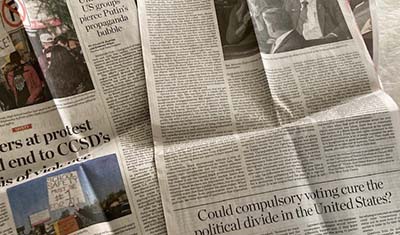 HUD Allocates $28 to Fight Housing Discrimination
HUD announced $28,625,000 available to fair housing organizations across the nation working to fight housing discrimination. The funds will support a variety of activities, including fair housing education and outreach, testing and enforcement, through the Department's Fair Housing Initiatives Program.
Each year, HUD makes funding available to support organizations that enforce the nation's fair housing laws and policies, as well as educate the public, housing providers, and local governments about their rights and responsibilities under the Fair Housing Act.
VeriFast Completes $3.5 Million Seed Funding to Expand Mortgage Underwriting
VeriFast, Ridgewood, N.J., an AI-powered Verification-as-a-Service platform that automates financial analysis and decision making for tenant screening, mortgage underwriting and other verticals, secured an initial funding round led by M3 Financial Group and real estate investor and HGTV star Scott McGillivray, Michael Sarracini of Keyspire, and "Millionaire Mom" investor Susan White Livermore.
VeriFast provides a single-source configurable API that enables companies to integrate biometric identity verification, banking data, payroll insights and tax transcript data to their existing process flows. The platform analyzes applicants' real-time financial health via their digital banking data with advanced AI to verify their identity, income, assets, employment, past rent/mortgage payments, bill payments, ability to pay and other critical screening data points beyond traditional credit checks. VeriFast securely automates the end-to-end verification process compressing rental and mortgage application processes from hours/days to minutes.
Fitch Ratings: California Property Taxes Buffered from Home Price Declines
Slower home price growth or price declines in California will have a limited effect on local government property tax revenues, Fitch Ratings says in its report, California Property Taxes Buffered from Residential and Commercial Valuation Swings.
The report noted California tax assessment calculations serve to smooth volatility in home values so that changes in tax revenues are not equal to home price swings. Home prices in California have been increasing for the past decade and jumped by nearly 43% since the pandemic began in 2020. However, rising interest rates are tempering home prices and sales.
According to its most recent U.S. RMBS Sustainable Home Price Report, Fitch said California home prices are 10%–14% overvalued. Under a hypothetical scenario, tax revenue will be mildly affected for the vast majority of counties. Generally, governments anticipate lower assessed values and the resulting effects on property tax revenues and adjust budgets accordingly.
The report said pressures on commercial properties, such as lower occupancy at offices and urban retail spaces due to hybrid work, could also affect TAVs but to a lesser extent. Commercial property TAVs, while more variable than residential TAVs, are a smaller component, 17% on average, of counties' total TAVs. Counties with greater exposure to commercial properties or homes purchased at, or near, peak market value could see slower property tax growth in the next two years.
West Renames to MyHome
Williston Financial Group, Portland, Ore., announced its technology subsidiary, Williston Enterprise Solutions and Technology (WEST), is changing its name to MyHome.
WEST launched its signature MyHome platform in 2015 with the goal of taking time and cost out of the real estate process for all participants. The WEST brand signified the company's connection to Williston Financial Group, a rapidly developing, innovative industry participant. The company is now rebranding to build on the value it has created and begin the next stage of its mission to transform the real estate experience.
CFPB Supervisory Examinations Find Violations of Federal Law by Student Loan Servicers, University-Owned Lenders
The Consumer Financial Protection Bureau released a special edition of Supervisory Highlights on recent examination findings covering the practices of student loan servicers, and schools that lend to students directly.
The exams found these schools had improper blanket policies of withholding transcripts to force students to make payments. These findings come after the CFPB announced earlier this year that it would examine the operations of colleges that operate lending businesses. The CFPB's exams also found that student loan servicers illegally hampered borrowers' access to federal student loan payment relief and cancellation programs including Income-Driven Repayment, Public Service Loan Forgiveness and Teacher Loan Forgiveness. The CFPB directed servicers to act to remediate these issues.
"Americans must exercise their right to their educational data to obtain a job or transfer schools," said CFPB Director Rohit Chopra. "Our examinations of lenders found that blanket policies to withhold transcripts can run afoul of the law."
EMM Loans Partners with SimpleNexus
SimpleNexus, Lehi, Utah, announced EMM Loans chose SimpleNexus' Nexus Engagement and Nexus Origination to power an electronic mortgage experience, attract and retain top talent and garner more business for its retail, wholesale, correspondent and consumer direct lending channels.
EMM Loans will leverage SimpleNexus as a recruiting and retention tool, using its mobile lead engagement tool, Nexus Engagement, and from anywhere point-of-sale platform, Nexus Origination, to support collaboration with real estate agents and deliver a better borrower experience. SimpleNexus integrates with EMM Loans' core technology stack, including its loan origination system, market analytics and product pricing engine and customer relationship management platform.
FHFA Proposes Rule to Help Enterprises Better Serve Colonias
The Federal Housing Finance Agency proposed to amend the Agency's Duty to Serve Underserved Markets regulation to facilitate Fannie Mae and Freddie Mac's activities related to serving colonias.
In this proposed rule, FHFA would revise its Enterprise Duty to Serve Underserved Markets regulation to add a definition of "colonia census tract," which would serve as a census tract-based proxy for a "colonia," and amend the definition of "high-needs rural region" in the regulation by substituting "colonia census tract" for "colonia."
The proposed rule would also update the definition of "rural area" in the regulation to include all colonia census tracts regardless of location. These changes would make Enterprise activities in all colonia census tracts eligible for Duty to Serve credit.
OptifiNow Releases CRM Platform for Wholesale, TPO Mortgage Lenders
OptifiNow, Seal Beach, Calif., released OptifiNow TPO, a ready-made version of its sales and marketing platform designed for wholesale and TPO lenders. OptifiNow TPO includes an array of features that makes it easy for wholesale lenders to accelerate their sales and marketing process.
OptifiNow TPO provides wholesale lenders with a CRM that works the way they work. The CRM enables management of mortgage brokers and TPO companies with built-in marketing tools and integrations that create a unified, easy to use platform for account executives, production leaders and marketers.
FHA Adds Consideration of Positive Rental Payment History for First-Time Homebuyer Eligibility Assessments
The Federal Housing Administration published Mortgagee Letter 2022-17, Consideration of Positive Rental Payment History for First-Time Homebuyers in Forward Mortgage Purchase Transactions. This ML updates FHA's Technology Open to Approved Lenders (TOTAL) Mortgage Scorecard to include a borrower's positive rental payment history as part of the credit risk analysis when applying for FHA-insured financing.
Using rental payment history promotes a more complete credit evaluation, which in turn can expand homeownership opportunities to first-time homebuyers who could have an improved credit score if such information were included in the credit reporting data. The ML allows lenders to assess a first-time homebuyer's rental payment history and indicate a positive rental payment history in the TOTAL Mortgage Scorecard.
This guidance may be implemented for TOTAL scoring events on or after October 30, and for case numbers assigned on or after September 20, 2021, allowing lenders to implement the guidance on existing pipeline cases without the need to obtain a new case number. Updates will be incorporated in a future version of the Single-Family Housing Policy Handbook (Handbook 4000.1).
FHFA Releases Annual Report on Low-Income Housing and Community Development Activities of Federal Home Loan Banks
The Federal Housing Finance Agency released its annual report on the low-income housing and community development activities of the Federal Home Loan Banks.
The report highlights the FHLBanks' activities and performance in 2021 through the Affordable Housing Program, the Community Investment Program and the Community Investment Cash Advance Program. The report also covers Community Development Financial Institution (CDFI) membership in the FHLBank System, the FHLBanks' affordable housing goals and their purchases of Acquired Member Assets.
The report noted the FHLBanks awarded $352.4 million in total contributions to the AHP in 2021, which assisted more than 32,000 low- and moderate-income households, more than 17,000 of which were very low-income households. The FHLBanks funded $1.7 billion in targeted housing and economic development advances through the CIP in 2021. These CIP housing advances assisted approximately 8,000 households in 2021.
Accurate Group Expands Real Estate Appraiser Panel
Accurate Group, Cleveland, Ohio, announced plans to expand its nationwide appraiser network. This expansion provides appraisers with the opportunity to leverage technology to streamline appraisal development, reduce revisions, improve efficiency, lower overhead costs and support business growth.
Accurate Group's expansion opens up new business opportunities for appraisers looking to grow their business, receive a more consistent volume of appraisal orders and gain access to appraisal management and compliance technology. Appraisers who join the in-house panel or partner with Accurate Group will become part of a force of real estate appraisers and gain access to new business from banks, credit unions, mortgage lenders and servicers.
85% of FI Customers Opt into Push Notifications According to Larky Lowdown Report
Larky, Ann Arbor, Mich., a fintech provider, launched The Larky Lowdown, a quarterly report providing insights on adoption, use and impact of push notification messaging specifically for the financial services industry. This inaugural report focuses on the concept of push notification utilization in banking and shares insights into the adoption of push in the banking lives of FI customers.
The report said 85 percent of account holders opt-in to receiving push notifications from their financial institutions. Adoption continues to rise when meaningful and useful messages are sent at an appropriate cadence. When a pre-rollout campaign aimed at boosting adoption is performed, adoption rates rise.
STRATMOR Group: Crucial Questions to Ask When Designing a Winning Mortgage Customer Experience
STRATMOR Group, Greenwood Village, Colo., issued its September Insights Report. In "The Essential Questions for Designing a Race-Winning Mortgage Customer Experience," STRATMOR Group Customer Experience Director Mike Seminari provides answers to the questions to help mortgage lenders beat their competitors in the race to provide borrowers a world-class customer experience.
"There are a surprising number of parallels between NASCAR and mortgage lending," Seminari said. "Originators are not unlike the 'rock star' drivers. Processing managers are like the crew chiefs keeping the pit crew processing team accountable to high levels of performance. Mortgage executive leaders are the savvy owners, steering through the big picture. Perhaps the strongest parallel is the idea that victory is won by the whole team and not by any individual."
The article can be found at https://www.stratmorgroup.com/insights-report/.
Waterstone Mortgage Approves Usherpa as LO CRM
Usherpa, Denver, said Waterstone Mortgage, a subsidiary of WaterStone Bank, made the company's marketing automation and relationship engagement technology available to its loan officers operating in the company's West Region.
Usherpa's Smart CRM shares data seamlessly with the platform, enabling the company to uncover new lending opportunities in its past customer database and easy for loan officers to get new business into their pipelines.
The Real Brokerage Inc. to Acquire LemonBrew Lending
The Real Brokerage Inc, Toronto, an international, technology-powered real estate brokerage, signed an agreement to acquire LemonBrew Lending Corp, New York.
LemonBrew Lending is a tech-enabled home loan platform, licensed to provide a suite of mortgage services across 20 states in the U.S. including Texas, California, and Florida. The company currently operates as a mortgage brokerage, serving as an intermediary between borrowers and lenders. Additionally, LemonBrew Lending is licensed as a lender in certain states, positioning Real with the option to expand its mortgage platform as long-term strategic needs for the business evolve. As part of the acquisition, Chief Executive Officer of LemonBrew Lending, Samir Dedhia, along with 25 other employees will be joining the team at Real.
Guild Mortgage Extends Commitment to Diversity, Equity and Inclusion for Hispanic Homebuyers
Guild Mortgage, San Diego, is partnering with the National Association of Hispanic Real Estate Professionals, as it continues to grow and expand its impact on diverse communities across the U.S.
NAHREP has a network of more than 40,000 real estate professionals and is The Voice for Hispanic Real Estate® advocating for more Hispanic families to achieve the American Dream of homeownership for generations to come. As part of its commitment as a National NAHREP Partner, Guild Mortgage added to its representation on the NAHREP boards and throughout the organization.
Guild Mortgage Upgrades 3-2-1 Home Plus Program
Guild Mortgage, San Diego, upgraded 3-2-1 Home, its mortgage program designed to provide first-time homebuyers with a low-down payment option and flexibility to make the home their own.
Guild's latest 3-2-1 Home Plus program enables customers to purchase a home with as little as 3% down. As part of the program, Guild provides a $2,000 home improvement gift card plus additional assistance ranging from $1,000 to $2,500, based on Area Median Income and property type, which can be applied toward closing costs or increase the down payment.
ATTOM Adds NMLS, Loan Originator Analytics Data
ATTOM, Irvine, Calif., integrated NMLS loan originator data into its ATTOM Table of Data Elements.
The NMLS data includes the names and NMLS unique identifiers for loan officers, lenders and brokers who originate residential mortgage loans, providing unparalleled insights into mortgage lending across the nation. This data set shows who is originating residential loans, where and with which loan products and partners, and at what volume.
Valon Selects ACES Quality Management & Control to Drive QC Operations
ACES Quality Management, Denver, announced mortgage lending and servicing start-up Valon selected ACES' flagship audit platform ACES Quality Management & Control Software to support the company's mortgage servicing quality control audits, completing implementation within 28 business days.
"Tech-forward companies like Valon are realizing the value of investing in quality control and risk management tools from the outset and, thus, setting themselves up for long-term success," said ACES CEO Trevor Gauthier.
Ginnie Mae Issues Guidance to Issuers Affected by Hurricanes Fiona, Ian
Ginnie Mae issued an All-Participants Memorandum to Single-Family Issuers providing buyout guidance for loans affected by Hurricane Fiona and Hurricane Ian.
Effective immediately, Chapter 34-2 of the Ginnie Mae Mortgage-Backed Securities Guide, HUD Handbook 5500.3 Rev-1 provides expanded loan buyout authority to support issuers offering relief to borrowers affected by natural disasters, including "relief in the form of late fee waivers, forbearance periods, loan modifications, and foreclosure moratoriums to the extent permissible under the guidelines of the federal agency guaranteeing or insuring each loan."
Under the APM guidance, Ginnie Mae will permit issuers to buy out loans that meet the following specific eligibility requirements: the property securing the loan must be damaged and be located within a designated disaster area; or the borrower must be experiencing economic hardship related to the designated disaster, as established by the underlying federal insuring or guarantying agency.
Freddie Mac Publishes 2021 Sustainability Accounting Standards Board Report
Freddie Mac, McLean, Va., published its annual sustainability disclosure in accordance with standards issued by the Sustainability Accounting Standards Board. The report features data for 2020 and 2021 aligned with the SASB Mortgage Finance standards, which are within the Financials sector. Freddie Mac's SASB report also includes data on other relevant metrics pertaining to Commercial Banks and Investment Banking & Brokerages, as appropriate.
The full report is available at www.FreddieMac.com/ESG.
LodeStar Integration with Stewart Delivers Access to Title Fees Nationwide
LodeStar Software Solutions, Philadelphia, announced an integration with Stewart that includes one of the nation's largest title underwriting operations.
The new integration will allow all users of LodeStar's closing fee calculator to access title and settlement fees of any Stewart-related company, including those of independent title agencies issuing Stewart policies. In so doing, users can streamline and accelerate cost estimates and documents mandated by the TILA-RESPA Integrated Disclosure Rule such as the Loan Estimate with guaranteed accuracy.
Clarifire, IndiSoft Integrate HUD Counselors into Loss Mitigation Workflows
CLARIFIRE, St. Petersburg, Fla., partnered with IndiSoft's National Housing Advocacy Platform to integrate HUD-approved housing counselors who provide foreclosure alternative counseling and loss mitigation assistance to homeowners into servicing workflows. The integration expands the borrower assistance digital ecosystem and alleviates servicer-borrower interactions.
By fully integrating IndiSoft's HUD-certified Client Management System with CLARIFIRE's loss mitigation process automation, mortgage servicers will gain a single point of access to nearly 2,000 HCAs using the IndiSoft system. The integration makes these important interactions more robust while relieving the tremendous process burden on HCAs who must deal with different communication channels for each servicer. It also democratizes access to NHAP's nationwide network of community-based HCAs and the homeowners they represent while preempting loss mitigation scams, which proliferate when economic times worsen.
Talk'uments Partners with Guaranteed Rate on Digital Language Access Resources for Borrowers
Digital language and Limited English Proficiency technology provider Talk'uments, Chevy Chase, Md., announced its Spanish language integration with Guaranteed Rate Inc., a provider of mortgage lending and digital financial services.
The integration will significantly enhance the ability of Guaranteed Rate Inc.'s Spanish-speaking customers to successfully shop for and secure a mortgage by experiencing increased clarity about transactions throughout the process and easier access to generalized and loan-specific educational materials in Spanish.