Pending Home Sales Fall 4th Straight Month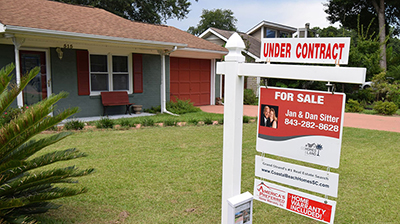 Pending home sales for the fourth consecutive month in September, the largest single monthly decline since onset of the coronavirus pandemic, the National Association of Realtors reported Friday, with all four regions reporting both month-over-month and year-over-year declines in transactions.
Separately, Redfin, Seattle, reported pending home sales fell 35% year over year during the four weeks ending October 23, the largest annual decline and the fewest homes under contract in any October since at least 2015, when Redfin's weekly housing market records began.
The NAR Pending Home Sales Index (www.nar.realtor/pending-home-sales), a forward-looking indicator of home sales based on contract signings, fell by 10.2% to 79.5 in September. Year-over-year, pending transactions plunged by 31.0%.
Regionally, pending sales in the South fell by 8.1% to 97.0 in September and fell by30.0% from a year ago. In the West, pending sales fell by 11.7% in September to 62.7 and fell by 38.7% from a year ago.
In the Northeast, pending sales fell by 16.2% from last month to 64.2 and fell by 30.1% from a year ago. In the Midwest, pending sales fell by 8.8% to 80.7 in September and fell by 26.7% from one year ago.
"Persistent inflation has proven quite harmful to the housing market," said NAR Chief Economist Lawrence Yun. He said new home listings are down compared to one year ago since many homeowners are unwilling to give up the rock-bottom, 3% mortgage rates that they locked in prior to this year.
"The new normal for mortgage rates could be around 7% for a while," Yun said. "On a $300,000 loan, that translates to a typical monthly mortgage payment of nearly $2,000, compared to $1,265 just one year ago – a difference of more than $700 per month. Only when inflation is tamed will mortgage rates retreat and boost home purchasing power for buyers."
Mark Fleming, Chief Economist with First American Financial Corp., Santa Ana, Calif., said the decline was not surprising as mortgage rates recent increase toward 7% and beyond dampened affordability and likely buyer enthusiasm, pending another round of rate increases by the Federal Reserve next week."
"This also strongly suggests October existing-home sales will also decline," Fleming said. "While the number of households in the U.S. suggests that somewhere near 6 million existing-home home sales a year is normal, we are far from normal. Pending home sales indicate existing-home sales closer to 4 million SAAR than 5 million SAAR over the next few months."
Separately, Redfin reported fewer homes are pending sale than in any October since at least 2015. Six metro areas are now experiencing year-over-year price decline.
"Until this month, the pullback in the housing market could be described as something of a return to pre-pandemic conditions before sub-3% mortgage rates ignited a homebuying frenzy in 2020 and 2021," said Redfin Deputy Chief Economist Taylor Marr. "But now both mortgage purchase applications and pending sales are below 2018 levels. A four-year setback is a serious correction. With mortgage rates still elevated, we are in for further sales declines, but those should eventually bring price relief to those who need to move this winter."