#MBAAnnual22: MBA Elects 2023 Board of Directors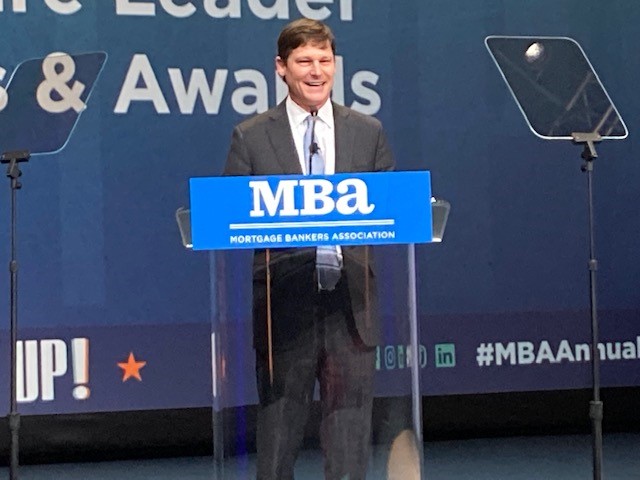 (MBA Chairman Matt Rocco addresses MBA Annual Convention & Expo Sunday.)
NASHVILLE—The Mortgage Bankers Association on Sunday swore in its Board of Directors for the 2023 membership year here at its 2022 Annual Convention & Expo.
The Board of Directors will be chaired by Matt Rocco, Chairman of the Board and CEO of Grandbridge Real Estate Capital, Charlotte, N.C.
The MBA Board of Directors consists of 39 voting members and one ex-officio member (MBA President and Chief Executive Officer Bob Broeksmit, CMB). MBA directors represent its commercial/multifamily, residential and associate membership. The Board of Directors sets strategic direction for MBA and oversees management of the association's affairs.
"I am confident that the exemplary leadership qualities and business acumen of the professionals that make up this year's Board of Directors will serve the real estate finance industry well during MBA's 2023 membership year," Rocco said. "I look forward to working with the Board to address the legislative, regulatory and economic opportunities and challenges that will impact our industry in the year ahead."
New members of MBA's Board of Directors are:
David Brickman, NewPoint Real Estate Capital
Jeff Friedman, Mesa West Capital, LLC
Rohit Gupta, Enact Holdings
Brian Hanson, CW Capital Asset Management, LLC
John Hedlund, AmeriHome Mortgage, a Western Alliance Bank Company
Tawn Kelley, Taylor Morrison Home Funding
Gene Lugat, PrimeLending
Greg Michaud, Voya Investment Management
William Newman, Homepoint
Eddy Perez, EPM
Steven Plaisance, Gateway First Bank
Members continuing on MBA's Board of Directors are:
Matthew Rocco (Chairman), Grandbridge Real Estate Capital, LLC
Mark Jones, (Chairman-Elect), Amerifirst Home Mortgage
Laura Escobar, (Vice Chair), Lennar Mortgage
Kristy Fercho (Immediate Past Chair), Wells Fargo
Patrick Carey, Bank of America
Christine Chandler, M&T Realty Capital Corporation
Jack Gay, Nuveen Real Estate
Christopher George, CMG Financial
Nima Ghamsari, Blend
Owen Lee, Success Mortgage Partners, Inc.
Bill Lowman, American Pacific Mortgage
Sonya Luechauer, DHI Mortgage Company
Jeffrey Majewski, CBRE Capital Markets
Mary Ann McGarry, Guild Mortgage Company
Stanley Middleman, Freedom Mortgage Corporation
J. David Motley, CMB, Colonial Savings, F.A.
Peter Norden, HomeBridge Financial Services, Inc.
Mark O'Donovan, JPMorgan Chase
Kurt Pfotenhauer, First American Title Insurance Company
Christine Rhea, Mortgage Investors Group
David Spector, PennyMac Financial Services, Inc.
Debra Still, CMB, Pulte Financial Services
Michael Tanner, Pacific Southwest Realty Services
Jeffrey Taylor, Digital Risk, LLC
Joe Tyrrell, ICE Mortgage Technology
Jim Wehmann, FICO
Jeffrey Weidell, NorthMarq
Thomas Wind, U.S. Bank Home Mortgage