#MBAAnnual22: Broeksmit Encourages 'Long View'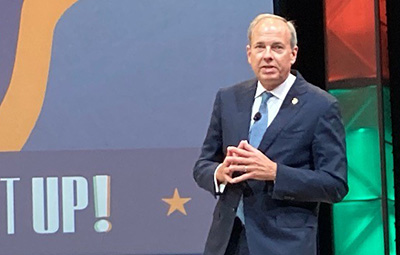 (MBA President & CEO Bob Broeksmit, CMB, speaks Monday at MBA Annual Convention & Expo.)
NASHVILLE—Mortgage Bankers Association President & CEO Bob Broeksmit, CMB, urged more than 4,000 participants here Monday at the MBA Annual Convention & Expo to look past present market and economic conditions.
"Thank you for making time, in these difficult times, to join us. It shows how much you value being part of the MBA family," Broeksmit said. "I've often heard it said that if someone looked at the mortgage industry on a quarter-by-quarter basis, they'd never get into it. Many people just couldn't stomach the volatility. But you and I – we know quarter-by-quarter isn't the best viewpoint. You have to take the long view. And you have to take stock of the extraordinary difference we make – both for individual Americans, and for America as a whole."
Last year, Broeksmit said, MBA met under different circumstances. "I wish that, like last year, we were celebrating new records, instead of confronting a new crisis," he said. "It's hard to fathom how fast things have changed. We went from the highest of highs to some of the lowest lows in recent memory. This time last year, we were celebrating our second $4 trillion year in a row. Now refis have fallen 85%, and purchase loans are down 15%. We're looking at the lowest volume of new loan applications in 22 years."
Broeksmit acknowledged changing circumstances are tough to watch. "It's even tougher to deal with every day. As someone who served as the president of a good-sized mortgage company during the Great Recession, I know all too well the difficult decisions you're facing. They aren't easy. They never are. But they are necessary. The tough calls you're making today will help you emerge stronger tomorrow. Our industry is resilient. And make no mistake: We will emerge stronger, together."
Twelve months ago, Broeksmit noted, inflation was just starting to get on people's radars; today it's the highest rate in more than 40 years.
"Now, America is in full damage control mode," Broeksmit said. "The Federal Reserve will continue taking aggressive steps to combat inflation. That means more rate hikes, at the very least. We expect it to be painful. But the short-term struggles will be far preferable to the long-term damage that endless inflation would do."
But it's more than just inflation, Broeksmit said, citing. record COVID-related government spending, worker shortages, supply chain issues and the war in Ukraine.
"But one thing people can't point the finger at is the mortgage industry," Broeksmit said. "That's worth dwelling on. Our current situation is the exact opposite of the Great Recession. Back then, policymakers pinned a lot of the blame on lenders and servicers. Now, you and your companies are a huge part of the solution. America is counting on us to lift up families in a down economy. And that's exactly what we will do."
Broeksmit emphasized MBA is fully committed to supporting and strengthening its members." I wish we could wave a magic wand and make these economic troubles disappear, but we can't," he said. "That said, there are many things we can do – and are doing – to give you relief. We have a slew of resources that will bolster your bottom line. When your business is hurting, our goal is to provide the maximum business value to you."
A good example is MISMO, which is breaking down data barriers and eliminating friction, industrywide. Broeksmit cited MISMO's latest SMART Doc® as a recent innovation. "The SMART Doc is designed to minimize, and ultimately eliminate, the pervasive phenomenon of reconciling data and documents and re-verifying and validating information throughout the mortgage lifecycle," he said. "The technical term for this activity is 'checkers checking the checkers.' The SMART Doc creates a 'trusted package,' in which data and documents travel together. We're working to apply this innovation to the documents you use every day. The more you rely on it, the more financial benefits you'll find.
MISMO has also released new standards to improve transparency and efficiency in the secondary market so you can get better prices. "And we're doing more and more in the Commercial and Multifamily space, including creating a new appraisal dataset standard and green borrower questionnaire," Broeksmit said. "You can expect more standards in the near future designed to make your companies more efficient. Believe me when I say that MISMO feels a sense of urgency to come through for you, consistently and quickly. It's already delivering – and it's just getting started."
Across the board, Broeksmit said, MBA is doubling down on member resources. "We're expanding our education and research capabilities," he said. "Our goal is simple: Make sure your teams have the knowledge and know-how to find and seize the best opportunities. We're also giving you new membership benefits at no additional cost, like free access to all MBA Education webinars and 16 self-study MBA Education courses. Please take advantage of these new benefits. And I hope you'll avail yourselves of our many longstanding offerings. In the current environment, they're even more important and useful than normal."
Broeksmit said advocacy remains one of MBA's most important forms of support for its members. "We all know that when times are tough, bad policies have a habit of rearing their ugly head," he said. "We're talking about laws and regulations that raise your costs instead of lowering them. At the MBA, we refuse to let that happen, which is why we're fighting on so many fronts."
For the past year and a half, Broeksmit noted, MBA has held the line on harmful tax hikes in Washington, D.C. "When Congress was debating the 'Build Back Better Act,' we worked with key lawmakers, on both sides of the aisle, to stop the worst proposals," he said. "It worked – those tax hikes never saw the light of day. In fact, when Congress passed the so-called Inflation Reduction Act in August, it reflected our work and your needs. The final legislation didn't include a host of dangerous tax hikes. And it preserved the existing taxation regime for mortgage servicing rights. The last thing you need is higher taxes. We're proud to have stopped them, on your behalf.
MBA is equally focused on stopping regulatory overreach. "The main threat we see is coming from the Consumer Financial Protection Bureau, where the single Director can act as judge, jury, and executioner, all in one," Broeksmit said. "When it comes to the Bureau, the bottom line is this: Americans need the CFPB to establish clear and consistent standards. That means providing the opportunity for notice and comment when enacting rules. And it never means circumventing the rulemaking process."
Broeksmit said market oversight works best when regulators provide consistent guidance to all market participants via notice and comment rulemaking, interpretive rules, and guidance that reflect stakeholder input, and applying them prospectively and providing the market appropriate runways for compliance. "That approach allows MBA to educate the Bureau on the potential impact of their rules, just as we did on their request for information on fees that mortgage originators and servicers charge their customers," he said "It allowed us to tell the Bureau that these types of fees are clearly disclosed in advance, reasonable, and reflect services actually performed."
Unfortunately, Broeksmit noted, the CFPB isn't always abiding by this commonsense system. "It's sometimes announcing new legal obligations without formal process or deliberation," he said. "It's also enforcing novel and untested legal theories, making it very difficult for firms to understand their legal obligations. The CFPB's actions exact a high cost on markets, and ultimately, consumers. Now is no time to make you hire more lawyers to try and understand what the Bureau is doing. You need relief and you need certainty. That's the path to lower costs – and we're making sure the CFPB knows it. We will work with the Bureau and others to ensure the Bureau understands the need for clear rules and lower costs to consumers."
Challenges take place at the state level as well. "There's no better proof than California," Broeksmit said. "Everyone knows that what starts in the Golden State rarely stops there. It quickly spreads to like-minded states, and even to the federal government. That's why we've fought so hard to stop harmful ideas from becoming reality."
This year alone, MBA and the California MBA achieved two big victories. "We led the charge against a bill that would have created a costly and complex new foreclosure system," Broeksmit said. "After months of hard work, and after mobilizing hundreds of MBA members to speak out, the sponsor withdrew the bill. It's now dead for the foreseeable future."
The second victory is even more important; for much of the past year, the California legislature has been moving to impose CRA requirements on non-banks. "But we made sure that won't happen," Broeksmit said. "I'm pleased to report that the bill has been amended – and expanding the CRA is off the table. These are the kind of wins you need right now, and not just in California. From coast to coast, we're fighting dangerous policies, including CRA expansion, rent control, and many others. We'll hold the line in state capitals, the same as we do in our nation's capital."
Broeksmit noted the mortgage industry is a business that's full of ups and downs.
"We're in a particularly bad time right now, and it may last longer than anyone wants," Broeksmit said. "But the good times will come again, as they always do. And if our history proves anything, it's that the overall trend isn't down, it's up, and we'll again reach heights we never imagined."