Hotel Cap Rates Increase
U.S. Realty Consultants LLC, Columbus, Ohio, reported hotel capitalization rates generally increased compared to six months ago.
"This is not surprising, despite a continued recovery in most hotel markets, given the strong Fed action which has led to the highest treasury rates in more than a decade, with further upward movement anticipated," U.S. Realty Consultants said in its Hotel Investor Survey. "This has, in turn, pressured cap rates, given the implied hotel lending rates are now approaching or exceeding negative leverage in some situations."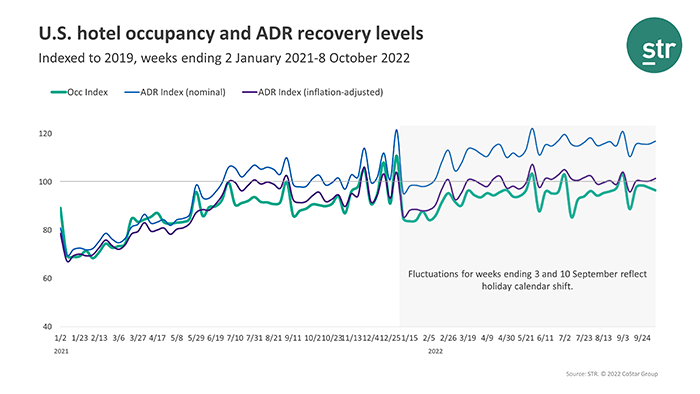 USRC said investors still expect the hotel market to recover, as demonstrated by strong average daily rate growth. "However, compared to last quarter, the ADR growth expectations have slowed for both full-service and limited-service hotels. Further, with decades-high inflation, expense growth expectations have accelerated, which could potentially squeeze net operating income recovery," the report said.
STR, Hendersonville, Tenn., reported U.S. hotel performance improved in early October compared to late September but called performance "mixed" compared to2019 (due to the pandemic, STR measures hotel recovery against comparable periods from 2019, not 2020 or 2021).
Hotel occupancy equaled 68.2% in early October, down 3.5% from the same time in 2019, STR said. The average daily rate increased to $153.79, up 16.9% from 2019, and revenue per available room equaled $104.83, up 12.8% from 2019.
Among the 25 largest markets, Orlando reported the highest occupancy increase over 2019 and San Diego reported the largest ADR gain, STR said. San Francisco was the only major market to post an ADR drop, down 17.7% to $227.56.
STR President Amanda Hite said an economic recession is likely on the horizon. "[But] current industry conditions have not yet been affected by a downturn in consumer or corporate spending," she said. "Group demand continues to show strong recovery in our first 'normal' meeting season since 2019. When looking at the leisure segment, weekend room rate growth shows little to no sign of easing, which continues to speak to consumer resilience. Lastly, the decline we've seen in construction activity means new supply will not represent a strong headwind and should only impact select markets such as New York and Nashville."