8 (or More) Things to Do in Nashville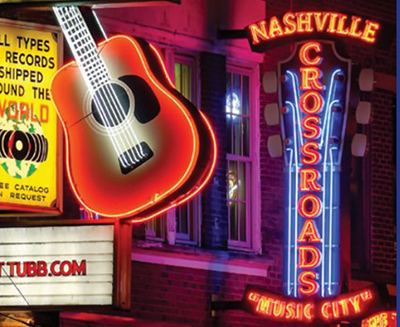 Laura Lang
October is a great time to visit Nashville. The weather is mild, and the summer crowds have thinned. But don't worry – there is still plenty to see and do.
Nashville is one of the most famous music destinations in the world. Its streets are filled with clubs, concert halls, bars with music, music studios, and street musicians. It's also home to some of country music's biggest stars, so keep a lookout as you pass people on the streets or frequent bars, pubs, and restaurants.
But there's more to this city than its music. Nashville is located on the Cumberland River, a significant waterway in the South, and is surrounded by gorgeous natural landscapes of forests and ravines. It's also home to some notable figures, professional sports teams, diverse colleges and universities, and plenty of museums and memorials.
Plus, let's not forget down-home Southern food and hospitality. If you're open to trying some local fare, check out Bon Appetit's first-timer's guide to Nashville and Conde Nast Traveler's list of Nashville's 22 best restaurants for ideas on where to dine.
Start With a Tour to Get a Good Overview of the City
There are plenty of options to help you get your bearings – ask at your hotel or MBA's Welcome Center about transportation and area tours that fit your time frame and budget. You can cruise down the river, tour in a golf cart, or get country wild with the Nashville Public Party Tractor Tour (yes, that's really a thing and it's only $40/person, 21+ only).
And when you're ready to get out there and explore all that is Nashville on your own, we have a few suggestions of our own!
1. Grand Ole Opry
The Grand Ole Opry is a weekly American country music stage concert founded in 1925 as a one-hour radio "barn dance" on WSM. The show has been broadcast for more than 4,600 consecutive Saturday nights and is sometimes called "the show that made country music famous."
The Opry is never rehearsed, and never the same show twice. The show offers the latest and greatest in country, folk, gospel, and bluegrass. Legends such as Dolly Parton, Johnny Cash, and Loretta Lynn have performed at the Opry, as have more-recent country artists such as Carrie Underwood, Darius Rucker, and Keith Urban. You can check out the current show calendar here.
Visitors can take a guided tour of the stage and dressing rooms before settling in for the night's entertainment. Before or after the show, be sure to check out the Opry Back Porch BBQ truck on the Opry Plaza for Southern-inspired, slowly smoked BBQ and house-made sides (open from 5–8 p.m. on show nights).
Address: 2804 Opryland Dr., Nashville, TN 37214
2. Broadway Street
Originally used as a major connection between businesses and the port of Nashville, Broadway Street is the center of the action in downtown Nashville. On Broadway Street, you'll find plenty of places to eat, drink, dance, sing karaoke, or ride a mechanical bull, if that's your thing.
During the day, visitors can hop on old-fashioned trams and trolleys to explore the streets to enjoy shopping, dining, and sightseeing. At night, Broadway becomes something else entirely. It teems with live music – coming from bars, pubs, and even street corners. Rooftop bars glitter with lights and (depending on the weather) you'll hear some splashing in swimming pools.
Broadway includes Lower Broadway, also called the Honky Tonk Highway, a four-block stretch featuring country western-themed shops and restaurants.
Not to be overshadowed by the strong live music scene, Broadway Street also offers visitors plenty of museums and historical sites. Country music fans will love the Patsy Cline and Johnny Cash museums. You can even tour Ryman Auditorium, which served as the home of the Grand Ole Opry from 1943 to 1974.
3. The Parthenon
Before it became known as Music City, Nashville had a reputation for its number of diverse colleges and universities, earning it the nickname "the Athens of the South." So naturally, there's a replica of the Parthenon and a 42-foot statue of Athena right in the middle of Centennial Park, Nashville's premier urban park. The building and the Athena statue are both full-scale replicas of the Athenian originals.
The Parthenon also serves as Nashville's art museum. The focus of its permanent collection is a group of 63 paintings by 19th– and 20th-century American artists donated by James M. Cowan. Additional gallery spaces provide a venue for temporary shows and exhibits, and theater troupes often perform Greek plays on the front steps. Be sure to check it out!
The art museum is open Tuesday–Saturday 9 a.m–4:30 p.m., and on Sunday 12:30–4:30 p.m.
Address: 2500 West End Ave., Nashville, TN 37203
4. Cumberland Park
The Cumberland River is a 700-mile waterway that winds through both Tennessee and Kentucky. One of the best places to view its beauty is Cumberland Park. The park sits right on the riverfront; you can even take a stroll down the famous pedestrian bridge that stretches across the water.
Nicknamed Nashville's "riverfront play space," Cumberland Park is a great place to take kids if they're traveling with you. It features bike paths, climbing structures, and butterfly gardens. There's even an amphitheater for outdoor concerts, although we doubt there will be any there during October.
Cumberland Park is part of the larger Riverfront Revitalization Plan, which includes the recently completed renovation of the adjacent Bridge Building and the development of The Lawn, an open space for recreation and events, and the Bridge Building Landing.
If you're planning a trip, this online map can help. The park is open daily from dawn to 11 p.m.
Address: 592 S 1st St., Nashville, TN 37213
5. Music Row
Music Row, located southwest of downtown, is the most famous street in Nashville; many of the streets in this area are named for country greats such as Roy Acuff and Chet Atkins. The district is centered on 16th and 17th Avenues South (called Music Square East and Music Square West, respectively, within the Music Row area), along with several side streets.
The area hosts the offices of numerous record labels, publishing houses, music licensing firms, recording studios, and video production houses, along with other businesses that serve the music industry, as well as radio networks and radio stations. You can tour many of the recording booths and radio towers, and there are several local landmarks, including the statue of songwriter/performer/publisher Owen Bradley in front of a grand piano.
At the other end of Music Row, across Wedgewood Avenue, sit the Belmont University campus and Vanderbilt University. Belmont is of particular note because of its Mike Curb College of Entertainment & Music Business.
Recently the district has been marked for extensive historical preservation and local as well as national movements to revive its rich and vibrant history.
Address: 16th/17th Ave. South – Division Street and Music Square, Nashville, TN
6. Nashville Zoo
Located 6 miles south of downtown Nashville, this zoo started as the Croft family farm home in the 1800s. The Croft family donated the land under the condition that it had to be used as a "nature study area." City leaders struck a 40-year lease with Nashville Zoo in which the land would be city-owned but operated by the zoo's private nonprofit organization.
Today the zoo is the country's ninth largest, with nearly 3,000 animals representing 350 different species.
The zoo is one of the top tourist attractions in the state and has been named the Best Regional Attraction and Best Day Trip by The Tennessean. There are also zoo-sponsored camps and classes if you're looking for fun stuff for your kids to do this week. Some animals are even available for feeding and photo opportunities.
The zoo is open 9 a.m.–6 p.m. daily.
Address: 3777 Nolensville Pike, Nashville, TN 37211
7. Tennessee Sports Hall of Fame and Museum
If you're a fan of Tennessee sports at any level, check out Bridgestone Arena, home to the Nashville Predators. Inside you'll find the Tennessee Sports Hall of Fame and Museum featuring more than 500 honorees and inductees from football, basketball, baseball, golf, soccer, rafting, track & field, and other sports happening in the Volunteer State. (Yes, Peyton Manning is honored there.)
The museum was founded in 1966 by the Middle Tennessee Sportswriters and Broadcasters Association and today is sponsored by state and local governments, private donors, and national, collegiate, and semipro sports teams.
If you're going to stop in, plan to spend an hour or more browsing the displays and exhibits that showcase the history of the state's finest athletes. If you brought your kids along, be sure to include them on this side trip so they can dress up in a Nashville Predator or Tennessee Titan jersey for photos and engage in a variety of activities. There are even a few rides.
The museum is open 10 a.m.–5 p.m. Tuesday–Saturday.
Address: 501 Broadway, Nashville, TN 37203
8. Tootsie's Orchid Lounge
On your trip to Nashville, don't miss Tootsie's Orchid Lounge, the oldest honky-tonk bar in Tennessee. Well, it's actually hard to miss. It's across the alley from the Ryman and painted bright purple. At night it will have a line stretching down the entire street.
Its proprietor from 1960 to 1978, Hattie Louise "Tootsie" Bess, bought the lounge called "Mom's" and then renamed it for herself. According to tradition, a painter mistakenly painted the exterior orchid purple. The color was never changed and became Tootsie's signature color.
Tootsie's has a long, colorful history in the country music scene. It's said Patsy Cline and Waylon Jennings were among its customers, and it's where Willie Nelson got his first gig. A portion of the Loretta Lynn biopic "Coal Miner's Daughter" was filmed there, and it's even been featured in a documentary called Tootsie's Orchid Lounge: Where the Music Began.
Tootsie's is open every day from 10 a.m.–3 a.m.
Address: 422 Broadway, Nashville, TN 37203
One attraction that's certainly worth noting but did not make our official list (this time) is The Arthur J. Dyer Observatory. It's the white dome you've probably noticed on the skyline. It's an astronomical observatory built in 1953 and owned and operated by Vanderbilt University. It's the only university facility not located on the main campus in Nashville.
If you're an astronomy buff, you're probably wondering why we've skipped over it. The simple reason: During October, when we're all in town, it will not be open to the public. While you can drive up the hill and look around, the observatory is closed and many of the outdoor exhibits will also be closed for renovation.
The timing is a bummer … but perhaps on a return trip to Nashville, you'll be able to visit this very cool attraction.
Laura Lang is an industry writer currently based in Fresno, Calif. She can be reached at lauralhaverty@gmail.com.