MBA Premier Member Profile: Constellation Mortgage Solutions
(One in a continuing series of profiles of Premier Members of the Mortgage Bankers Association.)

Constellation Mortgage Solutions provides industry-leading lending technology solutions through its products: Mortgage Builder LOS, Mortgage Builder LSS, ReverseVision LOS and our new LOS – NOVA.
NOVA combines a trusted end-to-end enterprise solution with a cloud-based platform and a dynamic UI experience. As a result, originating loans becomes fun again through an intuitive experience familiar to everyone who's surfed the web.
NOVA is a platform built by people and a company with 25 years of mortgage tech experience. NOVA by CMS is trusted, tested, stable, secure, and fully integrated with best-in-class mortgage fintech.
As the Gold Standard for mortgage solutions, CMS offers Lenders of all sizes enterprise technology empowering Lenders on the front lines with innovative solutions designed to deliver exceptional loan quality, regulatory compliance, and drive profitability. CMS has been working for over two decades to help mortgage professionals streamline operations and close more loans faster to increase ROI. For more information, click www.constellationsolutions.com.
Key Personnel
Stephen Ryczek
Kelli Himebaugh
Lynnette Nuese
Mike Turner
MBA NEWSLINK: What are some key trends your company is tracking?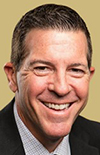 STEPHEN RYCZEK: CMS tracks market trends, which are so important in a shifting market. CMS also follows residential loan types, business channels, and our competitor's technology. Tracking competitor tech has led us to develop NOVA, the future of loan origination. The industry was talking, and we were listening. NOVA encompasses a veritable wish list of features in an enterprise, dynamic, cloud-based platform.
NEWSLINK: Why did your company join the Mortgage Bankers Association?
RYCZEK: CMS has been a member of MBA for nearly two decades. MBA is the premier industry organization and provides the opportunity for us to network with industry partners and lenders.
NEWSLINK: How has being an MBA Premier Member benefited your company?
RYCZEK: As an MBA Premier Member, we greatly benefit from meeting more members across the industry and expanding our outreach.
(MBA Premier Member Profiles are provided by the Mortgage Bankers Association and MBA NewsLink as a service to MBA Premier Members. Publication does not constitute an endorsement of a particular company, product or service. For more information about the MBA Premier Member program, contact Brad Padratzik, MBA Director of Associate Membership, at bpadratzik@mba.org or call 202/557-2779.)