Small-Cap Real Estate Leasing Conditions Waver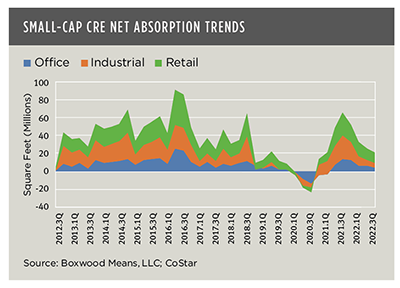 Boxwood Means LLC, Stamford, Conn., said current stability of small-cap commercial real estate leasing conditions could be at risk.
The national vacancy rate hovered at a record low 4.0% across the small-cap commercial sectors in the third quarter, 40 basis points below a year ago. Boxwood Means Principal and Co-Founder Randy Fuchs said this indicates a healthy small-cap commercial real estate leasing market, "powered by the renaissance of small business growth following the Great Recession that then resumed after the COVID interregnum." He noted this low vacancy rate–a full 100 basis points below the quarterly average over the past 10 years–will provide some ballast against negative consequences if a recession causes massive layoffs and reductions in leasing demand.
"But a continuing slowdown in across-the-board leasing velocity reflects mounting concerns among small businesses that economic conditions will get worse before they get better," Fuchs said. "The Federal Reserve appears hellbent on taming the inflation tiger, and the current regime of interest rate hikes has taken the air out of the proverbial balloon, has raised market risks and may level potentially punishing effects on all commercial real estate market participants."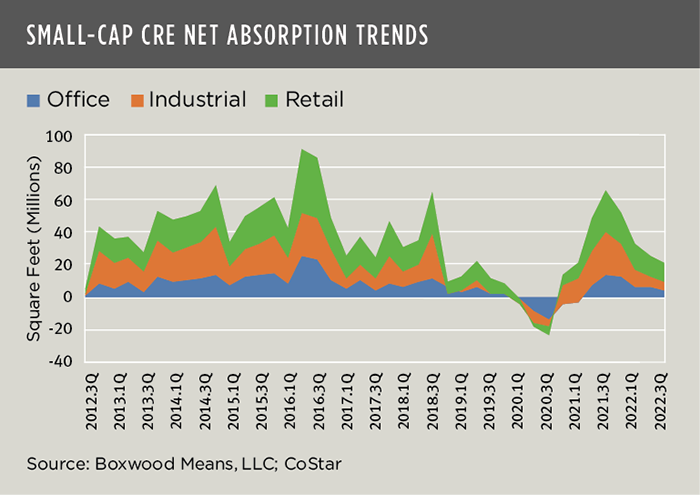 Overall commercial tenant demand narrowed in the third quarter, Fuchs said. Aggregate net absorption of commercial space totaled 21.3 million square feet, down 17.3% quarter-over-quarter. "Clearly, as a fourth consecutive quarterly decline in space demand signifies, leasing momentum has slowed as small business tenants increasingly lack confidence in the economy's outlook," he said, noting the Small Business Index from MetLife and the U.S. Chamber of Commerce found twice as many small business owners said the economy was in poor health versus good health in the third quarter.
For individual small-cap real estate sectors, Boxwood Means reported multifamily demand slipped again, as net absorption of small-cap apartments fell for a second quarter in a row to roughly 1,800 units nationally, down from more than 13,000 a year ago and the lowest level since COVID started. The small-cap occupancy rate held relatively steady at 96.1%. "Here again, dwindling demand shows that confidence is lacking–this time among consumers," Fuchs said. "Net rental demand typically depends on new household formation, and these newbies have largely disappeared."
The small-cap office national vacancy rate ticked down 10 basis points to 6.4%, Fuchs said. "What is a bit surprising is the relative stability of small office building fundamentals, i.e., we hear a lot about how smaller office properties will suffer from tenant migrations to bigger, higher-amenity office locations. That has yet to show up in the national numbers. But that said, office demand has weakened," he said.
Vacancies for small industrial and flex buildings held steady at 2.9% for the third consecutive quarter, Fuchs said. Occupancy gains slowed to just 5.4 million square feet, down a sizable 79.8% from 12 months earlier, when nearly 27 million square feet were absorbed. Importantly, the roughly 8,100 leases signed during the quarter represented the lowest total in 15 years, reflecting in part the weaker demand for goods in the manufacturing sector and slowing business investment, he said.