Dealmaker: NewPoint Real Estate Capital Provides $105M Bridge Loan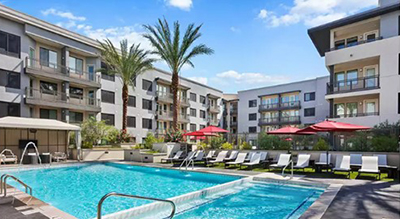 (SeventyOne15 McDowell, Scottsdale, Ariz.)
NewPoint Real Estate Capital LLC, Plano, Texas, provided a $105 million bridge loan for the acquisition and lease-up of SeventyOne15 McDowell, a new-build mid-rise apartment community in Scottsdale, Ariz.
The two-year interest-only loan included three one-year extension options. NewPoint Senior Managing Director John DeWitt closed the transaction.
"Given the asset quality and market, we were able to close at roughly 30 percent leased shortly after SeventyOne15 McDowell received its final certificate of occupancy." DeWitt said.
The 274-unit community located between Old Town Scottsdale and downtown Tempe, Ariz., sits across the street from SkySong, a 42-acre mixed-use development that is one of Arizona State University's innovation zones. Property amenities include a swimming pool with private cabanas, rooftop lounge with fire pits, a two-story fitness center and electric vehicle charging stations.
With more than 55,000 people expected to move to Phoenix annually for the next five years, the local multifamily market currently has some of the country's strongest employment and population growth trends, analysts said.