MBA Chart of the Week Nov. 18, 2022: Return to Office Rates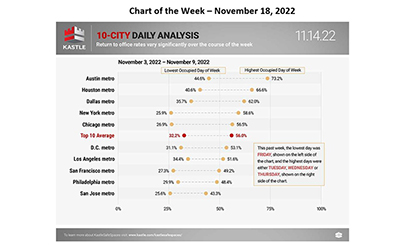 Thanks to a very tight labor market and technological advances, hybrid work reigns two and a half years after the onset of the COVID-19 pandemic, with employees at many companies coming into the office a few days a week. The extent to which this trend will continue – and what it means for the office market – will depend on employees' and employers' costs and benefits of being in the office versus remote and whether a transition to a looser labor market tilts the bargaining table to employers and their preference for more in-person collaboration.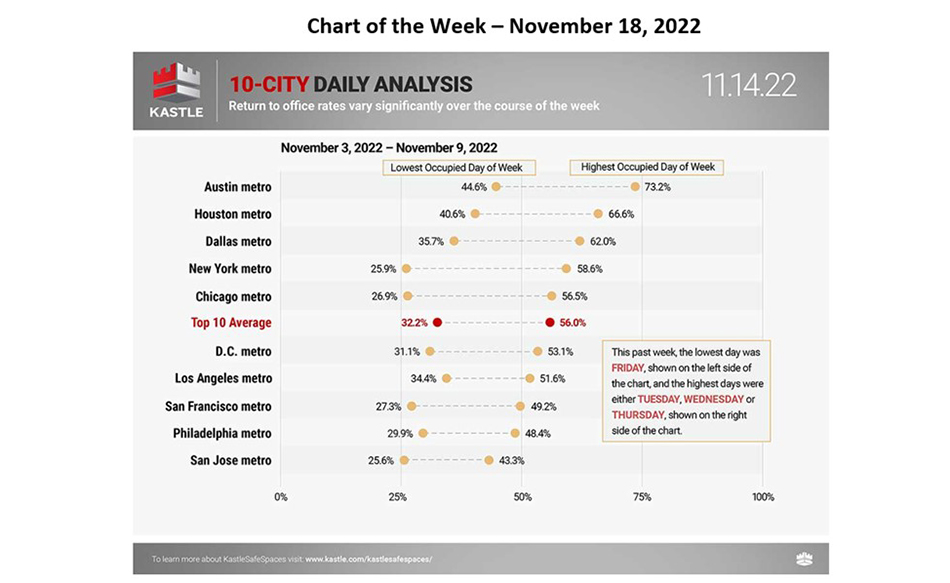 This week's Chart of the Week highlights data from Kastle Systems for November 3-9, showing the range of daily occupancy rates for 10 major metros. For these metros, the lowest average occupancy rate for a particular day of the week was 32.2 percent, and the highest was 56.0 percent, compared to essentially 100 percent occupancy pre-pandemic for most days.
A recent MBA white paper – A Framework for Considering Office Demand in a Post-Pandemic World – looks at the relative benefits and costs of remote and in-person work to employees and employers. It finds that in the near term, remote work can be just as, if not more, effective than office work in terms of "getting the job done," while also providing a range of tangible short-term benefits. The findings also reveal that companies and employees rely heavily on in-person interactions to develop workplace capital – helping them thrive in the long-term. The pandemic has elevated the weight of the near-term benefits of remote work while reducing the pull of developing workplace capital.
The white paper presents two scenarios – a base case where hybrid work trends remain and an alternative case where a looser labor market and "a fear of missing out" lead to a greater return to in-office work – to analyze the outlook for the office sector and potential impacts to commercial mortgage loan volume and property values.
—Jamie Woodwell jwoodwell@mba.org; Mike Fratantoni mfratantoni@mba.org.