Retail's Small-Format Advantage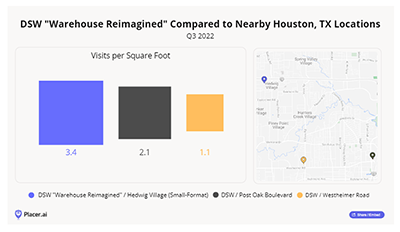 More retailers are now incorporating small-format stores into their portfolios, reported Placer.ai, Los Altos, Calif.
"There are plenty of reasons why companies have been leaning into small-format stores," Placer.ai said in Going Big by Going Small: The Small-Format Advantage. "Retailers can tailor these small-format stores to target a specific demographic, create a personalized shopping experience or experiment with a new brand direction. Small-format stores can also serve as fulfillment centers for click-and-pay shopping and as a location for returns, all while fostering brand awareness and customer engagement. And thanks to their smaller size, these stores can help companies expand their reach in urban centers and other highly priced real estate markets while lowering overhead costs."
The white paper analyzed several retailers who have opened small-format stores to see how smaller stores affect visits, dwell time and loyalty. It said discount shoe retailer DSW opened a small-format store called Warehouse Reimagined in Houston. Warehouse Reimagined stores average 15,000 square feet, less than two-thirds of a traditional DSW location.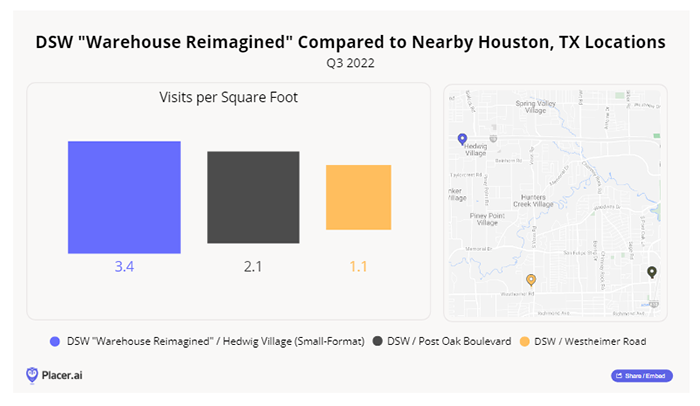 "The smaller-format DSW store is attracting significantly more visits per square foot than neighboring DSWs," the report said. The smaller-format location in Houston suburb Hedwig Village received 3.4 visits per square foot, while the larger Post Oak Boulevard store nearby drew 2.1 visits and the Westheimer Road location just 4.5 miles away saw only 1.1 visits per square foot.
"The new format allowed DSW to take up a smaller parcel within the Hedwig Village shopping center while using its store space more efficiently and promoting greater customer density–one of the many benefits that small-format stores offer retailers," Placer.ai said.
The report also looked at Target, one of the largest retailers in the country, which operates more than 150 small-format stores, often located on or near college campuses and catering specifically to students. These campus-oriented Target stores range from 13,000 square feet to 40,000 square feet "and carry products a typical college student might need–grab-and-go food, dorm room furnishings, toiletries and school supplies," it said. "The campus stores can also serve as e-commerce pickup points for students, many of whom are particularly comfortable with online shopping."
Placer.ai said Target's small-format experience shows retailers of all sizes and strengths can benefit from this trend. "Target as a whole is already one of the strongest retailers in the brick-and-mortar space–but foot traffic data indicates that the company's small-format stores are performing even better," the report said.
The report noted smaller stores can increase visitor density, which is more efficient in areas where large-format stores do not fit or are cost prohibitive. Second, retailers can use smaller stores to cater to key demographic segments such as college students.
In addition, small-format stores can offer more "experiential" retail possibilities that promote longer visits, as shown by grocer Publix, whose small-format GreenWise Markets see notably longer dwell times than other Publix locations nearby.
Finally, companies can draw on smaller stores to increase customer convenience. Department store Macy's bet its customers would respond to a simpler experience that prioritized speed and convenience–"and it proved true," the report said. "[Smaller-format] Market by Macy's shoppers were in and out of the store much quicker than visitors to traditional Macy's stores, signifying that successful shopping missions were completed with ease."