Multifamily Grabs Growing Share of Total Housing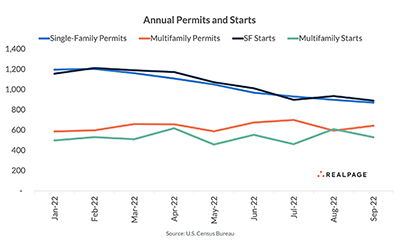 Multifamily building permits and starts have grown since January while single-family permits and starts have dropped, reported RealPage, Richardson, Texas.
RealPage Senior Real Estate Economist Chuck Ehmann examined Census Bureau data for a report, Multifamily Taking Larger Share of Total Housing. "As rising interest and mortgage rates have put a dent in the once red-hot single-family market, multifamily construction has held up and by holding steady is taking a larger share of total residential construction," he said.
The report noted single-family permitting has declined for six consecutive months, from a 1.2 million home annualized rate in February to 872,000 units in September. Single-family permitting fell more than 17% year-over-year. But multifamily permitting increased 25.5% from September 2021 to reach a 644,000-unit annualized rate in September.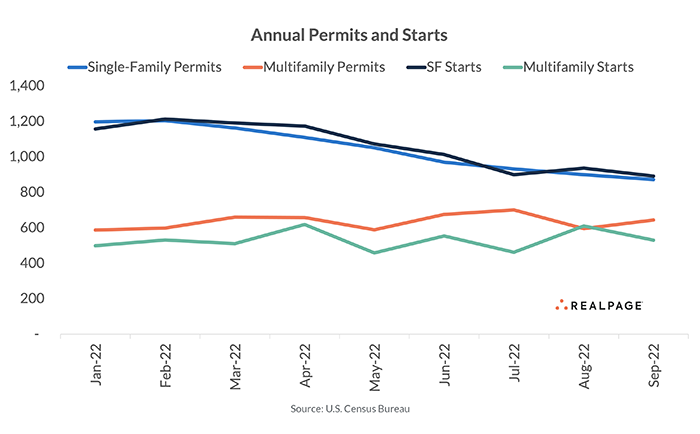 "The story is the same for residential starts," Ehmann said, noting annualized single-family starts have declined 18.5% from last September to 892,000 while multifamily starts are up 16.5% from last September at 531,000 units.
Because of construction delays and slowing single-family starts, the number of multifamily units under construction has exceeded that of single-family houses since May. But multifamily completions increased more than 16% in September compared to August's annual rate as competition for construction crews lessened. Single-family completions increased about 3% over the same timeframe, Ehmann said.
The Census report said the annual rate for multifamily permitting increased in all four of the nation's Census regions from a year ago, with the largest annual increase in the South (up 31.2% to 311,000 units) and the West (up 29.5% to 189,000 units).
Multifamily starts increased in three of the four regions, with the biggest increases in the Northeast (up 52.7% to 85,000 units) and the West (up 20.8% to 182,000 units).