Jobs Reports: 'Great Resignation' Starting to Fade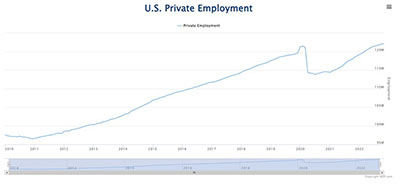 In the first two of four major jobs reports this week, ADP, Roseland, N.J., said private-sector employment slowed to 127,000 jobs in November. And the Bureau of Economic Analysis reported November job openings fell by more than 7 percent from a year ago.
The ADP National Employment Report said private-sector employment increased by 127,000 jobs in November; annual pay rose by 7.6 percent year-over-year. Job creation slowed by the most since January 2021, led by construction and other interest rate-sensitive sectors.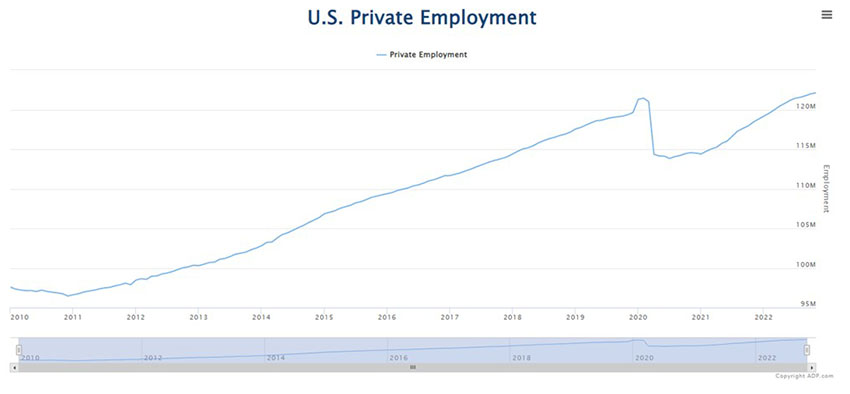 "Turning points can be hard to capture in the labor market, but our data suggest that Federal Reserve tightening is having an impact on job creation and pay gains," said Nela Richardson, chief economist with ADP. "In addition, companies are no longer in hyper-replacement mode. Fewer people are quitting and the post-pandemic recovery is stabilizing."
The report said by sector, goods-producing jobs fell by 86,000, while service-providing jobs increased by 213,000. By size, small businesses (1-49 employees) lost 51,000 jobs; medium-sized businesses (50-499 employees) added 246,000 jobs; and large businesses lost 68,000 jobs.
ADP said pay gains moderated again in November, although pay growth remained elevated even as it continued a modest but broad-based deceleration. Job changers notched their fifth straight slowdown and the smallest increase in pay since January. Pay growth for job stayers edged down, too, led by leisure and hospitality, which had a rapid run-up in 2021, but has been falling since March.
Separately, BLS reported job openings slowed to 10.3 million on the last business day of October, down by 353,000 from September. The monthly Job Openings and Labor Turnover Survey (JOLTS) said hires and separations changed little at 6.0 million and 5.7 million, respectively. Within separations, quits (4.0 million) and layoffs and discharges (1.4 million) changed little.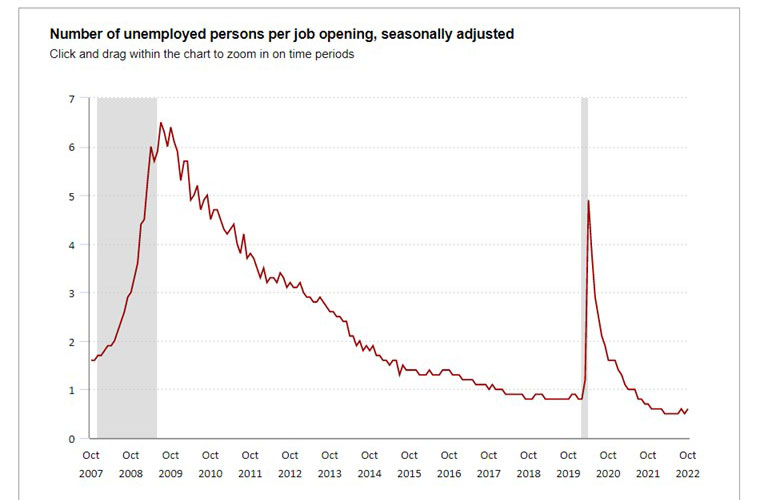 "The October JOLTS reports offers one more sign that the hiring frenzy of the past year is starting to die down," said Sarah House, Senior Economist with Wells Fargo Economics, Charlotte, N.C. "Fewer voluntary departures are likely helping to reduce total openings as the need to refill positions eases amid lower turnover. The number of workers quitting their job fell for the sixth time in seven months and should help to keep a lid on wage pressures. Layoffs, however, were little changed and suggest that while cracks are emerging in the labor market, it is far from crumbling."
House said the JOLTS report adds to the evidence that labor demand has started to wilt but is a long way from falling off the vine. "October's retrenchment leaves job openings firmly below their year-ago levels," she said. "Prospects for the economy's soft landing have rested partly on the elevated levels of job openings offering scope for labor demand to weaken without employers needing to reduce current headcount."
Meanwhile, House noted the uptick in layoffs." The trend over the past few months, however, is little changed and suggests that the jobs market is merely beginning to crack rather than crumble," she said.
The parade of reports continues Thursday when the Labor Department releases its weekly Initial Claims report for unemployment insurance. And on Friday, BLS releases its November Employment Situation report.
MBA Chief Economist Mike Fratantoni will provide commentary and analysis on Friday's jobs report in the Monday, Dec. 5 edition of MBA NewsLink.