MBA Chart of the Week: Thanksgiving Price Inflation
Our Thanksgiving edition of Chart of the Week focuses on four major food and beverage items popular for the occasion – turkey, potatoes, baked goods and wine.  Consistent with the broader inflationary environment, prices for these products, as measured by the Consumer Price Index have seen significant growth over the past year.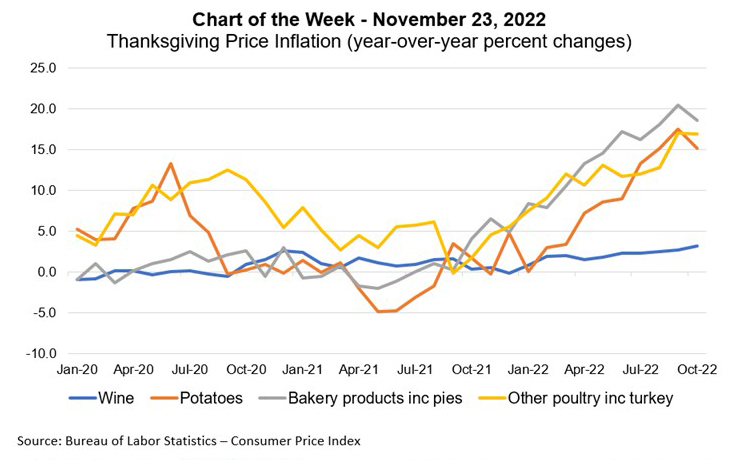 The CPI category for other poultry, which includes turkey prices, the core menu item for many Thanksgiving dinners, was up 17 percent in October from a year ago. Overall inflation, higher feed prices, and avian flu were contributors to the escalation in turkey prices. Baked goods saw an 18.6 percent increase in price over the past year, down slightly from a 20.4 percent growth rate in September.
One main driver of higher prices was more expensive ingredients, for example, the price of butter and margarine was up almost 34 percent over the year. For those who enjoy their turkey with a potato dish of choice, potato prices were more than 15 percent higher than a year ago. The price of wine rose 3.2 percent, substantially less than these other items. But it should be noted that the 3.2 percent growth rate was the highest since 2009, and wine prices have been accelerating since April 2022.   
Despite Thanksgiving price inflation and the challenging mortgage market environment, there are still things to be thankful for:
The 30-year mortgage rate was down to 6.67 percent last week, dropping almost 50 bps over the last two weeks. The dramatic increase in rates since the spring has pushed many potential homebuyers out of the market and further easing in rates should help overcome affordability challenges for those still in the market.
In the third quarter, the mortgage delinquency rate fell to its lowest level since MBA's survey began in 1979 – declining to 3.45 percent. Foreclosure starts and inventory also dropped in the third quarter to levels further below their historical averages.
Most US households are well-positioned to weather a potential recession – levels of home equity wealth remain at record highs, financial and debt obligation ratios are below historical averages, and the job market is still resilient.
New home sales in October surprised to the upside, increasing 7.5 percent over the month to an annual pace of 632,000 units.
–MBA Research mbareserch@mba.org.