The Office Sector Paradox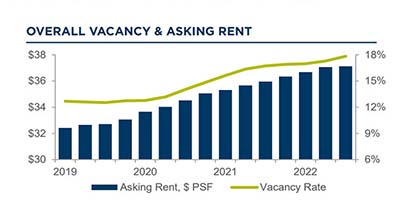 Office-using employment increased this year, but office absorption remains negative, reported Cushman & Wakefield, Chicago.
The third quarter saw minus-18.5 million square feet of net absorption across the U.S., the ninth negative quarter in the past 10, Cushman said in its third-quarter Office MarketBeat report. It noted national absorption remained negative for nine of 10 and eight of nine quarters, respectively, after the dot-com collapse and Great Recession.
"Although the overall demand trend remains negative, there are notable bright spots across the country," the report said. Nationally, nearly one-third of office markets Cushman & Wakefield tracks registered positive absorption during the quarter. "Strong demand continues to be seen in a few market categories, including life sciences markets buoyed by demand for both lab and office space (including San Jose, San Diego, Washington, D.C.'s Maryland suburbs and Boston) [and] large Sunbelt markets with strong job growth and appeal for growing technology occupiers (e.g., Dallas, Austin, Atlanta and Miami)."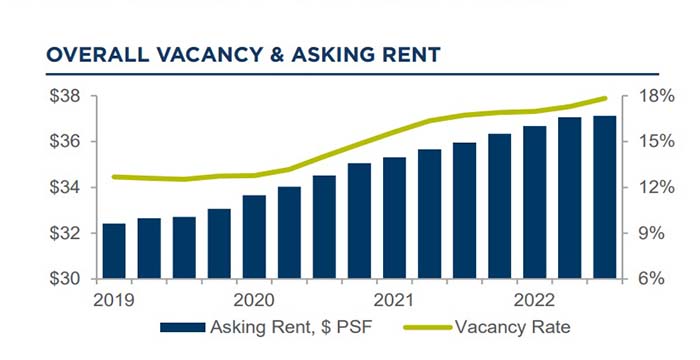 Small Sunbelt markets with lower costs of living and of doing business, such as Charlotte, Charleston, Greenville, N.C., and Nashville and recovering northeastern secondary markets including Rochester, N.Y., and Fairfield County, Conn., are also "bright spots," Cushman noted.
Looking ahead, Cushman said continuing uncertainty continues to disrupt occupier plans. "The nature of a health pandemic is quite different than a typical recession, and the aftermath has included increased levels of uncertainty related to office usage and the future of the workplace," the report said. "That said, there are some signs of returning to normal patterns. As noted, the market remains very active in terms of gross leasing activity. Moreover, businesses are generally signing leases for the same length of term as observed prior to the pandemic."
Vacancy will likely remain elevated, the report said. Though the national vacancy rate has increased for 12 straight quarters, vacancy declined quarter-over-quarter in one-fourth of U.S. markets. "While some markets are seeing improvements in vacancy rates, others are still expected to record further increases due to lagging demand, recent sublease announcements, elevated construction or a combination of these factors," Cushman said.
In addition, the office construction pipeline will likely slow. "Keep an eye on it," the report said. "New product is in high demand, but an economic slowdown is likely to slow the future supply pipeline. This may result in a period of underbuilding new product, creating fierce competition for the newer product that does exist, and likely placing upward pressure on rental rates for this segment of the market."