Adaptive Reuse Apartments Up 25% from Pre-Pandemic Numbers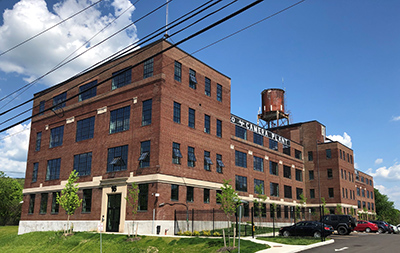 (Former factory converted to apartments, Binghamton, N.Y.)

Adaptive reuse apartments–other property types converted into apartments–have jumped 25% compared to pre-pandemic levels, reported RentCafe, Santa Barbara, Calif.
In its annual Adaptive Reuse Report, RentCafe said adaptive projects are growing faster than new apartment construction.
The 25% jump in converted apartments compared to pre-pandemic years translates into 28,000 new rentals delivered nationwide in 2020 and 2021 combined, RentCafe said.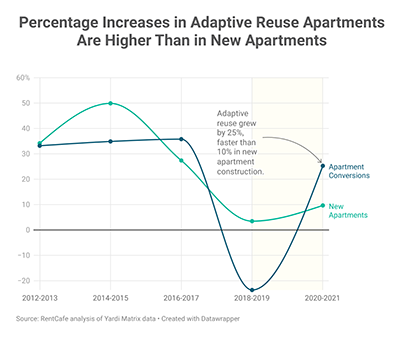 Doug Ressler, Manager of Business Intelligence with RentCafe parent company Yardi Matrix, noted existing building architecture is the critical starting point for adaptive reuse projects. "The residential market needs significantly more density in the areas of the largest cities, where the demand is greatest and where the tallest office buildings are located," he said. "Not all buildings are equally threatened by the work-from-home revolution. Larger office buildings in abandoned central business districts are better suited to conversion than the often-smaller office complexes distributed around the suburbs."
Office building conversions make up 40% of all adaptive reuse apartments since the pandemic. But niches such as converted healthcare buildings are growing at a faster pace, RentCafe noted. The number of apartments converted from healthcare buildings more than tripled during the pandemic. Next was religious buildings, with a 73% increase, followed by hotel conversions, which grew by 65%, followed by former factories, warehouses and school buildings.
RentCafe said it expects 77,000 converted apartments to deliver over the next several years. More than 1,200 apartments came online between January and June in Los Angeles, making this year the best one in the past decade.
"Nowhere is the future development of adaptive reuse more evident than in Los Angeles, where a total of 4,130 apartments resulting from conversions are expected," the report said. Over the past two years, Washington, D.C., Philadelphia and Chicago led the nation in repurposing buildings with a combined 15% of all U.S. apartment conversions.