Single-Family Rental Sector Gains Momentum Even as Returns Slip
The single-family rental sector gained momentum in the first quarter, even as profit margins declined, analysts reported.
"With the costs of homeownership rising alongside mortgage rates, SFR's growing role as the new U.S. starter home continues to cement," Arbor said in its Q1 2022 Single-Family Rental Investment Trends Report.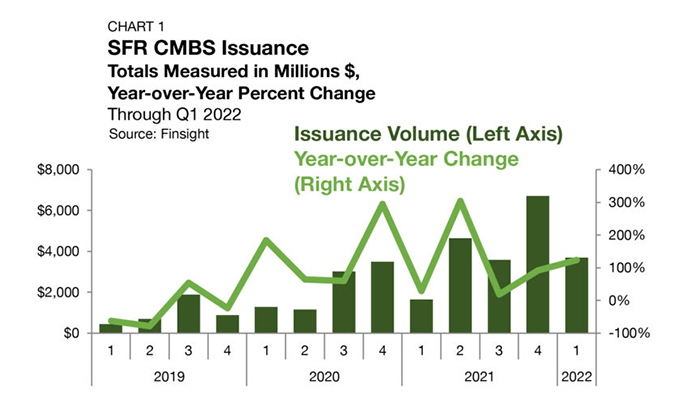 The sector's decade-long trend of institutionalization has accelerated over the past year. SFR commercial mortgage-backed securities issuance reached $3.7 billion in the first quarter, nearly 125 percent higher than the first quarter of 2021, Arbor said.
The U.S. Census Bureau reported occupancy rates across all SFR properties averaged 94.9 percent in the first quarter, a 10 basis point increase from the fourth quarter. The first-quarter reading brings the SFR occupancy rate to within 40 basis points of its generational high, "indicating that the sector is operating at or near full potential occupancy," Arbor said.
ATTOM, Irvine, Calif., reported single-family rental profit margins are declining annually across most of the U.S. and are slightly more likely to decline in areas that already have lower yields. The firm analyzed average gross rental yields before expenses on three-bedroom single-family homes purchased by landlords this year and found decreasing yields in 72 percent of counties studied.
The downturn in single-family rental yields comes as prices landlords must pay to buy properties are rising faster than rents, ATTOM noted. Median prices for three-bedroom houses increased at least 15 percent from 2021 to 2022 in half of the counties analyzed, while average rents went up by that much in only one-third of those markets.
"Investors who own single-family rental properties have seen their margins compressed over the last year as home prices have risen faster than rental rates," said Rick Sharga, Executive Vice President of Market Intelligence at ATTOM. "The good news for these property owners is that their yields should improve as annual rental rates increase, and they should also benefit from home price appreciation over time."