April New Home Sales Fall to 2-Year Low
New home sales in April suffered double-digit percentage losses for the second consecutive month, falling to their lowest level since June 2020, HUD and the Census Bureau reported Tuesday.
In a separate report, RE/MAX, Denver, said April home sales rose by less than 1 percent but inventories—which had been at record-low levels for a sustained period—showed signs of recovery.
HUD/Census said sales of new single‐family houses in April came in at a seasonally adjusted annual rate of 591,000, 16.6 percent below the revised March rate of 709,000 and 26.9 percent lower than a year ago (809,000).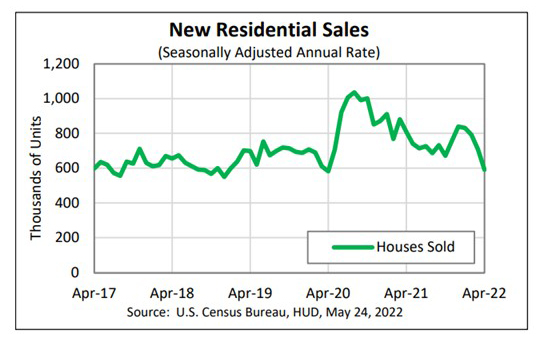 Sales fell in every region, and fell hardest in the South, where they dropped by nearly 20 percent in April to 307,000 units, seasonally annually adjusted, from 383,000 units in March and fell by nearly 37 percent from a year ago. In the West, sales fell by nearly 14 percent to 163,000 units in April from 189,000 units in March and fell by 12.4 percent from a year ago.
In the Northeast, sales fell by nearly 6 percent in April to 48,000 units, seasonally annually adjusted, from 51,000 units in March but improved by 17.1 percent from a year ago. In the Midwest, sales fell by 15.1 percent to 73,000 units in April from 86,000 units in March and fell by 25.5 percent from a year ago.
"New-home sales in April come in well below consensus expectations," said Odeta Kushi, Deputy Chief Economist with First American Financial Corp., Santa Ana, Calif. "Affordability is a growing challenge as higher new-home prices & rising mortgage rates are pricing out some buyers. One year ago, 25% of new-home sales were priced below $300,000. In April of this year, only 10% of new home sales were priced below $300,000."
Kushi noted the new-home market is sensitive to rising rates. "While builders are facing some relief with material costs, buyers are faced with much higher borrowing costs. This is pricing out many new-home buyers, which will continue to have a slowing effect on the new-home market," she said.
Mark Vitner, Senior Economist with Wells Fargo Economics, Charlotte, N.C., noted new home sales have been particularly volatile of late, noting April's results marked the fourth straight monthly decline, as well as second straight double-digit drop.
"April's fall is the sharpest monthly contraction since July 2013, which coincided with a spike in mortgage rates following the Fed's comments on forthcoming monetary policy tightening and resulting 'taper tantrum,'" Vitner said. "The 591,000-unit annual pace of home sales was the slowest pace since April 2020, when sales came to a grinding halt at the onset of the pandemic."
Additionally, Vitner said, borrowing costs only appear to be rising further, which should continue to weigh on housing activity over the next few months. "Rising financing costs and rapid price appreciation have caused many traditional buyers to take a step back from the housing market," he said. In addition, some previously qualified buyers may no longer qualify under current interest rates. Home builders continue to contend with supply constraints which make completing new homes challenging."
"The new home sales report released today by the Census Bureau clearly points to a housing market that has turned," said Doug Duncan, Chief Economist with Fannie Mae, Washington, D.C. "Following an increase of over 200 basis points in mortgage rates since the end of last year, signs of slowing housing activity have been building, as previous reports on existing home sales, mortgage applications, and homebuilder confidence have all turned lower. However, today's new home sales report is the sharpest indicator yet, with sales coming in well below both our own and consensus expectations."
The report said the median sales price of new houses sold in April rose to $450,600; the The average sales price rose to $570,300. A bright spot in the report: the seasonally adjusted estimate of new houses for sale at the end of April rose 444,000, representing a supply of 9.0 months at the current sales rate, the highest level since the start of the pandemic.
Meanwhile, RE/MAX reported April home sales increased by less than 1% over March – and dropped 12.8% year-over-year – across its National Housing Report's 53 measured metro areas.
Nick Bailey, President and CEO of RE/MAX LLC, said after a frenzied two-year run, the market appears to be shifting slowly toward more balance. He said he anticipates a strong second half to 2022, albeit at a bit of a slower place.
"In the big picture, it's still a strong housing market, with sales happening quickly and demand easily outpacing supply," Bailey said. "We're starting to see a cooling in sales, which isn't surprising given the record results of 2021 and the recent rise in interest rates. That should create more balance over time, countering the frenzied seller's market we've had for so long. Driven by generational demand, rising rental costs and still relatively low interest rates, 2022 could still rank as one of the best years in the past decade."
The report said of the 53 metro areas surveyed in April, the overall average number of home sales rose by 0.5% from March and fell by 12.8% compared from a year ago. Markets with the biggest decrease in year-over-year sales percentage were Miami at -24.9%, Bozeman, Mont., at -22.5%, and Coeur d'Alene, Idaho, at -21.1%. Only one metro area had a year-over-year sales percentage increase, Honolulu at +0.2%.
The report said the median of all 53 metro area sales prices was $420,000, up 3.4% compared to March, and up 15.1% from April 2021. No metro areas saw a year-over-year decrease; 41 metro areas increased year-over-year by double-digit percentages, led by Dallas at +39.5%, Fayetteville, Ark., at +33.4%, and Coeur d'Alene at +31.2%.
Inventories were another story. Though up 24.0% month over month, active inventory was down 10.4% from a year ago, driven in part by a 7.4% decline in new listings year over year. Inventories increased from 0.7 in March to 0.8 in April.