#MBASecondary22: Ginnie's McCargo, FHFA's Thompson Look Ahead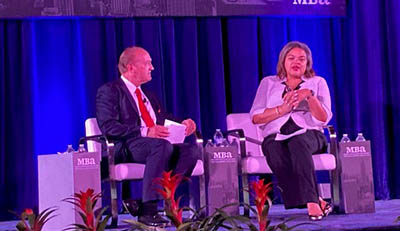 MBA Vice Chair Mark Jones (l) with Ginnie Mae President Alanna McCargo at the MBA National Secondary and Capital Markets Conference & Expo in New York May 16.
NEW YORK—As with the mortgage industry, government agencies also had to transition quickly during the coronavirus pandemic.
Alanna McCargo, President of Ginnie Mae, Washington, D.C., said the agency did an effective job during the pandemic under challenging circumstances. "The team transitioned to remote work overnight," McCargo said here at the MBA National Secondary and Capital Markets Conference & Expo. "The transition was seamless; the technology we needed became available on Day One; and our volumes increased."
Looking ahead, McCargo said Ginnie Mae, like the industry, faces numerous headwinds.
"There's a lot of uncertainty right now," McCargo said. "Everyone is facing a tremendous amount of pressure, with inflation and other factors. Now is the time we need to buckle up." She said Ginnie Mae is looking at policies developed during the pandemic and recalibrating for these new challenges.
McCargo said she and Thompson have worked hard to find common ground behind the agencies. "It's a refreshing time for housing finance," she said. "We have excellent relationships with FHFA. Alignment is a great idea, and it's and important part of our ecosystem, not only for us but also for our customers. We have different risks that we hold in the government sector, so we want to align where we can, and if we need to go in different directions on certain issues, we can do that as well."
McCargo also noted Ginnie Mae is playing a more prominent role in HUD's longer-range strategic plan. "It's impossible to imagine that you talk about all the things HUD does without mentioning Ginnie Mae," she said. "We play such an important role in securitizing debt for government programs, and we are doing a lot of forward thinking in how Ginnie Mae can be more effective in the future, including ES&G. We're looking toward the future, and we have a role to play there."
McCargo said she also has a strong relationship with HUD Secretary Marcia Fudge. "Her leadership is apparent," she said "She has already focused a lot of time and attention on housing, and she is 100 percent behind making sure our programs and all HUD programs are easy to access and at a reasonable cost. I feel very fortunate."
McCargo said she expects Ginnie Mae to continue to develop more digital programs. "Our goal is to have an end-to-end digital experience," she said.
McCargo noted she is the first president of Ginnie Mae in nearly five years. "I hope that we will put out and implement our stabilization requirements and other programs," she said. "We are entering a very challenging period; as economic policies move us back to normal, I'm hoping we will create more opportunities for homeowners and rental households."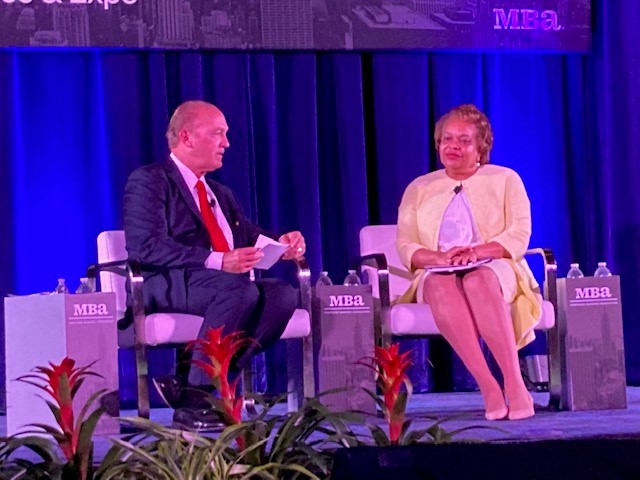 Sandra Thompson, Acting Director of the Federal Housing Finance Agency, told conference attendees the agency's new Strategic Plan took a lot of thought and forward thinking.
"Everything needs to be done in a safe and sound matter," Thompson said. "We want to make sure borrowers have loans they can afford and sustain. We also have asked the enterprises to provide services to underserved areas, but this year we asked them to look at equitable service programs in minority areas."
Thompson noted Fannie Mae and Freddie Mac have been in conservatorship for 14 years, and acknowledged industry concerns of a "brain drain" at the GSEs. "We need qualified people to look at issues, analyze issues and have an impact on the country and the people who live there," she said. "We have a role; the government has a role; and the private sector has a role. There is room for everyone and at the end of the day, the goal is for borrowers to have a loan with the best possible execution. It doesn't matter to me if the loan goes to Fannie or Freddie, or VA, or FHA or the private sector, as long as it's the right loan for the borrower. One size doesn't fit all."
FHFA recently submitted an updated credit risk transfer rule. "The capital rule has a favorable treatment of CRT, which is what we think it should have," Thompson said. "It's important, in the event of unexpected losses, that the taxpayers are covered and the GSEs are covered, and that the risk be transferred to the private markets. We think this is an effective rule to manage credit risk."
Thompson also noted FHFA is intimately involved in equitable housing programs for Fannie Mae and Freddie Mac. "It's been a very effective way of identifying barriers Fannie and Freddie face and resolving them with solutions," she said. "We have to move the needle while there is momentum and interest. We are going to have a number of 'test and learn' and pilot programs that are transparent, so people understand the goals and costs. Ever program isn't going to work, but some programs will work, and I want to see the needle move in a measurable and sustainable way."
FHFA also recently issued a Request for Information to expand eligibility requirements for Federal Home Loan Bank membership—a key issue for MBA's independent mortgage banks, which under current criteria to not qualify for membership.
"The membership issue has been around as long as I have," Thompson said. "We're taking all views into consideration. We have to look at the framework as to what we can or cannot do. The review is important so that we can consider opportunities for improvement and efficiencies at the Home Loan Banks."