#MBACREFST22: Servicers Survive A Crisis for the Ages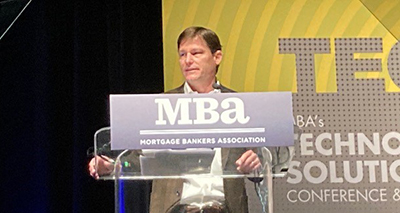 MBA Chair-Elect Matt Rocco, seen here in April at the MBA Technology Solutions Conference & Expo.

LOS ANGELES–Commercial mortgage servicers have faced–and weathered–a "crisis for the ages," said Mortgage Bankers Association Chair-Elect Matt Rocco here Monday at the MBA Commercial/Multifamily Finance Servicing and Technology Conference.
"At the pandemic's start, there were real concerns that our industry would struggle mightily. Instead, you've met this crisis head-on, and in many cases, emerged stronger," said Rocco, Chairman and CEO of Grandbridge Real Estate Capital, Charlotte, N.C. "You've helped hotel, restaurant and retail borrowers work through the pandemic. You've helped office owners adapt to a new workplace environment. And through your hard work, sacrifice and your successful advocacy for rental assistance, you've helped renters and homeowners keep roofs over their heads and maintain stability."
Rocco said while the landscape has changed immensely since the last in-person MBA CMST conference in 2019, one thing has not changed: MBA's relationship with decision-makers in Washington, D.C. "We ensured that every COVID relief bill reflected your priorities, he said. For example, MBA secured a $21 billion-plus boost to the Rental Assistance Program in the American Rescue Plan Act. Overall, the federal government has allocated no less than $46 billion to help renters cover their bills in part due to MBA advocacy. "Multifamily tenants, property owners and lenders needed this policy–so we made sure it happened," he said.
MBA also successfully advocated for permanently lowered risk-based capital standards for insurance companies. "The risk is now appropriately aligned with historic loss models," Rocco said.
Rocco noted some other victories the sector has seen. "Our teams have discussions with FHA and HUD on a daily basis," he said. "When you told us of increasing backlogs in the FHA pipeline (application to underwriter), we worked with HUD to get them to hire a new contractor."
Since then, processing times have dropped from eight months to four–especially significant because the last two years have been the two largest production years in history, Rocco said.
"It's also a huge step in the fight to grow the supply of affordable housing in this country," Rocco said. He added MBA will continue to work with HUD every day until the pipeline is fully mitigated. "This is why MBA is tireless in the fight to increase funding for HUD," he said.
MBA members unable to travel to Los Angeles can access key CMST sessions by purchasing the Video-on-Demand Package, which includes content from any main stage or breakout session as well as learning labs available soon after the session takes place. Video will be available for several months after the conference. Click here for more information about video on demand.