Real Estate Assets Under Management Reaches Record
Total global real estate assets under management reached a record $4.3 trillion last year, surpassing the prior record $3.5 trillion figure achieved at year-end 2020.
The National Council of Real Estate Investment Fiduciaries, European Association for Investors in Non-Listed Real Estate Vehicles and the Asian Association for Investors in Non-Listed Real Estate Vehicles released their annual Fund Manager Survey, which found continued strong appetite for real estate as an institutional asset class as AUM have more than doubled since 2015.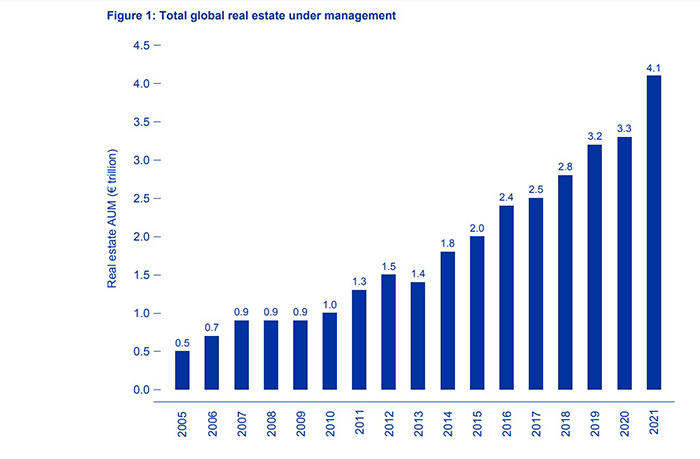 The report found across the board growth as the average AUM for each manager reached $30.4 billion, up from $22.9 billion the previous year.
"This is further robust evidence that real estate is a rapidly evolving and maturing asset class in high demand," said Iryna Pylypchuk, Director of Research and Market Information with INREV. "The large growth in fund manager AUM across the board reflects a continuous evolution of the global market and that real estate has its firm place in investor allocations, despite the legacy challenges of the COVID-19 pandemic, heightened geopolitical risk and current economic headwinds."
The report noted 79% of this year's total AUM were concentrated within the top quartile by number (36 out of 143 managers). Likewise, the top 10 global managers accounted for 41% of total AUM, up from 37% in 2020, with an average AUM of $180 billion. The combined AUM of these managers stands at $1.81 trillion, more than half of the 2020 global total.
The latest results indicate a significant stockpile of "dry powder," finding more than $228 billion of undrawn, committed cash at the end of 2021, up from $207 billion in 2020. Once again, the largest managers accounted for the majority ($163 billion) of these undrawn capital commitments.
The largest global fund managers include Blackstone ($446.9 billion), Brookfield ($235.6 billion), Prologis ($202.0 billion), PGIM ($196.1 billion) and Nuveen ($142.6 billion), all of which maintained their positions from the 2020 results. The first four all reported AUMs exceeding $191 billion.
Blackstone remained the only fund manager to feature in the top 10 rankings across all three main regions, North America, Asia-Pacific and Europe-Middle East-Africa.
With 38% of total global AUM, North American strategies overtook European strategies (34%) as the most popular in 2021. Asia-Pacific strategies ranked third at 16%, followed by global strategies with 12%.
North American strategies account for the highest allocations globally, with the four biggest North American fund managers outstripping the total AUM of the ten biggest managers in Asia-Pacific and the four largest managers in Europe.