More Willing to Relocate to Buy Affordable Home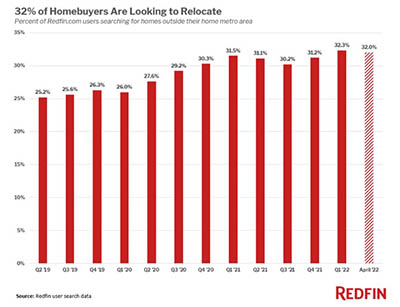 Homebuyers—particularly first-time buyers squeezed by competition and soaring home prices—are considering many options, including relocating to other parts of the country, said Bankrate, New York. And according to a similar report from Redfin, Seattle, migrating could be their best option.
The pandemic-era housing boom persists with only a slight let-up as of late. Record home prices have become the norm; bidding wars dominate many housing markets. Good news for sellers; not so good for home buyers, especially first-time buyers and millennials, who have already had to overcome other barriers to achieve homeownership.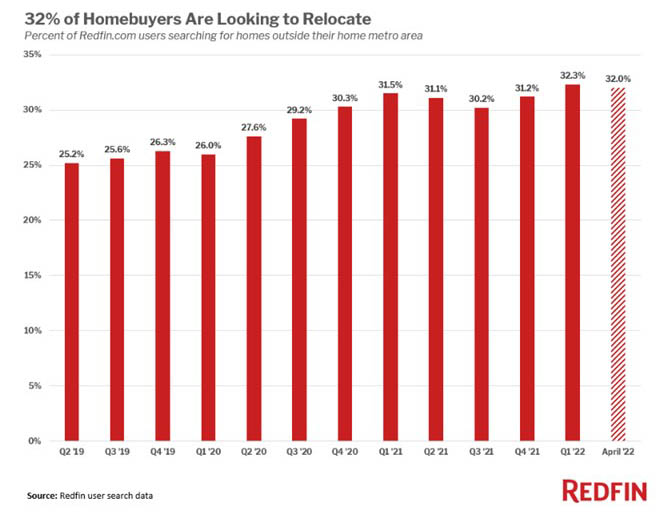 And now, mortgage rates are rising, too. In a Bankrate survey conducted earlier this year, nearly two-thirds of non-homeowners (64 percent) say an affordability factor is holding them back from owning a home. This includes 43 percent who say their income levels are not high enough, 39 percent who think home prices are too high and 36 percent who can't afford a down payment and/or closing costs (respondents could select more than one factor).
So, what's a potential home buyer to do? Bankrate said 58 percent of all U.S. adults would be willing to take action to find more affordable housing, such as moving out of state (27 percent), buying a fixer-upper (21 percent), moving farther from family and friends (20 percent), moving farther from work (13 percent), moving to a less desirable area (11 percent), and/or some other action (3 percent). Seventy-five percent of Gen Z (ages 18-25) and 69 percent of millennials (ages 26-41) would take at least one action to find more affordable housing compared to 59 percent of Gen X (ages 42-57) and 41 percent of baby boomers (ages 58-76).
"Many buyers are facing the harsh reality that they can't afford to buy in the neighborhood they really want," said Bankrate Chief Financial Analyst Greg McBride. "In some cases, buyers are deciding to move out of the most challenging markets.
Home prices have been soaring everywhere, but prices are especially eye-popping in California. Bankrate reported the median price of an existing home sold in Silicon Valley during the first quarter was $1.88 million. In San Francisco, the typical price was $1.38 million. In Orange County, the median price was $1.26 million. Home values have soared in other areas, too. The Boston and Denver metro areas both have seen prices surge past $600,000, while the median price in the Seattle area is north of $700,000.
However, a number of major metro areas boast home prices that are still affordable. They include Buffalo (median sale price of $202,300 in the first quarter), Philadelphia ($297,900), Louisville ($235,400), St. Louis ($216,700), Kansas City ($287,400) and Milwaukee ($298,800).
All of those metro areas have more than 1 million residents, meaning they offer big-city amenities without big-city prices. Indeed, the widening price gap has pushed some bargain-hunting homebuyers out of expensive cities and into more affordable corners of the country.
In Bankrate's survey, 27 percent of U.S. adults said they would consider a move out of state, and 20 percent would move farther from family and friends. By region, Americans living in the West (33 percent) and Northeast (31 percent) are more willing to move out of state compared to those in the Midwest (25 percent) and South (22 percent).
Redfin research corroborates. It reports a handful of popular migration destinations, mainly in the South, are still relatively affordable, including Virginia Beach, Va.; San Antonio and Houston, Texas; Jacksonville, Fla.; and, remarkably, one California location—Bakersfield.
Redfin reported 32 percent of homebuyers nationwide looked to move to a different metro area in April, close to the record-high 32.3% set in the first quarter.
Redfin said the typical home in Virginia Beach, the 15th-most popular destination for buyers moving to a different metro, sold for $315,0000 in April. That's well below the national median of $424,400 and the lowest median sale price of the top 20 migration destinations in the U.S. Next come San Antonio ($330,000) and Houston ($340,000), which rank 9th and 10th on the list of most popular destinations: Jacksonville (13th, $357,000) and Bakersfield (20th most popular destination, $365,000) round out the top five. The others are Tampa, (3rd, $370,000), Atlanta (12th, $383,000) and Cape Coral, Fla. (6th, $419,000).
Redfin Team Manager Eric Auciello noted, however, that affordability is relative; while the destinations above may be affordable for people moving in from expensive areas such as New York, San Francisco and Seattle, many locals have been priced out. Homebuyers in Tampa, for example, need to earn 47.8% more than they did a year ago to afford the median-priced home, while buyers in Atlanta need to earn 40.6% more.
"A lot of people are moving to Florida for the price point, beaches and quality of life, especially since the pandemic started," Auciello said. "For a buyer who sold their home in a place like New York for a million dollars, Tampa is affordable. They can get a nice home in a desirable neighborhood for around $550,000. But for locals looking in the $300,000 to $400,000 price point, there's next to nothing for sale. Locals are turning to condos or moving to more affordable rural areas."
In four of the top five Redfin migration hotspots, home prices are above the national average. In Miami—the number-one migration destination—the typical home sold for $475,000 in April, up from $330,000 in April 2020, at the onset of the pandemic. In number-two Phoenix, the typical home sold for $480,000, up from $305,000 in April 2020. In Sacramento, ranked four, prices went from $430,000 to $605,000, and in number-five ranked Las Vegas, they went from $294,000 to $445,000. Tampa, ranked three, was the only metro in the top five with a median sale price below the national level.
"Places like Phoenix and Sacramento are still relatively affordable compared to San Francisco or Los Angeles–but they're not nearly as much of a bargain as they were before the pandemic," said Redfin Deputy Chief Economist Taylor Marr. "Now that homes everywhere have become more expensive, buyers searching for deals should expand their horizons. The good news is that even with surging prices and mortgage rates, there are plenty of relatively affordable options: Buyers from expensive areas looking for more housing options can consider parts of the country that are still relatively affordable, like San Antonio or parts of Florida."
After two consecutive years of double-digit price appreciation, most housing economists agree that a slowdown is coming.
"Don't bank on further home price appreciation like it is a birthright. It isn't," McBride said. "Values may fall in very stretched areas and for most other areas, home values may not change very much, if at all, over the next three to five years."