#MBASecondary22: N.Y. Fed's Williams Targets a 'Normal' Economy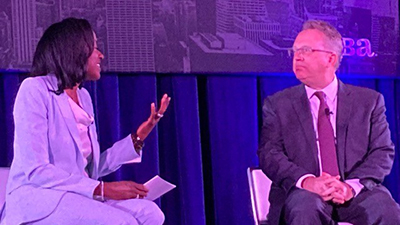 MBA Chair Kristy Fercho and New York Fed President & CEO John Williams Monday at the MBA National Secondary and Capital Markets Conference & Expo in New York.
NEW YORK—Federal Reserve of New York President and CEO John Williams said amid rising inflation, market volatility and an uncertain situation in Ukraine, the Federal Reserve has one word in mind: "normal."
"Inflation is our number one priority," Williams said here at the MBA National Secondary and Capital Markets Conference & Expo. "Our goal is to manage a monetary policy that brings some balance back to the markets and the overall economy."
At its May policy meeting, Williams said, the Federal Open Market Committee sent three clear messages. "One, we raised the federal funds rate by 50 basis points—that's definable action," he said. "Second, we also signaled that we will be having more increases, to get rates back to where they should be. And third, we pledged to reduce the Fed's holdings of mortgage-backed securities and Treasuries to more normal levels. We're moving back to more of a sense of normal."
Kristy Fercho, 2022 MBA Chair and Executive Vice President and Head of Home Lending with Wells Fargo, Charlotte, N.C., noted the markets reacted with volatility.
"That's to be expected," Williams said. "The markets are trying to sort themselves out, and there are a lot of developments that are driving things. As policymakers, we have to manage that uncertainty."
Reducing the Fed's balance sheet, Williams said, is having an effect on interest rates. "We do need to move toward more normal rates," he said, "but we also have to watch carefully—we're seeing the most economic tightening since 1994. We need to be watching what is happening—how the economy is responding to higher interest rates and how it is affecting inflation."
Williams said he expects the Fed to continue to impose 50-basis-point rate increases. "My expectation is that inflation will be coming down quite a bit next year, but we'll have to wait and see and make decisions based on economic conditions," he said.
Core inflation is now above 5 percent over the past 12 months; actual inflation is higher. "This rapid rise in inflation came as a surprise to many of us," Williams said. "The good news is, the economy has recovered from the coronavirus pandemic faster than we expected. The bad news is that supplies can't keep up with demand. It's not a matter of our projections being wrong—it's simply that supply is not matching demand. That is why managing the economy is important.
Williams said inflation is clearly affecting some Americans harder than others. "Without price stability, it's harder to achieve optimal growth," he said. "It's important for us to bring inflation down as quickly as possible."
Williams also said reducing the Fed's balance sheet is aimed at transparency. "Our goal is to have the reduction so that it becomes part of the background, with the federal funds rate and managing inflation as our primarily tool for managing the economy," he said. "In the long run, our goal is to get the composition right."
Supply constraints, Williams noted, also is prevalent in housing at the moment. "There isn't a lot of risk-taking being made by homeowners," he said. "So not only are we seeing high housing costs, but also rising rents. It's not for us to decide if that is good or bad. The housing sector needs to adjust to that. We need more housing supply."
Williams said as the Fed raises interest rates, it should take demand for housing down. "But we think the housing market is still fundamentally strong," he said. "We need to get housing demand and supply in sync…we can't have this excessive demand for housing continue with an improvement in supply."
It's the same way with the economy. "It's not about weakening the economy to achieve our goals," Williams said. "We need to bring balance to the market. Right now there are millions of jobs going unfulfilled because of labor shortages. When we can achieve balance, we'll see a return to normal economic conditions."
The other factor, Williams noted, is the ongoing war in Ukraine. "It's clearly having an impact on prices," he said. "While the direct effects of Ukraine are not apparent in the U.S., there are many indirect effects. It's a very volatile situation and we're not going to have resolution any time soon."
Overall, Williams said, "the world is changing, and we have to show our ability to adapt."