Hotel Recovery Likely to Continue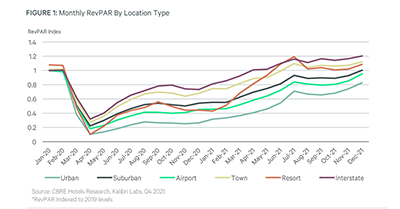 The hotel sector's recovery that started last year will likely continue despite current operational hurdles, sector analysts said.
"Consumers' insatiable appetite for experiences, travel and hospitality is fueling unprecedented levels of demand," said Gilda Perez-Alvarado, Global CEO of JLL Hotels & Hospitality. "This, coupled with a relatively muted supply pipeline across major gateway markets, will enable the lodging industry to recover earlier than anticipated, making the sector a great investment opportunity."
The JLL Hotel Investment Outlook said global hotel transaction volume totaled $66.8 billion last year, up 131 percent from 2020. The Americas was the most liquid region, accounting for nearly 60 percent of global hotel transaction volume. This level of activity represented a 269 percent increase over 2020 and a 32 percent increase relative to 2019's more normal activity level.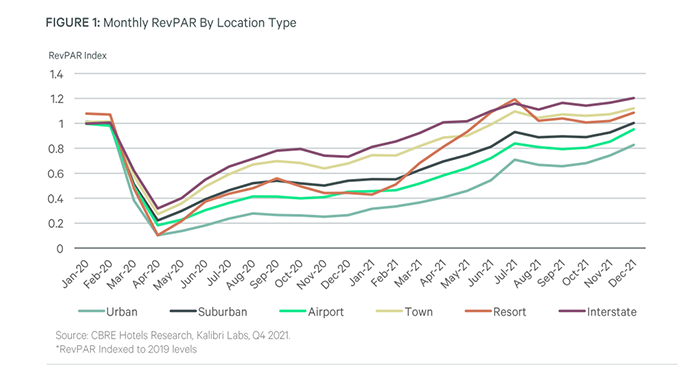 In its U.S. Hotels State of the Union report, CBRE, Dallas, said the hotel sector posted another quarter of strong gains in the fourth quarter compared to a year before. Hotel demand increased more than 40 percent, occupancy gained 38 percent, revenue per available room nearly doubled and the average daily room rate increased 44.4 percent, CBRE reported.
CBRE said seven of top 10 best-performing markets in Q4 were in the South and three were in the West. In the weakest 10 markets–mostly urban destinations in the northern U.S.–average RevPAR was down more than 35 percent relative to 2019.
JLL said investors will likely focus on markets that have augmented their profile since the pandemic. "Tourist destinations that have strengthened their competitive advantage and amplified their profile in the marketplace are expected to garner significant interest from investors," the report said.
Hotel properties continue to face some "post-covid headwinds" threatening operating margins and potentially hindering RevPAR growth, JLL noted. "The primary challenges hoteliers will need to monitor closely include labor shortages, supply chain issues and inflationary pressures, all of which pose a threat to attaining material profit growth in the year ahead," the report said.