Institutional Investors Expect Continued Momentum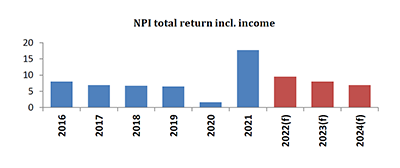 Institutional investors expect last year's commercial real estate momentum to carry over into this year and next, the Pension Real Estate Association reported.
PREA surveyed investment managers and researchers about their expectations for unlevered institutional real estate returns represented by the NCREIF Property Index. Respondents said they expect a 9.5 percent total return across property types this year including income.
In the same PREA Consensus Forecast Survey a year ago, investors said they expected a 2.8 percent total return in 2021 and 6.9 percent in 2022.
MBA Vice President of Commercial Real Estate Research Jamie Woodwell noted commercial and multifamily real estate returns remain strong and said there are different drivers for different property types. "Solid appreciation is expected to continue for industrial and multifamily properties, building on 2021's 20-plus percent price gains," he said.
PREA reported investors expect to see a 4.2 percent income return and a 5.3 percent property appreciation rate across sectors this year. In 2023 the total return could dip to 8.0 percent, made up of 4.3 percent income return and a 3.7 percent appreciation rate.
Investors said they expect industrial and multifamily assets to generate the highest returns this year, PREA said. Industrial assets should see a 14.8 percent total return in 2022, made up of a 3.9 percent income return and a 10.8 percent appreciation rate. Apartment assets should yield a 12.1 percent full-year return from a 3.8 percent income return and an 8.2 percent appreciation rate.
Woodwell said the lower relative prices for office and retail properties mean investors expect them to provide greater income returns. "Even so, industrial and multifamily remain the apple of investors' eyes," he said.
PREA said investors expect total returns of 8.0 percent next year and 6.9 percent in 2024. The total return including income should average 7.3 percent per year between 2022 and 2026, the report said.