MBA Advocacy Update: Mar. 7, 2022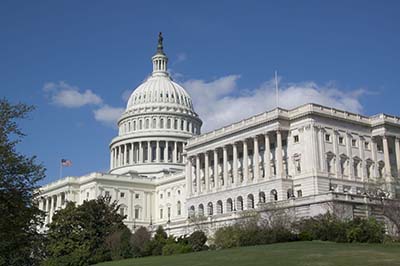 Bill Killmer bkillmer@mba.org; Pete Mills pmills@mba.org
President Joe Biden delivered his State of the Union address last week to a joint session of Congress, focusing heavily on the war in Ukraine and rising inflation. Federal Reserve Chair Jay Powell appeared before both chambers of Congress, signaling to lawmakers that the Fed will lift interest rates a quarter-percentage point later this month. And on Monday, FHFA announced it has authorized the GSEs to disburse $1.138 billion to the Housing Trust Fund and Capital Magnet Fund.
Fed Chair Powell Updates Congress on State of the Economy; Commits to Upcoming Rate Hike 
On Wednesday and Thursday, Federal Reserve Chair Jay Powell testified before the House Financial Services Committee and the Senate Banking Committee, respectively, as part of his statutory duty to inform Congress about the state of the economy. With war in Ukraine as a backdrop, Powell faced a barrage of questions on Russian sanctions and how they would impact inflation in the United States, especially as it pertains to supply chains and housing markets. Congress also probed Powell on several regulatory topics including cybersecurity and digital assets; the Community Reinvestment Act; and environmental, social and governance matters. Notably, during his opening remarks, Powell stated that the Fed is likely to raise the target range for the Federal Funds Rate later this month. In addition, he indicated that reducing the Fed balance sheet will commence after the process of raising interest rates has begun, with the Fed proceeding in a predictable manner primarily through adjustments to reinvestments. A summary of both hearings can be found here.     
Why it matters: The Federal Reserve has moved away from discussing inflation as "transitory" and is now heading toward a much more aggressive approach through changes in fiscal and monetary policy. Housing was identified as one of the essential items that increased in cost to justify raising rates. 
What's next: The Fed's Federal Open Market Committee is next scheduled to meet March 15 and 16.    
For more information, please contact Alden Knowlton at (202) 557-2741 or Ethan Saxon at (202) 557 2913.
FHFA Announces More Than $1.1 Billion to Support Affordable Housing Programs
On Monday, the Federal Housing Finance Agency announced the Housing Trust Fund and Capital Magnet Fund will receive $1.138 billion in total from Fannie Mae and Freddie Mac for affordable housing initiatives. The Housing Trust Fund, through HUD, provides grants to states and state-designated agencies to produce and preserve affordable housing for extremely low- and very low-income households. A state must use at least 80% of each annual grant for rental housing and the remainder can be used for homeownership and administrative costs. The Capital Magnet Fund awards grants to finance affordable housing and is administered by the U.S. Department of Treasury. To be eligible to apply for Capital Magnet Funds, the organization must be a certified Community Development Financial Institution or a nonprofit focused on affordable housing solutions.
Why it matters: These funds are used for a variety of affordable housing activities – most notably property acquisition and improvement, as well as new construction. The funds are an approximately $45 million increase over the amounts the GSEs contributed to these programs in 2021.
What's next: By statute, each GSE must continue to set aside an amount equal to 4.2 basis points (.042%) of their new mortgage purchases to support these affordable housing programs. MBA has long advocated for continued funding of these initiatives as a critical step toward improving housing affordability throughout the nation.
For more information, please contact Darnell Peterson at (202) 557-2922.
Senators Introduce Bipartisan LIBOR Transition Legislation
On Thursday, Sens. Jon Tester (D-MT), Thom Tillis (R-NC), Sherrod Brown (D-OH), and Pat Toomey (R-PA) introduced legislation to provide clear guidance and a consistent federal standard for transitioning way from contracts with interest rates based on the London Interbank Offered Rate (LIBOR) benchmark, which is being discontinued as an index by U.S. regulators in mid-2023. The bill directs the Federal Reserve to determine replacement rates that can be used for contracts lacking fallback language, by providing a safe harbor should the contract not specify a non-LIBOR replacement rate following the end of LIBOR. MBA's advocacy helped craft the legislation, and MBA joined a coalition letter urging the Senate to swiftly pass the bill. The House passed similar LIBOR legislation in December.
Why it matters: Federal Reserve Chairman Jerome Powell, when testifying before the Senate Banking Committee on Thursday, strongly endorsed the bipartisan bill as "very important from a financial stability standpoint" and reiterated the need for rapid action on legacy LIBOR contracts.
What's next: The Senate is expected to pass the LIBOR legislation shortly. The House would also need to pass this new version prior to sending to the President's desk for signature.
For more information, please contact Ethan Saxon at (202) 557-2913 or Tallman Johnson at (202) 557-2866.
Regulators, MBA Urge Cybersecurity Vigilance as Worldwide Tensions Escalate
Last week, the New York Department of Financial Services issued guidance on its cybersecurity and virtual currency regulations in response to Russia's invasion of Ukraine and recently imposed sanctions. NYDFS specifically raised the specter of elevated cyber risk resulting from ongoing cyberattacks against Ukraine, which it said could spill over to other networks. The guidance also warns about the potential for direct attacks against U.S. critical infrastructure. Additionally, the Cybersecurity and Infrastructure Security Agency updated its "Shields-Up" website to promote awareness of current cybersecurity threats and mitigations.
Why it matters: NYDFS urged financial institutions to "review their programs to ensure full compliance, with particular attention to core cybersecurity hygiene measures like multi-factor authentication, privileged access management, vulnerability management, and disabling or securing remote desktop protocol access."
What's next: MBA urges its members to remain vigilant against potential cybersecurity attacks. For more information on the guidance, click here.
For more information, please contact Rick Hill at (202) 557-2718.
MBA Issues Call to Action Opposing Washington State Comprehensive Data Privacy Legislation 
On Wednesday, MBA issued a Call to Action urging members in Washington state to oppose HB1850, which would significantly expand privacy requirements and institute harmful enforcement mechanisms and taxes for noncompliance with the new law. HB1850, which is opposed by the Washington MBA, would establish three new enforcement mechanisms to review and enforce violations of consumer data privacy rights. HB1850 would create a new data privacy commission to review, investigate, and enforce consumer complaints for new data privacy legislation, would create a new individual private right of action, and would permit the Washington Attorney General to enforce data privacy violations. In addition, the bill establishes an undefined new tax to fund the regulatory commission that will be established to investigate data privacy complaints.
Why it matters: While the current version of HB1850 includes a Gramm-Leach-Bliley Act exemption for data, the new enforcement mechanisms and tax would create too much uncertainty and risk for businesses in the state.
What's next: MBA will continue to work with the Washington MBA to oppose HB1850.
For more information, please contact Kobie Pruitt at (202) 557-2780.
MBA Supports New Jersey Effort to Allow Remote Work
On Wednesday, MBA shared comments with the New Jersey Department of Banking and Insurance on its potential regulatory bulletin to permit mortgage and consumer finance licensees to work remotely. The Department's expressed intent for its guidance is generally consistent with the MBA model state statute and rules; however, MBA shared some concerns about the Department potentially limiting MLO in-person communication with a borrower to a licensed location. Allowing MLOs to meet with borrowers away from a licensed branch (but not in their home) will help create competition in underserved communities without compromising consumer information or data protections.
Why it matters: In the past 12 months, 13 states have adopted language aligned with MBA's model that provides permanent permission for MLOs to work away from a licensed branch. If New Jersey issues permanent remote work guidance, it will continue the nationwide momentum for this critical licensing flexibility.
What's next: MBA will continue to work with the Department to promote the adoption of MBA's model approach to remote work.
For more information, please contact Kobie Pruitt at (202) 557-2780.
IRS Extends Timeline to Conform to Clean Form 4506-C Requirement
On Monday, the Internal Revenue Service announced it has extended the deadline to conform to the clean Form 4506-C to October 1. This extension will only apply to the current Form 4506-C dated September 2020.
Why it matters: Effective October 1, all participants must update their Form 4506-C submissions to match the requested requirements for a clean version. This will permit all submissions to be incorporated into the IRS modernization software. Failure to submit a clean version of Form 4506-C may result in increased rejections by the IRS.
What's next: For more information, click here.
For more information, please contact Rick Hill at (202) 557-2718.
Register Today: MBA's National Advocacy Conference – April 26-27
Registration is now open for MBA's National Advocacy Conference, taking place April 26-27 in Washington, D.C. NAC allows you to connect directly with elected officials in our nation's capital. Your story matters – share it with key policymakers as they consider and pass legislation that affects all of us. 
Why it matters: The last two years have been unprecedented for millions of Americans, and the real estate finance industry is no different as we navigate new terrains. NAC gives you the opportunity to share your narrative with the key staff and decision-makers while networking with your colleagues from all over the industry. When we work together and combine our voices, we can do great things.  
What's next: Share your experiences, your voice, and your passion for our industry April 26-27! Register today at mba.org/nac and take advantage of the early-bird rate before the March 14 deadline.
For more information, please contact Rachel Kelley at (202) 557-2816.
Upcoming MBA Education Webinars on Critical Industry Issues
MBA Education continues to deliver timely programming that covers the spectrum of challenges, obstacles and solutions pertaining to our industry. Below, please see a list of upcoming webinars – which are complimentary to MBA members:
COVID's Continued Impact on CECL and Lending – March 8
The Future of Remote Work for MLOs and Licensees – March 9
Combating Multifamily Real Estate Financial Crimes and Fraud – March 10
CRE Investor Themes & Perspectives – March 16
Tomorrow's Servicing: Automated Transfers, Recoverables and Accuracy – March 29
CFPB Enforcement Authority Over Student Loans and Impact on Mortgage Lending – April 21
MBA members can register for any of the above events and view recent webinar recordings. For more information, please contact David Upbin at (202) 557-2931.