MBA Advocacy Update Monday Mar. 21 2022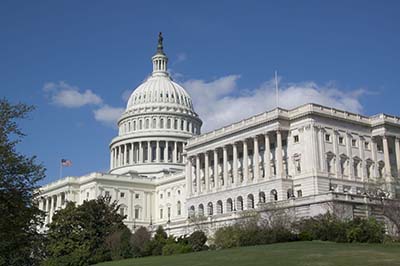 Pete Mills pmills@mba.org; Bill Killmer bkillmer@mba.org.
Last week the Senate Banking Committee advanced FHFA Acting Director Sandra Thompson's nomination, moving her closer to being confirmed as Director. And on Wednesday, the CFPB announced changes to its supervisory policies and a corresponding update to the exam manual, with the goal of enhancing its ability to protect consumers against illegal discrimination.
Senate Banking Committee Votes on Key Housing & Finance Nominations
On Wednesday, the Senate Banking Committee forwarded nominations of: Jerome Powell for Chairman of the Federal Reserve (23-1); Lael Brainard for Vice Chair of the Federal Reserve (16-8); Lisa DeNell Cook (12-12); and Philip Jefferson for Governors of the Federal Reserve (24-0); and Sandra Thompson for Director of the Federal Housing Finance Agency (13-11). Senator Mike Rounds (R-SD) provided the bipartisan support that Acting Director Thompson needed to avoid further procedural delays to her nomination. The nomination of Sarah Bloom Raskin to serve as Vice Chair of Federal Supervision of the Federal Reserve was withdrawn. After Thompson was voted out of committee, MBA President and CEO Bob Broeksmit, CMB, issued a press statement urging the full Senate to quickly confirm Thompson. 
Why it matters: The committee vote on these nominations each serve a crucial role in federal oversight of housing finance and ended a month-long delay in the Senate confirmation process. 
What's next: The full Senate will need to vote to confirm the nominations. While those that received bipartisan support will quickly advance, DeNell Cook, who received a tie vote, will now require two votes by the full Senate to be confirmed, and additional time to debate her nomination. 
For more information, please contact Ethan Saxon at (202) 557-2913 or Tallman Johnson at (202) 557-2866.
CFPB Announces New UDAAP Supervisory Policy
On Wednesday, the Consumer Financial Protection Bureau announced changes to its supervisory operations, and a corresponding update to the exam manual with the goal of enhancing its ability to protect consumers against illegal discrimination, "including in situations where fair lending laws may not apply[.]" The Bureau will now evaluate discriminatory conduct through the lens of the Consumer Financial Protection Act's prohibition on unfair, deceptive and abusive acts and practices.
Why it matters: Under the new policy, "[t]he CFPB will closely examine financial institutions' decision-making in advertising, pricing, and other areas to ensure that companies are appropriately testing for and eliminating illegal discrimination." The exam manual instructs examiners "to review any policies or practices that exclude individuals from products and services, or offer products or services with different terms, in an unfairly discriminatory manner." The assessment should cover the supervised entity's conduct, as well as making it clear the entity is accountable for the conduct of third parties or service providers interacting with consumers, including contractors involved in loan servicing or collections. These changes represent a substantial broadening of CFPB's UDAAP authority via a process – examiner guidance – that does not permit public comment. 
What's next: For additional information, please see the updated UDAAP section of the CFPB exam manual. A redlined version, which indicates revisions identified by MBA, is available here. Finally, see this CFPB blog post, which provides further explanation and context for the new supervisory policy. MBA will be evaluating the implications of the policy change and education opportunities for members to better understand and prepare for this policy shift. 
For more information, please contact Justin Wiseman at (202) 557-2854 or Blake Chavis at (202) 557-2930.
Industry Turns Up Volume on Campaign Against Bill to Apply CRA to California Licensed IMBs
Last week, as part of a coordinated advocacy campaign opposing California legislation to apply Community Reinvestment Act standards to independent mortgage banks (IMBs) licensed in the state, the Mortgage Action Alliance issued an industry-wide Call to Action to explain the multiple reasons the bill represents ineffective public policy. SB-1179 was recently introduced by the Chair of the California Senate Banking Committee and will be considered by the full Committee in April. The Committee needs to hear important facts from the industry, including Home Mortgage Disclosure Act data that show IMBs are already originating more than 80 percent of home purchase loans to low- and moderate-income borrowers in the state. Enacting the bill would unnecessarily increase compliance costs for IMBs in California and detract from the continuing efforts to increase the availability of affordable housing in one of the most expensive states to purchase a home. Now is the time for industry professionals in California to take action, and for those outside the state to urge their colleagues living in California to use MAA to contact their state senators.
Why it matters: SB-1179 is a solution in search of a problem. IMBs do not have deposits to reinvest, nor do they have access to direct government support, and are subject to robust oversight and supervision from multiple federal and state regulators. Most importantly, through their deep engagement in sustainable lending in LMI communities, IMBs are already achieving the commendable lending results the bill sponsors intend.
What's next: MBA, the California MBA, and MAA staff are coordinating to identify and reach out to those who live in key California Senate Banking Committee districts to meet with their senators ahead of the Committee's April hearing. In the meantime, all California MAA members are asked to quickly take action, and others around the country are asked to encourage their California colleagues to complete the call to action.
For more information, please contact William Kooper (202) 557-2737 or Rosie Sheehan (202) 557-2933.
Georgia Senate Passes Industry-Supported Revision to State Licensing Laws
On Tuesday, following a MAA Call to Action, the Georgia Senate approved legislation (SB 470), which would make important revisions to Georgia's state licensing laws to create greater consistency with the federal SAFE Act and the laws of other states. SB 470 would limit the scope of the state's licensing law to only those with access to residential mortgage loan origination, processing, or underwriting information. Specifically, the prohibitions on employing individuals with prior nonfinancial felony convictions would only apply to "covered employees" who have access to Georgia loans. With this change, a company's Georgia license would no longer be threatened by the qualifications and backgrounds of staff who do not have access to the financial and personal identifiable information of consumers with Georgia loans.
Why it matters: The provisions in Georgia law are the most restrictive in the nation and create enormous legal uncertainty and compliance risk for MBA members. Eliminating the long-arm reach of Georgia licensing law to employees outside the state has been a longstanding industry priority.
What's next: SB-470 must be approved by the Georgia House before the Legislature adjourns at the end of the month, and MBA and MAA will continue to work towards that goal.
For more information, please contact William Kooper (202) 557-2737 or Kobie Pruitt (202) 557-2870.
Oklahoma DOCC Extends Remote Work Guidance
On Tuesday, the Oklahoma Department of Consumer Credit announced it will extend its remote work guidance until December 31. The guidance permits employees of regulated entities to temporarily work from home or some other remote location. In addition, if the data protection standards set forth by the DOCC are followed, the department has stated it will not take administrative or other punitive action against a regulated entity, licensed mortgage loan originator or the sponsoring licensed company if the employees or mortgage loan originators conduct activities which would otherwise require licensure of the home.
Why it matters: DOCC's temporary guidance is consistent with MBA's model legislation and regulations and other states that have acted to permit remote work.
What's next: MBA will continue to advocate for states to extend their remote work guidance and seek permanent legislative or regulatory solutions that are consistent with the MBA model for licensing flexibility.   
For more information, please contact Kobie Pruitt at (202) 557-2780.
MBA, ALTA Send Support Letter for Maine RON Legislation 
On Wednesday, MBA and ALTA sent a letter to the Maine Judiciary Committee in support of legislation (LD2023 ) that would enable the use of remote online notarization (RON) in the state. LD2023 was introduced on behalf of the Maine Secretary of State and was reviewed by the Judiciary Committee on Wednesday. The bill is consistent with the Uniform Law Commission's Revised Uniform Law on Notarial Acts.
Why it matters: LD2023 is also consistent with the MBA-ALTA model bill and if enacted it would continue the momentum towards having all 50 states pass RON laws.
What's next: MBA will continue to work with ALTA and local partners to pass LD2023. 
For more information, please contact Kobie Pruitt at (202) 557-2780 or Rosie Sheehan (202) 557-2933.
Federal Reserve Raises Short-Term Interest Rates for First Time Since 2018
On Wednesday, the Federal Reserve – in a widely expected move – raised the benchmark federal funds rate at a range between 0.25% and 0.5% to curb hot inflation levels. The median FOMC member expects to raise rates at each of the six remaining meetings in 2022.
According to Mike Fratantoni, MBA SVP and Chief Economist, "With the unemployment rate below 4%, inflation nearing 8%, and the war in Ukraine likely to put even more upward pressure on prices, this is what the Fed needs to do to bring inflation under control. The FOMC economic projections indicate slower growth and higher inflation than had been the expectation at their December meeting. Note that they do not expect to be back at 2% inflation until after 2024."
Added Fratantoni, "Beyond the hike in short-term rates, the Fed also indicated its plan to begin to shrink their balance sheet, with Treasuries and MBS being allowed to passively roll off. Although we anticipate that shrinking the balance sheet will begin this summer, we will be looking for details regarding the pace of the runoff and whether they would consider active MBS sales at some point to return to an all-Treasury portfolio. MBA forecasts that mortgage rates will rise further over the next year to around 4.5%. Mortgage rates have been exceptionally volatile in recent weeks, given the profound uncertainties both with respect to the geopolitical situation and monetary policy. Hopefully, the Fed's actions and explanations can help to reduce the policy uncertainty, which would then diminish some of the current volatility."
For more information, please contact Mike Fratantoni at (202) 557-2935.
Register Today: MBA's National Advocacy Conference – April 26-27
Registration is open for MBA's National Advocacy Conference, taking place April 26-27 in Washington, D.C. NAC allows you to connect directly with elected officials in our nation's capital. Your story matters – share it with key policymakers as they consider and pass legislation that affects all of us.
Why it matters: The last two years have been unprecedented for millions of Americans, and the real estate finance industry is no different as we navigate new terrains. NAC gives you the opportunity to share your narrative with the key staff and decision-makers while networking with your colleagues from all over the industry. When we work together and combine our voices, we can do great things.  
What's next: Share your experiences, your voice, and your passion for our industry April 26-27! Register today at mba.org/nac.
For more information, please contact Rachel Kelley at (202) 557-2816.
Upcoming MBA Education Webinars on Critical Industry Issues
MBA Education continues to deliver timely programming that covers the spectrum of challenges, obstacles and solutions pertaining to our industry. Below, please see a list of upcoming webinars – which are complimentary to MBA members:
MISMO Monthly Webinar: ESG Industry Impacts and MISMO ESG Initiatives – March 24
Tomorrow's Servicing: Automated Transfers, Recoverables and Accuracy – March 29
Desktop Appraisals at the GSEs: What, When, and How? – March 30
Special Purpose Credit Programs: The What, the Why, and the How – April 12
Technology Investment: Keeping Pace with Your Peers – April 19
CFPB Enforcement Authority Over Student Loans and Impact on Mortgage Lending – April 21
MBA members can register for any of the above events and view recent webinar recordings. For more information, please contact David Upbin at (202) 557-2931.