MBA State & Local Workshop in Washington Apr. 25-26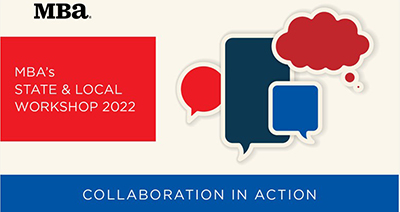 The Mortgage Bankers Association's State and Local Workshop 2022 takes place Apr. 25-26 at the Renaissance Downtown Hotel in Washington, D.C., just ahead of the MBA National Advocacy Conference.
MBA's State & Local Workshop is a unique opportunity for leaders and key stakeholders of state and local associations to gather and pool their talents, share ideas and compare lessons learned with each other and the national association.
This year's program, developed with your input, will give attendees opportunities to discuss the operational needs and challenges facing industry associations as well as updates on the latest state issues and trends. Together we are stronger!
New this year, MBA is offering each registrant a $100 discount towards their registration for MBA's National Advocacy Conference, co-located and immediately following the event. NAC22 is the largest annual advocacy event focused solely on the issues facing the real estate finance industry.
For more information and to register, click here.