Senate Banking Committee Moves Thompson Nomination to Head FHFA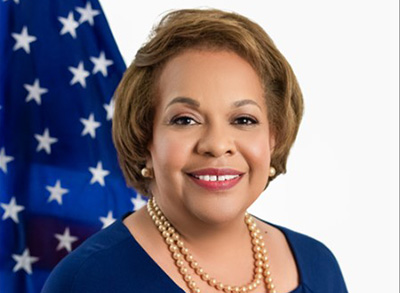 Sandra Thompson
The Senate Banking Committee on Wednesday approved Sandra Thompson's nomination to serve as Director of the Federal Housing Finance Agency. The Mortgage Bankers Association issued a statement commending the vote.
By a 13-11 vote largely along party lines, the Committee approved Thompson, who was nominated by the Biden Administration in December. She has served as the agency's Acting Director since June, when the Biden Administration removed the previous director, Mark Calabria, following a Supreme Court ruling that FHFA's leadership structure was unconstitutional.
The Banking Committee also approved Jerome H. Powell as Chairman of the Federal Reserve (23-1 vote); Lael Brainard as Vice Chair of the Federal Reserve (16-8 vote); and Lisa DeNell Cook (12-12 vote) and Philip Jefferson (24-0 vote) as Governors of the Federal Reserve.
MBA has long-supported Thompson's nomination. MBA President and CEO Bob Broeksmit, CMB, issued the following statement following the Banking Committee vote:
"MBA applauds the Senate Banking Committee for advancing the nomination of Sandra Thompson to be Director of the Federal Housing Finance Agency. Thompson's experience, including as the Acting Director, and knowledge of real estate finance will serve her well as she continues to lead FHFA. We now call on the full Senate to confirm her nomination quickly."
Thompson has more than four decades of government experience in financial regulation, risk management and consumer protection. She has served as Deputy Director of the Agency's Division of Housing Mission and Goals since 2013. As DHMG Deputy Director, Thompson oversaw FHFA's housing and regulatory policy, capital policy, financial analysis, fair lending and all mission activities for Fannie Mae, Freddie Mac and the Federal Home Loan Banks.
Prior to joining FHFA, Thompson worked at the Federal Deposit Insurance Corp. for more than 23 years in a variety of leadership positions, most recently as Director of the Division of Risk Management Supervision. During her time at FDIC, Thompson led the Agency's examination and enforcement program for risk management and consumer protection at the height of the financial crisis. She also led the FDIC's outreach initiatives in response to a crisis of consumer confidence in the banking system.
Thompson addressed the MBA Annual Convention & Expo in San Diego this past October.
Thompson's nomination now goes to the full Senate, which is expected to vote later this spring.