CoreLogic: Homeowners in Negative Equity at Lowest Level in 12 Years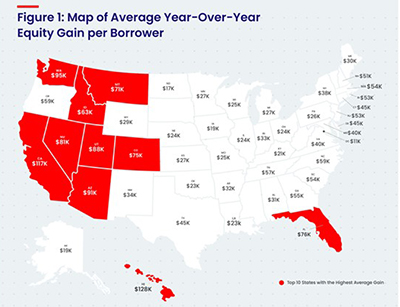 MBA NewsLink Staff
CoreLogic, Irvine, Calif., said just 2.1% of U.S. homeowners with a mortgage were underwater as of the fourth quarter, the lowest level since 2010, as borrowers gained more than $3.2 trillion in equity in 2021.
The company's quarterly Homeowner Equity Report showed U.S. homeowners with mortgages (63% of all properties) saw their equity increase by 29.3% year over year, representing a collective equity gain of more than $3.2 trillion, and an average gain of $55,300 per borrower, from a year ago.
"Home prices rose 18% during 2021 in the CoreLogic Home Price Index, the largest annual gain recorded in its 45-year history, generating a big increase in home equity wealth," said Frank Nothaft, chief economist with CoreLogic. "For low- and moderate-income homeowners, home equity has historically been a major source of wealth."
The report said the 18% year over year gain in home price appreciation helped push the national negative equity figure to the lowest in more than a dozen years, with just 1.1 million homeowners underwater on their mortgages. Western state homeowners saw the biggest equity gains by dollar value, led by Hawaii, California and Washington.
Year-over-year price appreciation increased by 19.1% in January 2022 according to CoreLogic's latest Home Price Index, though growth is projected to eventually slow over the next 12 months.
Other report findings:
–From the third quarter to the fourth quarter, mortgaged homes in negative equity decreased by 3% to 1.1 million homes, or 2.1% of all mortgaged properties.
–A year ago, 1.5 million homes, or 2.8% of all mortgaged properties, were in negative equity. This number decreased by 24.9%, or 380,000 properties, by the fourth quarter.
— Of loans in negative equity in the fourth quarter, 42% had a loan-to-value ratio below 125%, and 58% had a loan-to-value ratio of 125% or higher.
CoreLogic said should home prices increase by 5%, 141,000 homes would regain equity; should home prices decline by 5%, 183,000 would fall underwater. The CoreLogic HPI Forecast projects home prices will increase 5% from December 2021 to December 2022.