MBA Chair Marks Black Homeownership Collaborative Anniversary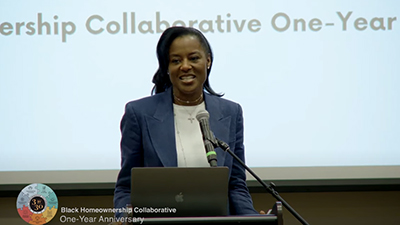 (MBA Chair Kristy Fercho addresses Black Homeownership Collaborative 1-Year Anniversary event Monday in Atlanta.)
MBA Chair Kristy Fercho joined national and local leaders in Atlanta on Monday to mark the one-year anniversary of the Black Homeownership Collaborative.
BHC formed one year ago on the first federal Juneteenth holiday to enable potential first-time homebuyers to assess their readiness for homeownership, learn about the process from a trusted source, and be connected to a housing counselor or homeownership advisor. Mortgage-ready homebuyers will be directly connected with a list of real estate professionals and mortgage lenders.
Fercho, Executive Vice President and Head of Wells Fargo Home Lending, emphasized the importance of expanding minority homeownership and discussed the MBA Home for All Pledge, MBA's long-term commitment on a sustained and holistic approach to address racial inequities in housing.
Other speakers included Ginnie Mae President Alanna McCargo; Mayor of Atlanta Andre Dickens; National Urban League President Marc Morial; and Atlanta-based housing groups, local leaders and elected officials.