People in the News June 14, 2022: Kathryn Edelen Joins Planet Home Lending as Regional VP
Planet Home Lending Taps Kathryn Edelen as Regional Vice President

Planet Home Lending LLC, Meriden, Conn., hired Kathryn Edelen as Regional Vice President of Sales. She will manage the Eastern U.S. for Planet and will focus on capturing market share through addition of branches and mortgage loan originators.
Edelen brings more than three decades of experience. Before joining Planet, she was Regional Sales Manager at Nations Lending. She also previously served as Vice President for loanDepot LLC, and Regional Manager for Homebridge Financial Services Inc.
GPARENCY Hires Bank Credit Analyst Michael Stellrecht
GPARENCY, Howell, N.J. hired Michael Stellrecht as a senior analyst, responsible for reviewing and underwriting commercial mortgages for all property types and managing back-office operations.
Stellrecht most recently served as an assistant vice president and credit analyst for M&T Bank, where he was responsible for underwriting commercial real estate credit facilities for multifamily, office, industrial, flex, mixed-use, retail, hospitality and single-family properties. He also served as a portfolio manager at Arbor Realty Trust, where he managed and serviced $400 million in commercial real estate loans in nine states.
CBRE Names Rachel Vinson President of Structured Finance; Adds Haywood Newkirk, Team of Right-of-Way Specialists
CBRE, Dallas, appointed Rachel Vinson President of Debt and Structured Finance for the United States. She will lead CBRE's DSF business in the U.S and will be responsible for continued expansion of the firm's debt platform nationally.
Vinson has more than 20 years of experience with commercial real estate and financial organizations. She most recently led operations of CBRE's global Capital Markets business and previously led CBRE's Americas Advisory Finance organization. Prior to joining CBRE in 2019, she spent six years with Barings Multifamily Capital LLC, where she elevated to President, overseeing strategic direction and operations for the loan origination and servicing company.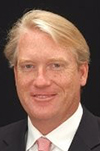 CBRE also expanded its Valuation & Advisory Services offering with a Right-of-Way appraisal team joining in the Southeast.
Led by Haywood Newkirk, the team of five specialist ROW appraisers has completed more than 6,000 commercial appraisals in the Southeast across most property types at a market value over $4 billion. They join CBRE from Clontz Newkirk Real Estate Group headquartered in Wilmington, N.C. The ROW team will focus on appraisal and consulting for government infrastructure projects, equitable distribution, litigation support, and expert witness services across multiple states in the Southeast region. It will complement CBRE's national VAS ROW practice.
Newkirk joins CBRE as an Executive Vice President and was co-founder and President of CNREG. He has significant expert witness experience at both the state and federal level and is an advisor to the largest ROW clients in states throughout the southeast. Prior to CNREG, he was as a real estate consultant and appraiser in Atlanta for KPMG and Arthur Anderson. He began his career as a Staff Analyst for the U.S. Congress in Washington D.C.
Chris Walker and Ella Vrolyk join CBRE as Vice Presidents, with Terry Alexander and Bradley Dunn joining as Senior Valuation Associates.
iEmergent Names Chris Richey Chief Analytics Officer
iEmergent, Des Moines, Iowa, appointed Chris Richey as chief analytics officer. He will oversee and expand upon iEmergent's data analytics capabilities.
Richey, who first joined iEmergent in a consulting capacity in 2016, has been instrumental in building out the data and information technology frameworks supporting the firm's external Mortgage MarketSmart and internal business intelligence platforms. With this infrastructure in place, Richey will next turn his attention to enhancing the analytics engine and statistical models that power iEmergent's market-leading data insights.
Before joining iEmergent, Richey was a data analyst in the IT business unit of a Fortune 100 government contractor. Earlier in his career, he worked as a quantitative analyst within the financing arm of a Fortune 100 equipment manufacturer.