April Mortgage Credit Availability Down 1%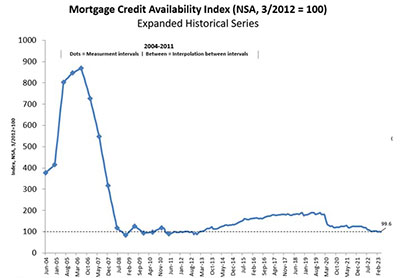 Mortgage credit availability fell in April to its lowest level since 2013, the Mortgage Bankers Association reported Tuesday.
The MBA Mortgage Credit Availability Index fell in April by 0.9 percent to 99.6. While the Conventional MCAI increased by 0.5 percent, the Government MCAI decreased by 2.1 percent. Of the component indices of the Conventional MCAI, the Jumbo MCAI increased by 1.5 percent, while the Conforming MCAI fell by 1.1 percent.
"Mortgage credit availability declined in April to the lowest level since January 2013, matching the tightening in broader credit conditions stemming from recent banking sector challenges and an uncertain economic outlook," said Joel Kan, MBA Vice President and Deputy Chief Economist. "The contraction was driven by reduced demand for loan programs such as certain adjustable-rate mortgages loans, cash-out and streamline refinances, and those with lower credit score requirements. Government credit supply decreased for the third consecutive month, as industry capacity continues to adjust to significantly reduced origination volume, along with the expectations of a weakening economy later this year."
Kan noted even with high mortgage rates and reduced credit availability, "the lack of for-sale inventory continues to be the biggest hurdle to more home purchase growth this year." 
The MCAI analyzes data from ICE Mortgage Technology.A decline in the MCAI indicates that lending standards are tightening, while increases in the index are indicative of loosening credit. The index was benchmarked to 100 in March 2012.
About the Mortgage Credit Availability Index
The MCAI provides the only standardized quantitative index solely focused on mortgage credit.
The MCAI is calculated using several factors related to borrower eligibility (credit score, loan type, loan-to-value ratio, etc.). These metrics and underwriting criteria for more than 95 lenders/investors are combined by MBA using data made available via the AllRegs Market Clarity product and a proprietary formula derived by MBA to calculate the MCAI, a summary measure which indicates the availability of mortgage credit at a point in time. Base period and values for total index is March 31, 2012=100; Conventional March 31, 2012=73.5; Government March 31, 2012=183.5.
To learn more about the ICE Mortgage Technology, visit http://answers.allregs.com/MCAI-Market-Clarity. For more information on the Mortgage Credit Availability Index, including Methodology, Frequently Asked Questions and other helpful resources, visit www.mba.org/MortgageCredit or contact MBAResearch@mba.org.