MBA Opens Doors Foundation Receives $94,000 from Lennar Mortgage's Annual Derby Fundraising Campaign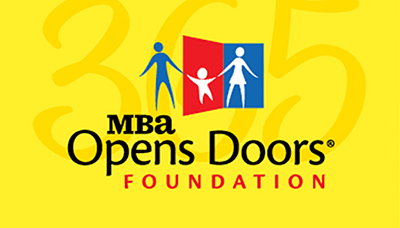 The MBA Opens Doors Foundation received $94,192 from Lennar Mortgage's 9th Annual Derby. This gift will allow Opens Doors to further deliver on its mission of providing mortgage and rental assistance to families with critically ill or injured children, allowing parents and guardians to be by a child's side during treatment without fear of losing their home.
Since 2019, the Lennar Mortgage Annual Derby has raised nearly $200,000 for Opens Doors through more than 1,600 individual donations nationwide from Lennar Mortgage employees and business associates. Year over year, Laura Escobar, President of Lennar Mortgage, and her team have bested their fundraising goals during the month-long Derby campaign, raising from just under $12,000 in 2019 to $94,192 this year.

"We are grateful for the generosity of Laura and the entire Lennar Mortgage organization," said Debra W. Still, CMB, President and CEO of Pulte Financial Services and MBA Opens Doors Foundation Chair of the Board. "Lennar Mortgage has always been an outstanding Opens Doors champion and it is encouraging, even in challenging times, to see the commitment and support Lennar Mortgage and the real estate finance industry has for families with critically ill or injured children."
"Every spring our team not only runs a Derby campaign to support Opens Doors, they also lead the way in bringing hundreds of Lennar Mortgage employees together for an amazing cause," Escobar said. "For some, this is deeply personal, having cared for very sick children. For all of us, the Opens Doors mission is a cause we are proud to support; and what better way than to have fun doing it."
The MBA Opens Doors Foundation, through its Home Grant Program, provides relief in a time of personal crisis. The Home Grant Program has become a critical part of a family's support structure, especially when a parent or guardian must take unpaid leave to be with a child. Grants of up to $2,500 are made monthly to families in need of mortgage or rental payment assistance.
The Foundation has provided more than $16 million in mortgage and rental payment assistance through nearly 11,000 grants to families since its inception in 2011. For more information on Opens Doors' mission, click here.