Home Price Indices Approach, Exceed 20% Annual Rate
Two home price indices on Tuesday showed home price appreciation approaching and in one case exceeding a 20 percent annual rate.
The Federal Housing Finance Agency House Price Index reported annual appreciation at 18.8 percent; the S&P CoreLogic Case-Shiller Indices showed annual home price appreciation at 20.4 percent.
Craig J. Lazzara, Managing Director at S&P DJI, which publishes the S&P CoreLogic Case-Shiller Indices, said April results showed initial but inconsistent signs of a deceleration in the growth rate of U.S. home prices. "We continue to observe very broad strength in the housing market, as all 20 cities notched double-digit price increases for the 12 months ended in April," he said. "We noted last month that mortgage financing has become more expensive as the Federal Reserve ratchets up interest rates, a process that had only just begun when April data were gathered."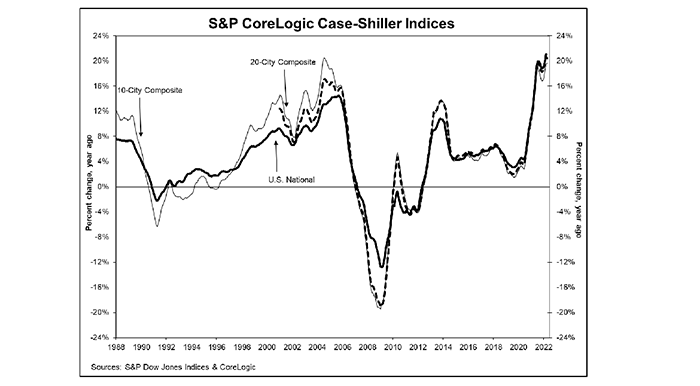 Lazzara noted a more challenging macroeconomic environment may not support extraordinary home price growth for much longer.
FHFA said U.S. house prices rose 1.6 percent in April. House prices rose 18.8 percent from April 2021 to April 2022 by the agency's measure.
"House price appreciation continues to remain elevated in April," said Will Doerner, Supervisory Economist in FHFA's Division of Research and Statistics. "The inventory of homes on the market remains low, which has continued to keep upward pressure on sales prices. Increasing mortgage rates have yet to offset demand enough to deter the strong price gains happening across the country."
For the Census Bureau's nine divisions, seasonally adjusted monthly house price changes from March 2022 to April 2022 ranged from +0.3 percent in the East South Central division to +2.5 percent in the West South Central division. The 12-month changes were all positive, ranging from +14.1 percent in the Middle Atlantic division to +23.5 percent in the South Atlantic division.