May CRE Prices Hold Steady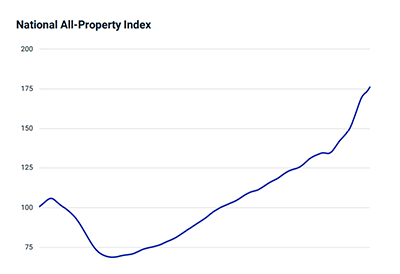 Real Capital Analytics, New York, reported U.S. commercial property price growth held steady in May, supported by price gains in the industrial and apartment sectors.
The RCA CPPI National All-Property Index rose 1.1 percent in May. It is now up 18.6 percent from a year ago, slightly below the record-high annual price growth seen at in early 2022.
RCA said industrial prices have climbed 28.6 percent from a year ago, a record annual rate for this sector, and rose 1.8 percent from April. "Prices on traded properties have remained robust even amid signs of a potential cooling in the market, as industrial deal volume retreated for a second straight month in May," RCA said in its monthly CPPI report.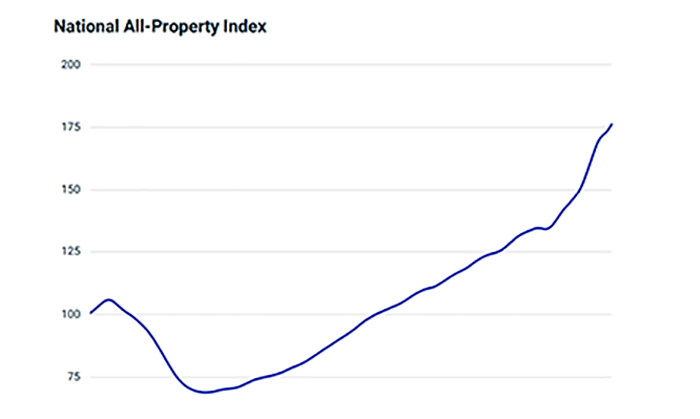 Apartment prices also registered a record high growth rate, RCA said. May's 23.3 percent annual pace matched April's rate, which was a record for this sector. The apartment index rose 1.5 percent during the month.
The index for retail properties increased nearly 19 percent from a year ago, RCA reported. "While still a significant double-digit growth rate, the pace has eased for three consecutive months." The retail index rose 1.0 percent for the month.
The office sector index grew 12.2 percent year-over-year, driven by central business district office properties, which rose 13.4 percent. "This pace is the fastest rate of price growth for central business district offices since 2014," RCA noted. Suburban office prices increased 10.5 percent from a year prior. The report said growth in this index has been unchanged or decelerating for eight months in a row.
RCA said annual price growth in the six largest U.S. cities ebbed for the fourth consecutive month. The rate fell to 11.2 percent, down from the index's recent high of 13.6 percent at the turn of the year.
Price growth in the Non-Major Metros reached 20.8 percent in May, similar to the rates seen for this index since December.
Green Street, Newport Beach, Calif., said its property price index of properties owned by real estate investment trusts declined by 1.2 percent in May, the first decline in two years. The research firm's all-property index is down 1.0 percent since January.
"Rising interest rates and the higher borrowing costs that come with that have caused pricing to slip from its highs," said Peter Rothemund, Co-Head of Strategic Research with Green Street. He called price declines "modest" thus far, saying 1 to 2 percent is the norm. "Though there is the exception here and there, nothing is down more than, say, 5 percent," he said.