Industry Briefs June 3, 2022: Talk'uments Launches Digital Language Services in Six Languages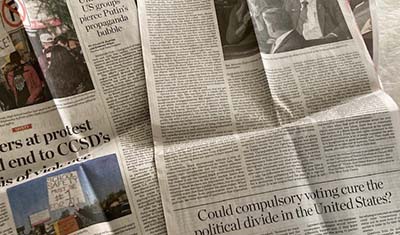 Talk'uments Launches Digital Language Services in Six Languages
Limited English Proficiency technology provider Talk'uments, Chevy Chase, Md., now offers digital language services to mortgage lenders in English, Spanish and Mandarin (Chinese), and plans to introduce services in Vietnamese, Korean and Tagalog by the end of the year.
The offerings were announced after a recent Federal Housing Finance Agency mandate that lenders use the Supplemental Consumer Information Form for those loans to be eligible for sale to Freddie Mac or Fannie Mae. Lenders will be required to adopt these changes and reporting requirements for loans with application dates on or after March 1, 2023 for the loans to qualify for sale to the GSEs.
HUD Launches 'Our Way Home' Initiative to Increase Affordable Housing Supply in Local Communities
HUD launched the Our Way Home initiative, a new effort to boost the nation's affordable housing supply. Our Way Home is a national initiative that uplifts the unique housing supply successes in local communities and connects cities, counties, Tribal communities, states, and U.S. Territories to the tools and resources needed to help preserve and produce affordable housing in their area.
"Easing the burden of housing costs for families is a top economic priority for this Administration," said HUD Secretary Marcia Fudge. "For too long and in too many communities, housing supply has not kept up with the growing demand. It's going to take government working at all levels to help close the housing supply gap. I am excited to launch Our Way Home, an initiative that will not only build on the momentum that's already begun at the federal level, but will also put into focus the unique challenges and successes in communities when it comes to making sure we all find our way home."
Through the American Rescue Plan, communities now have $5 billion in HOME grants and significant investments to preserve and protect housing on tribal lands, to help more Americans obtain stable housing.
Messagepoint Introduces Headless CCM Capabilities
Messagepoint, Toronto, launched headless customer communications management capabilities to support digital experiences with personalized content delivered via RESTful APIs.
Messagepoint's cloud-based CCM platform supports organizations in regulated industries in the end-to-end process of authoring, managing, producing and orchestrating customer communications containing personal variable data across all channels. Messagepoint's new headless CCM capabilities take advantage of the platform's modular content management model to curate and deliver relevant, personalized content components to modern digital endpoints in response to API calls.
Fitch Ratings: Plunging Originations, Overcapacity Pressure U.S. Non-Bank Mortgage Companies
Fitch Ratings, New York, said declining U.S. mortgage origination volumes and lagging capacity reduction will continue to pressure financial results of Fitch-rated non-bank mortgage companies amid continued monetary policy tightening, the Fed's tapering of mortgage-backed security purchases, housing inventory deficits and sustained double-digit home price appreciation.
Fitch said the challenging operating environment is pressuring all issuers, although issuer-specific effects will depend on the mix between origination and servicing as well as channel and strategy, with weaker players that lack scale or have outsized exposure to the wholesale channel facing potential consolidation.
First American: Housing Market 'Slowing by Design'
First American Financial Corp., Santa Ana, Calif., said its Real House Price Index increased 32.5 percent year over year, the fastest growth in the more than 30-year history of the series. First American said the rapid annual decline in affordability was driven by two factors: a 21.6 percent annual increase in nominal house prices and over a full percentage point increase in the 30-year, fixed mortgage rate compared with one year ago.
The report said real house prices increased 6.7 percent between February and March. Consumer house-buying power, how much one can buy based on changes in income and interest rates, decreased 4.6 percent between February and March, and decreased 8.3 percent year over year.
States with the greatest year-over-year increase in the RHPI were Florida (+46.7 percent), South Carolina (+46.1 percent), Georgia (+40.5 percent), Arizona (+39.7 percent), and Idaho (+37.7 percent). Markets with the greatest year-over-year increase in the RHPI were Charlotte, N.C. (+46.6 percent), Raleigh, N.C. (+43.5 percent), Tampa, Fla. (+43.3 percent), Phoenix (+42.0 percent), and Jacksonville, Fla. (+41.2 percent).
Redfin: Austin, Raleigh, Sun Belt Metros Lead the Nation in Homebuilding
Redfin, Seattle, said Sun Belt metros are leading the way when it comes to building new homes. Austin, Texas had 31.1 single-family building permits per 10,000 people in the first quarter, the most per capita of any major U.S. metro, followed by Raleigh, N.C. (30.7), Jacksonville, Fla. (29.2), Nashville, Tenn. (26.6) and Charlotte, N.C. (22.9). Five other Sun Belt metros round out the top 10: Phoenix (22.7), Houston (22.4), Orlando, Fla. (20.3), Dallas (18.5) and Las Vegas (17.2).
All in all, 49 of the 53 U.S. metros with more that 1 million residents issued more single-family building permits per capita in the first quarter than they did on average in the 10 years prior to the pandemic (2010-2019). Thirty-eight of them issued more multifamily permits.
Redfin also reported price drops are becoming increasingly common, particularly in hot migration destinations. In Boise, Idaho, where home prices are up 62% in the past two years, 41% of home-sellers dropped their price in April, the largest share among the 108 metropolitan divisions included in Redfin's analysis. That's up from 10% a year ago. Cape Coral, Fla. (33%), New Orleans (32%), Baton Rouge, La. (31%) and Sacramento (30%) rounded out the five markets that are driving the national rate of price drops to its highest level since October 2019.
"The picture of a softening housing market is becoming more clear, especially to home sellers who are increasingly turning to price drops as buyers become more cost-conscious under higher mortgage rates," said Redfin Chief Economist Daryl Fairweather. "For now, mortgage rates have stabilized, and I expect prices to do the same. This will remove some uncertainty for buyers. That means that as long as a home is priced conservatively, it still has a good chance of selling quickly."
CFPB Acts on Black-Box Credit Models Using Complex Algorithms
The Consumer Financial Protection Bureau confirmed that federal anti-discrimination law requires companies to explain to applicants the specific reasons for denying an application for credit or taking other adverse actions, even if the creditor is relying on credit models using complex algorithms. The CFPB published a Consumer Financial Protection Circular to remind the public, including those responsible for enforcing federal consumer financial protection law, of creditors' adverse action notice requirements under the Equal Credit Opportunity Act.
"Companies are not absolved of their legal responsibilities when they let a black-box model make lending decisions," said CFPB Director Rohit Chopra. "The law gives every applicant the right to a specific explanation if their application for credit was denied, and that right is not diminished simply because a company uses a complex algorithm that it doesn't understand."
ECOA protects individuals and businesses against discrimination when seeking, applying for, and using credit. To help ensure a creditor does not discriminate, ECOA requires that a creditor provide a notice when it takes an adverse action against an applicant, which must contain the specific and accurate reasons for that adverse action. Creditors cannot lawfully use technologies in their decision-making processes if using them means that they are unable to provide these required explanations.
STRATMOR Study: Newer Technology Can Help Lenders Solve Problems with Appraisal Delays, Cost
In its latest Insights Report, STRATMOR Group, Greenwood Village, Colo., analyzes the real estate appraisal process in an article, "The Next Big Mortgage Technology Change: Appraisals." STRATMOR Customer Experience Director Mike Seminari discusses the results of a recent study on appraisal operations conducted by STRATMOR and commissioned by appraisal management software company, Reggora.
"Now that volume is down and lenders are catching their breath, they can finally turn their attention to alleviating the continued pain felt around the inefficiency, the lack of visibility and the overall lack of control associated with the appraisal process," Seminari said. "Today there is an opportunity for appraisal streamlining and automation, and ultimately, higher productivity and lower per loan cost. After decades of lagging from an automation standpoint, there are solutions available today that can eliminate manual tasks and shorten appraisal turn times."
AnnieMac Partners with SimpleNexus
SimpleNexus, Lehi, Utah, announced AnnieMac Home Mortgage completed the enterprise-wide rollout of Nexus Engagement and Nexus Origination. With these mobile-first mortgage tools from SimpleNexus, AnnieMac's more than 250 mortgage loan originators will be able to collaborate more effectively with referral partners and borrowers throughout the homebuying journey whether working remotely or from one of the mortgage bank's nearly 100 branch locations.
Nexus Engagement helps mortgage loan originators, real estate agents, settlement agents and other referral partners stay connected with homebuyers during the pre-application phase with mobile tools that include integrated home search, a loan payments calculator and instant chat. Once homebuyers are ready to apply, the Nexus Origination point of sale technology helps them navigate the loan process with ease from any device.
GPARENCY Releases Commercial Real Estate Listings Database
GPARENCY, Howell, N.J., provided a database of more than 500 market and off-market commercial property listings exclusively to active buyers. To help general partners find the most relevant deals on the market, all listings are 100% confirmed and regularly updated with the latest info. Each listing includes the property type, address, current price and the listing broker's contact info to get more details about the listing.
GPARENCY is a membership-based, full-service commercial mortgage brokerage that provides borrowers with access to more than 3,000 lenders nationwide.
OrangeGrid Announces Timios Partnership
OrangeGrid LLC, Dallas, and Timios Inc. announced a partnership making Timios the preferred provider of title, escrow, valuation and asset management services within OrangeGrid's GridReady default management ecosystem.
Additionally, Timios has made a significant equity investment in OrangeGrid to increase distribution capacity, and the companies will collaborate on a number of co-marketing initiatives to accelerate market adoption of the solution. Mortgage servicers who are GridReady customers will be able to seamlessly order title, escrow and valuation products and track fulfillment by Timios through the GridSource vendor management component of the ecosystem.