1Q Homeowner Equity Gains Top $60,000 Amid Rapid Home Price Growth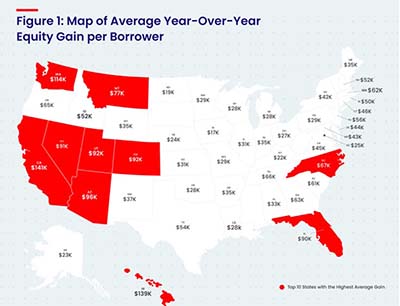 CoreLogic, Irvine, Calif., reported U.S. homeowners with mortgages saw their equity increase by 32.2% year over year, representing a collective equity gain of $3.8 trillion and an average gain of $63,600 per borrower.
"Price growth is the key ingredient for the creation of home equity wealth," said Patrick Dodd, president and CEO of CoreLogic. "Home prices were up by 20% in March compared to one year earlier in CoreLogic's national Home Price Index. This has led to the largest one-year gain in average home equity wealth for owners and is expected to spur a record amount of home-improvement spending this year."
The company's Homeowner Equity Report noted U.S. home prices continued their upward trajectory in the first quarter, with year-over-year growth averaging nearly 20%, allowing 62,000 owners to regain equity compared with the previous quarter. Homeowners in California, Hawaii and Washington led the U.S. for annual equity increases in the first quarter of this year, all gaining more than $100,000. Only 2% of homeowners with a mortgage remain underwater, a slight decline from the fourth quarter.
The report said from the fourth quarter to the first quarter, mortgaged homes in negative equity decreased by 5.3% to 1.1 million homes, or 2% of all mortgaged properties. A year ago, 1.4 million homes, or 2.6% of all mortgaged properties, were in negative equity. This number decreased by 23%, or 300,000 properties, in the first quarter.
CoreLogic said should home prices increase by 5% in the second quarter, 130,000 homes would regain equity; if home prices decline by 5%, 167,000 properties would fall underwater.
Last week, Black Knight, Jacksonville, Fla., reported the average home has gained nearly 9 percent in value since just the start of 2022, with homeowners gaining more than $1.2 trillion in equity in the first quarter.