MBA Updates Economic, Mortgage Market Forecasts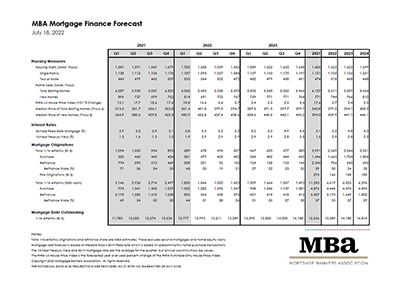 The Mortgage Bankers Association released updated Economic and Mortgage Market forecasts Thursday.
Click here for the Economic forecast and click here for the Mortgage Market forecast.
MBA now forecasts the U.S. economy will slow to a growth rate of 0.6 percent in 2022. This is a downward revision from last month's forecasted growth rate of 1.6 percent. Higher interest rates resulting from the Fed's efforts to combat inflation, as well as the persistently high rate of inflation, are causing stresses for households and businesses. The tighter financial conditions will lead to weaker growth.
"While a recession is not in our baseline forecast, it is a coin flip at this point, as we estimate a roughly 50 percent chance that the U.S. could enter a recession over the next 12 months, with the most likely timing being in the first half of 2023," the forecast said.
MBA also expects the Federal Reserve will continue to tighten, with the Federal funds rate reaching a range of 3.25 to 3.5 percent at the end of 2022, and a range of 3.75 to 4 percent at the end of 2023.
"The unemployment rate has likely reached its low point at 3.6 percent and may start to inch up by the end of the year (and through next year), breaching the 4-percent mark by the second half of 2023," MBA said. "There are already signs of a slowdown in hiring, including fewer job openings and an increase in initial unemployment claims."
While inflation remains stubbornly high, the Fed's rate hikes and weakening demand will push the inflation rate down over the next year, MBA said. Lower demand for commodities will cool headline inflation and ease supply-chain backlogs. The association expects inflation to end the year at around 6 percent before declining to a 2 to 2.5 percent range in 2023 and 2024.
"The housing sector has been severely impacted by the spike in interest rates," MBA noted. "In an already strained affordability environment, higher mortgage rates have reduced the pace of home sales, and now with the prospect of a weaker economy and an elevated risk of recession, potential home buyers have pulled back even more. Additionally, the new residential construction data have been weaker of late, with a slower pace of housing starts and permits, along with deteriorating homebuilder sentiment, driven by declining foot traffic of prospective buyers. As a result, we lowered our forecast for single-family starts and home sales, leading to lower purchase originations. We now expect existing home sales will decline 8 percent in 2022. Purchase origination volume is expected to be $1.66T in 2022, essentially flat from last year, before increasing slightly to $1.70T in 2023."
MBA said mortgage refinancing remains well below the pace seen last year, especially as rate-term refinances continue to decline with mortgage rates more than 2 percentage points higher than a year ago. "We expect the 30-year fixed-rate to stay over 5 percent for the remainder of 2022, ending the year at 5.2 percent. Refinance originations are estimated to fall 70 percent in 2022 to $706 billion," the forecast said.