Tara Dugan of Tavant: Collectively Digitizing Housing Gap Solutions
Tara Dugan is Strategic Marketing Manager with Tavant, Santa Clara, Calif. She joined Tavant in April 2021; previously, she served as a New Development Specialist with Douglas Elliman Real Estate and is a licensed Realtor.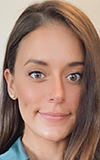 The Gap
The housing gap in America today is nothing short of exorbitant. America has taken various steps at the local, state, and federal levels to end discrimination in the housing industry – all with varying levels of 'successes.'
For more than three decades, minorities were robbed of the opportunity to build generational wealth. By the time new job opportunities came from the third industrial revolution and housing policies improved, 'The American Dream' was entirely unattainable for minorities. According to Housing Wire, the lasting benefits of homeownership, 'The American Dream,' include building equity and wealth. Madisyn Rhone wrote, "the homeownership gap exists in America due to a disparity in people's access to credit, cost of credit and housing supply depending on their socioeconomic status." 
Are new housing policies focused on making homeownership affordable and sustainable enough? Decades of continued discrimination due to lack of equal access for minorities responsible for the ever-growing housing gap would suggest not.
The pandemic ushered in a new era for the mortgage industry. Previously resistant to technological advancements, key stakeholders across the industry were forced to quickly adapt digital tools and services as a means of survival. The growth of automated real-estate matching, virtual home tours, online and mobile home search tools, coupled with the recent wave of remote work, may have also introduced an unexpectedly and positively dynamic champion in this quest to permanently squash inequality. The barriers that remain surround disproportionate financial access and support.
Breaking Down Access Barriers
The previously painful title and escrow process got a high-tech makeover over the past year. Digital eClosings are rapidly gaining popularity and have already become the new norm, a need that was extremely apparent and long overdue.
The digitalization of insurtech and banking solutions has inspired a handful of community-focused banks in Los Angeles to provide accessibility to underserved groups that have experienced a long history of systemic discrimination. They are pioneers who aim to serve by explicitly targeting their digital banking solutions towards LGBTQ, Asian Americans, Black, Latino, and other underserved customer segments.
The introduction of an appraisal protection solution enables cash buyers to use their 'Ribbon Cash' to make all offers without worrying about appraisal contingencies. While this solution is only available in 5 'southern' states thus far, it directly addresses challenges in access to credit lines required for mortgage approval and risks associated with all-cash offers.
Additionally, the vision of digitizing the appraisal inspection process continues to gain momentum, leading to reduced risk and bias while improving transparency and capacity across the entire process.
Area of Opportunity: Appraisals
Appraisals are a crucial element of the home-buying journey. For the majority of American's who use loans to buy a home, they are vital. The National Association of Realtors defines an appraisal as "an opinion of value used for real-estate-related financial transactions. An appraiser's report will typically include the type of property inspection, approaches to the value required, and any lender-specific requirements. An appraisal is an important part of the home buying process because it assures the lender the property has adequate collateral to make the loan." For all-cash offers, while there is no legal requirement to get an appraisal, they can be used to defend or challenge the property's value for either side of the transaction.
Industry leader and co-founder Brian Zitin was recently asked how 2020 changed appraisal tech and what appraisal modernization looks like moving forward. Zitin explained 'there is an urgent need and a likely shift coming surrounding the definition of the 'appraisal' itself, along with the fundamental process of a person going on, in, or around a property to assess and report its value.'
Appraisals have been directly linked to systemic biases that have continued to suppress minority homeownership across the country. Removing human error, inconsistency, and personal preferences from the appraisals process is crucial to rebuilding the broken system of bias historically plaguing the housing industry. "AMCs have been as invisible as ever amid allegations of blatant racial discrimination by appraisers, and the valuation gap between white and minority-owned homes ever-widening."
In a recent HousingWire article, Matthew Blake and Georgia Kromrei quoted Bender Rosenthal, stating that "AMC's have been terrible for appraisers, mortgage originators, and the public." A central assumption has previously been that this element of the mortgage industry is as regulated and transparent as its counterparts. Shockingly, Blake and Kromrei report that "unlike other parts of the mortgage industry, [AMC's] receive little substantive scrutiny of their compliance." In the same article, Princeton Mortgage's Gordon shares, "there's not the same transparency – it doesn't exist in the AMC industry."
Long-time, well-respected appraiser and industry leader David DeZarne confirms that it takes "a long time" to train the human judgment part of your brain to 'shut down' at work. Exactly, how long is "a long time"? How many completed appraisals have been accepted by lenders knowingly unfiltered of bias? How many dozens of individuals, and families, have been denied this opportunity because of a blatantly and wrongful shortcoming?
Criticism delivered independent of any solution is useless. What potential solutions can be drawn from this appraisal backlash?
Advancements in high-tech concepts like computer vision, machine learning, artificial intelligence, augmented reality, and more are being used to reduce human error, cost, and risk. These advancements provide a new level of transparency, thereby increasing productivity, customer satisfaction, and repeat business across all industries.
Luckily, we are in a place of collaboration, growth, and unparalleled technological advancement. Utilizing Artificial Intelligence and Augmented Reality technologies to remove human bias and digitize the appraisal process (capture, authenticate, record data, report, securely save, and learn) feels like a solid next step. There is an app for that, right?!
Rhone also stressed the importance of collaboration between government policymakers and the housing industry. The tech is here. What we need are thoughtful partnerships.
Heed of Caution
In his latest HousingWire article, Frank Fuentes, the National VP of Multicultural Lending at New America Funding, cautions against gaps in existing tech tools and calls attention to the fact that existing loan systems and processes do not capture the strength of minority borrowers that would directly enable them to qualify for a loan, or give them better loan options. Fuentes claims that "it's almost impossible for a computer-generated algorithm to determine the creditworthiness of the borrowers, especially minority homebuyers." Factors that cannot be captured accurately through digitization are rental housing history, part-time jobs with less than two years history, and credit tradelines (I.e., Storage unit payments, cell phones, utilities).
Rebuttal
Emphasis on 'almost.' With strictly algorithmic technology, Fuentes makes a fair point. There is always hesitation around innovation and trusting it. Fuentes' reluctance is normal, even anticipated. A crucial clarification here is that the technology Fuentes' critique lies in the existing system and is light years behind the industry's innovation. The way emerging high tech performs, LEARNS, and delivers dramatically more mature and complex than what has been used in years past.
Fuentes is correct that these future homebuyers will positively impact the housing sector and our economy as a whole. We all need to educate ourselves and our clients to best prepare them to be successful homeowners. Like Rhone, Fuentes is right to call for a "collective effort."
Where We Go from Here
From offers being made sight-unseen to E-closings, to the digitization of banks, introduction of cryptocurrencies in home sales, to the evolving housing policies, seamless mortgage processes, and finding new ways to solve old issues, times are not only changing; they have changed. All Housing Industry professionals should continue to challenge themselves to stay educated in emerging resources and ensure they are partnering with the right technology enabling companies to make any necessary adjustments. Be okay with:
Rework the existing programs and processes to be more inclusive and consider all the previously neglected factors listed, fill the gaps with appropriate tech solutions and partnerships, be creative and open-minded when looking for a new solution(s), most importantly, collaborate.
If we are talking about flying taxis, it is time for the housing industry to make similar strides. Yes, the issues are there, but so is the tech. Even more so are the many groups and who are willing to, if not already, proactively collaborate to break down all ripple effects of the systemic biased throughout our country. The first half of this year brought tremendous growth, with the second half of the year shaping quickly match, and even out stride the first. Here's to progress against prejudice.
(Views expressed in this article do not necessarily reflect policy of the Mortgage Bankers Association, nor do they connote an MBA endorsement of a specific company, product or service. MBA NewsLink welcomes your submissions. Inquiries can be sent to Mike Sorohan, editor, at msorohan@mba.org; or Michael Tucker, editorial manager, at mtucker@mba.org.)