IMBs: 'The Cornerstone of Mortgage Lending'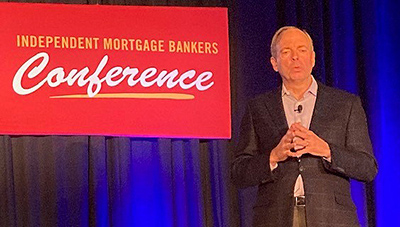 MBA President & CEO Robert Broeksmit, CMB, opens the MBA Independent Mortgage Bankers Conference in Nashville Jan. 25.
NASHVILLE, Tenn.—Mortgage Bankers Association President & CEO Robert Broeksmit, CMB, kicked off the 10th MBA Independent Mortgage Bankers Conference here on Tuesday with some well-deserved praise.
"IMBs are still the cornerstone of the home mortgage market," Broeksmit said. "You originate more than 60% of all home loans in the country; you make more than 8 of 10 FHA and VA loans; and you are the primary source of home purchase mortgages for minority and low- and moderate-income families. America is built by IMBs. Thank you for your leadership."
IMBs played a major role during the worst of the coronavirus pandemic. In 2020 alone, IMBs originated more than $2.4 trillion in loans and offered forbearance to more than 2.5 million borrowers. Broeksmit said MBA makes sure the work of IMBs is widely known on Capitol Hill.
"We tell your story so you can keep making history," Broeksmit said. "And just as you deliver for America, we deliver for you."
Looking ahead, Broeksmit said MBA's goal is to make the next year even better. "The MBA team is hard at work identifying the problems you face," he said. "More importantly, we're focused on finding solutions."
Broeksmit cited two types of challenges for 2022: market challenges and policy challenges.
"By now it's clear that the refi boom of the past two years is over," Broeksmit said. "We're back to a place where purchases reign, and that means lower margins and higher competition. "This matters a lot. Right now, some policymakers are saying the mortgage finance market is not competitive. But every day you prove the opposite."
Broeksmit noted the story of mortgage finance is one of extraordinary competition. "Big banks, community banks, credit unions and IMBs are fighting to offer consumers the best loan at the best rate," he said. "You pull out all the stops to get the sale. And the more you do, the more your customers benefit. Thank you for proving how healthy and customer-focused our industry really is. And rest assured: The MBA is here to help. Our team has the market insights and business strategies you need to succeed in this hyper-competitive market."
On policy, Broeksmit said MBA is doing more than ever to find solutions that will close the homeownership gap, and IMBs are key to making this happen. In September, MBA launched the "Building Generational Wealth through Homeownership" campaign, a historic initiative that leverages the insights and expertise of the entire industry.
"With your help, this campaign has already recommended some real, achievable solutions," Broeksmit said. "That includes more affordable financing options for minority borrowers; greater use of special purpose credit programs; and down payment support for borrowers who lack generational wealth. We're also calling for more home retention options for minority borrowers and new pathways to homeownership for those who've faced discrimination."
Broeksmit cited other opportunities for policy victories. "FHA is in a strong financial position, and we believe the time has come to give FHA borrowers a break," he said. "While FHA understandably wants to wait and see what happens with forbearance, it may still take action early this year. We're working with FHA and recommending a focus on reducing the annual premium, which will maximize the affordability benefits for borrowers. We're optimistic it will happen soon."
More broadly, Broeksmit said, the past year saw a big shift in D.C. "We've entered another era of less regulatory guidance and more aggressive enforcement and regulation," he said. "My message to you is one of reassurance. The MBA was made for this moment. And we're in front of every fight."
MBA met recently with Consumer Financial Protection Bureau Director Rohit Chopra to share our concerns. "We emphasized the sea change in the housing finance industry since the Great Recession and financial crisis," he said. "The current regulatory structure has made the market safer for consumers, and today's mortgage lenders have a strong culture of compliance. We also stressed the great job servicers have done with forbearance and that any enforcement actions resulting from inevitable errors should focus on instances of consumer harm, not innocuous procedural missteps."
Broeksmit emphasized while there are always tensions between an industry and its regulator, MBA has always had an effective relationship with the CFPB. "And we continue to do what we have always done," he said. "We're rooted in good policy. We back up our requests with data and analysis. And we fight for clear rules, measured supervision and a level playing field for all market players."
Broeksmit said MBA will continue to challenge efforts to subject IMBs to the Community Reinvestment Act. "Our message to policymakers is that applying the CRA to IMBs is nonsense," he said. "There are two reasons. First, IMBs can't reinvest what you didn't get in the first place. You don't have deposits. You don't have access to direct government support. The CRA was never meant to cover you – and it never should. Second, the CRA is a solution in search of a problem. The Biden administration is looking for ways to increase lending in underserved communities. But that's what IMBs do every single day. Your companies are community lending machines. And no one does a better job of serving the housing needs of minority borrowers and low-to-moderate income families."
Broeksmit said while action is unlikely at the federal level, it's a different story at the state level, noting Illinois and New York have already passed this policy, and others may follow suit.
"Yet that's never the end of the story," Broeksmit said. "Once legislation passes, MBA engages directly with state regulators to draft the least disruptive rules. We are working to ensure that your companies are judged by your results and not saddled with costly, burdensome, and subjective requirements that will only make it harder to serve your customers. We'll work to protect you no matter what."
Broeksmit said MBA's highest goal and deepest desire is to empower IMBs. "We're here to help you succeed – over the next 10 years and even the next 100 years and beyond," he said. "What we're doing today will enable you to thrive tomorrow and every day after. And by the same token, we're always looking for new and better ways to serve and strengthen you. We never rest when it comes to helping you rise."